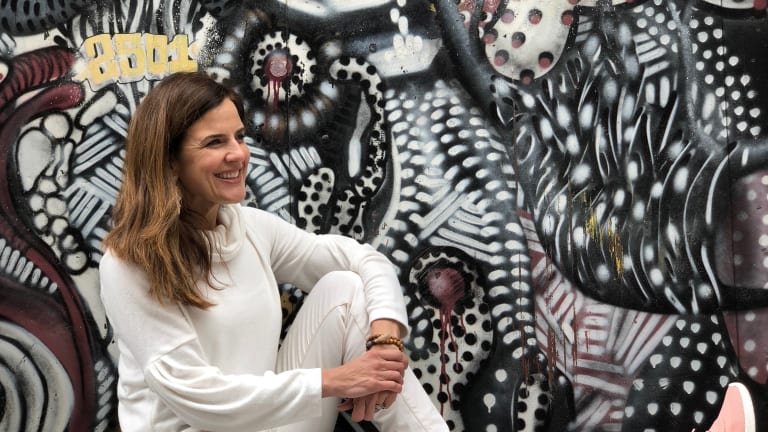 Great Sneakers for Spring
Easy Spirit Perfect for NYC Mom Life
Last week spring made a short and sweet appearance in NYC. It was 60 and my team and I got outside to take some photos of spring style. I was so excited to capture these photos of great sneakers for spring.
Great Sneakers for Spring
You can get this Easy Spirit shoe at DSW and Macy's. They are simply a joy to wear. As I explained in the post, I wear them everywhere - all over NYC as I take care of family and work. I log miles and miles on my feet. I need great shoes!
As you know, I also happen to love shoes that have great style. This Gerda pair comes in four colors, but the rose color is so fresh and pretty for spring that I couldn't resist. You can find more shoe inspiration over at the Easy Spirit site.
How Sneakers Became an Everyday Staple
In a previous life, I was a high-heel wearer. My years at Ralph Lauren were all about falling in love with sky high shoes. I still have quite a few pairs, but motherhood brought along a fashion catharsis. I had to chase babies, push strollers and be on my feet a lot more. 
My style had to evolve. And so it did, and that's a large reason for starting Momtrends; it's been a place to chart my style evolution and share my findings.
Thankfully, as I've spent the past decade in the trenches of working motherhood, fashion has been embracing the street style I wear every day. Jeans are now acceptable just about everywhere and sneakers can be worn with just about anything. 
Are there Rules to Styling Great Sneakers for Spring?
No.
There aren't rules. But I can give you some tips to have fun with them. Opt for colors, and avoid yoga pants (unless of course, you are actually going to yoga). 
In general, if you want to show off your shoe, I like tapered legs on pants and lighter denim. Boot cut jeans don't look great with sneakers. I also try to match the sock color to the sneakers. 
Dark sneakers = dark socks
Light sneakers = white socks
That's about it. Don't be afraid to experiment. I love sneakers with long skirts and short skirts too. 
Let me know how you style your sneakers!
Pin it and Wear it!
The instagram post was sponsored, but the brand didn't pay for this Great Sneakers for Spring post.