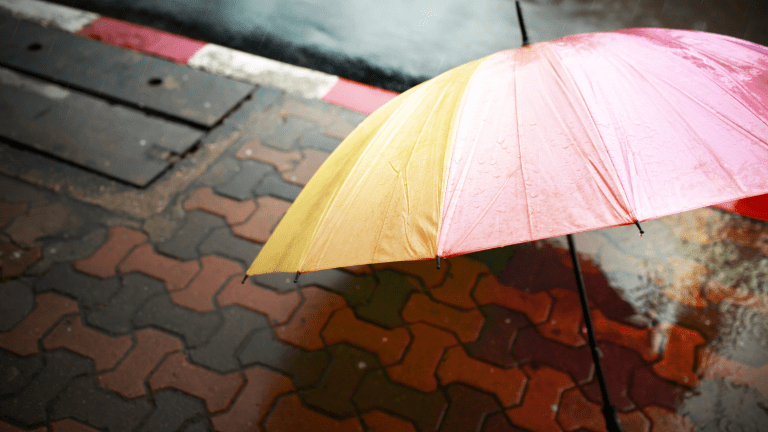 Great Coats: Rainy Day Fashion
The Talbots coat is just the thing for showers this spring to stay cute and dry.
Let me ask you a question. How many coats are in your closet? I've got at least six, and I'm still on the hunt. Building a coat wardrobe is an ongoing assignment in New York City. Our weather turns on a dime. So being prepared means always having good options in your closet. I recently added this great coat to cover me on rainy days.
Related: Where to find loungewear that looks cute
This look is all centering around the bold print coat. The Geo-Square Trench from Talbots is a classic trench with a twist ($139.99). The coat is just the thing for showers this spring. I love the length and the nickel closures. Now I am almost ready for rain!
When Talbots sent this over they also included some fabulous extras. If you are a working mom, I recommend the Crisa Exotic-Embossed Leather Low-Heel Ballet Flats ($119) it looks like a snake skin, but it's embossed leather. It's classy yet also very appropriate for any work setting. Pair it with the Signature Double-Weave Ankle Pants ($99) a stretchy pant that works with so much you already own.
The final touch was the Stella & Dot Sutton Necklace ($178) this multi-colored statement necklace can spruce up a white shirt or work with your bright spring sweaters.
What have you been wearing this week? 
MORE FASHION TIPS FOR MOMS
PIN IT!
Use Pinterest to save your favorite fashion posts. Be sure to follow our Spring Fashion Trends board here.
Momtrends was not paid for this post. As always, we get a lot of free clothing to style. But no one paid me to put any of this together.