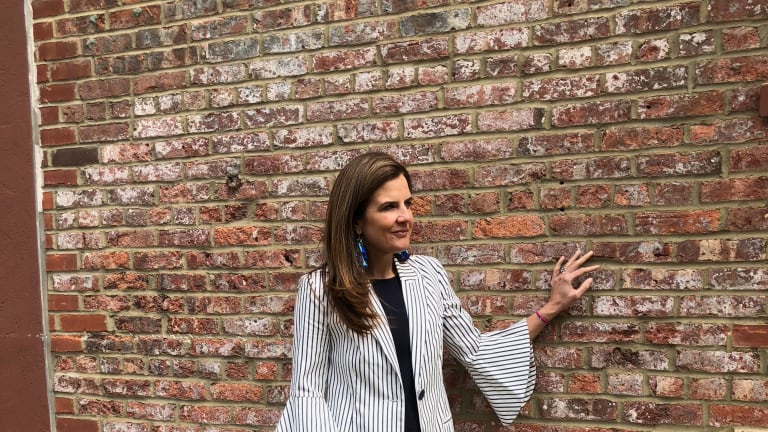 Publish date:
Great Blazer for Spring
Transition Pieces to Love
One day it's 70, the next 40. Sigh. This is New York City in April. The answer is, bring a jacket because things are going to change quickly (oh, and then back again). I have a great blazer for spring from cabi that I will keep on wearing again and again.
The Bell Jacket is a pretty little piece that I love to wear. It makes me feel pretty and feminine, but also polished and professional.
Blazer Solve a Lot of Problems
When it comes to working from home, I have a few recommendations. When I started Momtrends, I left corporate life at Ralph Lauren to have the freedom to control my future. I left behind the 9-5 but not the desire to dress well.
It took a few years to find my work from home mojo when it came to fashion. But I landed on a few tried and true solutions and a great blazer was always a good answer.
I could be in jeans and a t-shirt and slip on a blazer and all of a sudden I was a professional. 
As my business grew, I took my work out of the house. And I started having more and more meetings. I wanted a foot in the professional world, but wanted to stay true to my work from home roots. Blazers were able to keep me fashionable and professional as my business grew.
A Great Blazer for Spring
I'm always looking for a good investment. This blazer has lots to love. The stripes are timeless and the bell sleeves are right on trend. The longer length is ideal for covering your backside. And I love the nipped in waist - it makes me think of my pre-baby figure!
As far as color goes, navy and white are hard to beat. This is a spring classic and one you won't get tired of in your closet.
Spring Blazer Styling Tips
1. Keep the bottoms trim. Try a pencil skirt or skinny jeans.
2. Add some color. Red is a classic pairing, but branch out and try pink, coral and yellow too. 
3. Accessorize with earrings. Bracelets would get lost and a necklace might interfere with the stripes. A big bold earring works.
4. The smart shoes are colorful. If you want to add a floral, this is the spot (or a handbag). The forward thinker isn't afraid of mixing florals and stripes.
Pin it and Wear it!
I hope my styling suggestions help you get outfit inspiration. Let me know if you try it!
This Great Blazer for Spring feature is not sponsored.