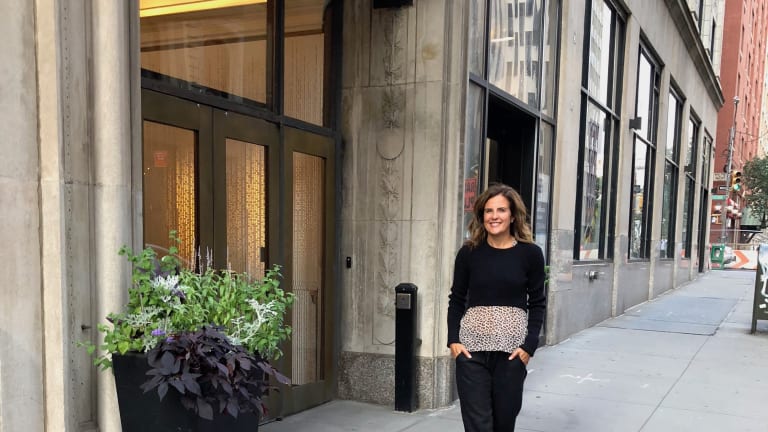 Getting Ready for Fall with Cabi Fashion
Fall 2018 cabi scoop highlights
Cabi has been a part of my closet for six years. I can't imagine getting for fall without cabi fashion in my life. This year, I was invited to a special event hosted by my friends Audrey and Vera to preview the line and do a little shopping. 
Getting Ready for Fall with Cabi Fashion
We headed to the New York showroom to join a live broadcast of the fall fashion show called the "Scoop" - I always love a good fashion event. This one had great food, great conversation and great clothes. Samples of the line were on hand, so all the bloggers played dress up. 
The two new shoes in the line are stunning and all the jewelry had me layering pieces like a pro. Cabi has a long history of working with bloggers and I loved seeing how my friends, the other guests, played with pieces too.
Cabi is a fashion brand that focuses on women and the experience of shopping. They've been a huge disruptor in the industry, leaving the model of stores behind and taking the shopping experience into the home. Learn more shopping cabi here.
View the cabi fall 2018 scoop highlights here: 
Doesn't this video get you excited for fall? Let's dive in and start playing with clothes.
My First Fall Cabi Outfit
My first fall outfit from the 2018 cabi collection is all about smart layers. Layers are perfect for NYC days that can start cool and then get warm. Let's start from the bottom up. This pant is the essential pant for fall. Joggers aren't going anywhere as a trend. They flatter a lot of figures and are extremely versatile. 
If you want a pant that you'll reach for again and again, order the Marathon Jogger here https://www.cabionline.com/collection/clothes/the-marathon-jogger/
Yep, they are great for travel, but they are equally good for a woman who likes to look casually pulled together at work or in her home life.
I paired them with the Flutter Blouse. This cabi blouse is really two in one. The top layer has pin tucks and very delicate ruffles. The scoop neck cami layer can be detached and worn alone. 
Shop the Flutter Blouse here https://www.cabionline.com/collection/clothes/flutter-blouse/
I also styled the joggers with the Prep Pullover. This asymmetrical ribbed knit is fitted and a fun piece to play with. I used the bottom layer of the Flutter Blouse as the base layer and then added this on top. For early fall days, this is the absolutely perfect combo.
This is just the beginning of my fall cabi looks. Keep checking in as I share more outfit inspiration.
Pin it and Wear it
This Getting Ready for Fall with Cabi Fashion feature is sponsored.