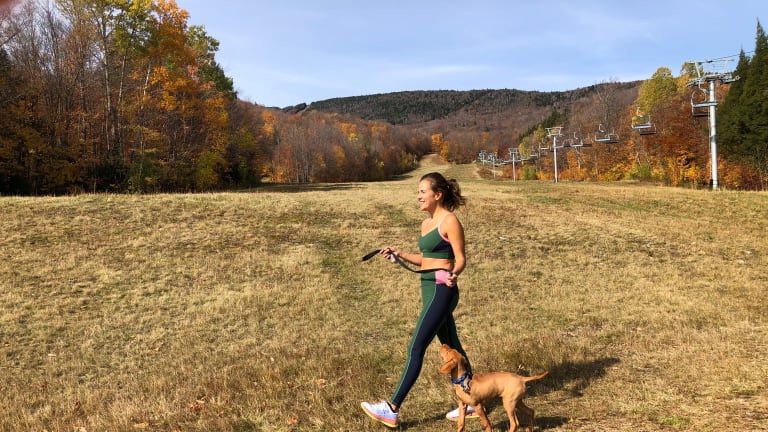 Publish date:
Get Fit in Style with New Workout Gear from Boden
New workout gear is the perfect way to keep those sweat sessions going strong.
New workout gear is the perfect way to keep those sweat sessions going strong.
Hello fall! This is my absolute favorite time to be outdoors and active. The cooler weather is the BEST for workouts. And since many of us are working from home, workout gear is now our fashion staple. If you are like me you wake up and put on clothes that can go all day, like comfortable leggings. I'm happy to see one of my favorite brands, Boden, jumping into this category. Now we can get fit in style with the new workout gear from Boden.
Related: Workouts to get you ready for ski season
New Workout Gear from Boden
I've been outfitting my family in Boden for years. The British brand is know for cute prints, high quality and fun color combinations. Their workout gear has the same sensibilities and is the perfect way to keep those sweat sessions going strong.  
What I'm Wearing from the Boden Active Line
I'm wearing the Jessica Active sports bra in a size 4. It's a fairly supportive bra that's perfect for yoga, hiking, walking and lower-impact workouts. The strap placement is seriously comfortable. I like the sophisticated color blocking and the rich fall colors.  Get the Boden Jessica Bra here (sizes 2-22; $60)
And I'm absolutely crazy about these Jessica Active Leggings. These sleek and stretchy athleisure leggings are versatile enough to take you from morning runs to relaxed evenings. They have a high waistband and a sculpting shape to flatter your figure. The clever flat seams make them super comfortable and there's a secure zipped pocket that's a perfect fit for your keys. For something extra special, we've added eye-catching colourblocking at the sides and ankles. Get the Boden Jessica Legging here (sizes; $60)

5 Pretty Ways To Organize Your Jewelry
I admit - I'm guilt. Despite my best efforts, my "jewelry drawer" has become a tangled mess of necklaces, bracelets and earrings. This cluttered collection not only makes it hard to see what I have, but difficult to untangle the pieces I do want to wear! This summer, I'm ...read more
This Year's Coolest Jumbo Pool Floats
Pool season is almost here! I can't wait to relax, read a book, and sip a cocktail while lazily drifting in an oversized float. (Just kidding, I have two toddlers--but a swim mama can dream, right?). If you've got a staycation planned, check out this year's coolest jumbo pool ...read more
Crystal Clear and Pristine: Pool-Cleaning Tips
Tropical Storm Isaiah gave us quite the midsummer surprise here in the suburbs of New York City. We just got our power back on after a whole week of darkness! With trees down, debris everywhere, and lots of uncertainty, one thing we forgot to check on: our above ground Intex ...read more
The Cutest Yoga Mat Ever
If you are working on your yoga practice (aren't we all), a sweet yoga mat can help get you motivated. This bold striped yoga mat was made in collaboration with the yoga experts Yogi-Bare. The hybrid design is more lightweight than a traditional mat and can be folded into a travel-friendly square – perfect if you're on the go. The natural rubber base grips the floor and the microfibre top layer is ideal for hot yoga (and extra-sweaty HIIT sessions). This would make a great holiday gift too! You can pre-order your Boden yoga mat here. 
Getting Your Practice Going
Momtrends Tip Try an app. If you can't get to a class, bring the class to you. There are some great videos on YouTube as well as apps. I just found out about Bulldog Yoga on demand, a new streaming video platform, that offers the same great sweat as their signature in-studio classes. These classes have been keeping me sane during COVID. Head here to get your first 30 days free.
MORE FITNESS FROM MOMTRENDS
PIN IT!
Use Pinterest to save your favorite ideas from Momtrends. Be sure to follow our Fitness and health board here.
This is not a sponsored post. We were given samples to feature and we always try to include affiliate posts. We get a small portion of all affiliate sales. By shopping out links, you help support Momtrends.