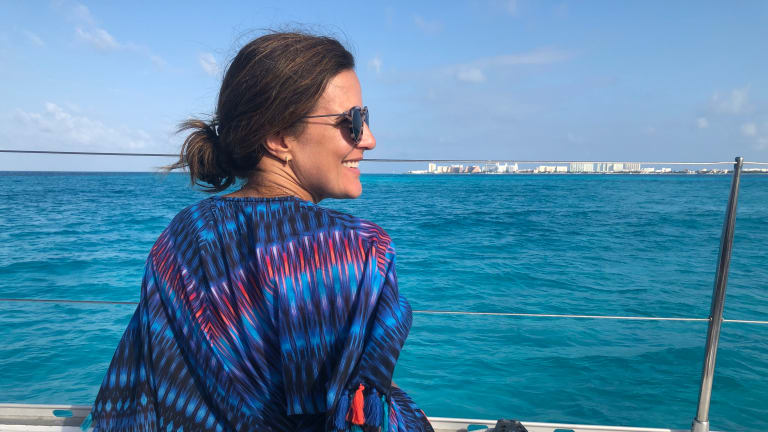 Fun Summer Caftan for Beach Vacations
Packing MiracleSuit fashions for my next beach getaway
I'm planning some fun summer getaways and starting to pack. Since I try to be somewhat of a minimalist when I travel to the beach, I want a coverup that looks smashing. I found this fun summer caftan for beach vacations from MiracleSuit, and I love how it's making my summer wardrobe pop!
Fun Summer Caftan for Beach Vacations
I brought this coverup to Cancun on our #InfluencersGetaway trip to the Seadust Resort (Check out where we stayed here). I was traveling with some seriously fabulous ladies and wanted to look stylish on and off the beach.
The Miraclesuit Marrakech Caftan is a super lightweight cotton that drapes beautifully. It's a short length that is easy and breezy. It's perfect for those days where you are popping in and out of the water. 
I adore the bold colors -- this coverup works great with red, black, navy and white. And you'll look chic at beach restaurants or shopping in town.  I love the tassel detail and the easy fit.
Shop the Miraclesuit Marrakech Caftan here on Amazon
Styling a Summer Caftan for Beach Vacations
Styling a summer caftan is so easy. I just added sandals, a hat and my new See sunglasses. Plus, it looked great with all my swimwear especially this solid navy suit. 
I haven't always been a fan of the one-piece. I used to think they made women look frumpy. A few years ago I had a fashion epiphany. When it comes to packing my favorite swimsuits, I always reach for MiracleSuit swim.
The suits are structured to make women feel fabulous and sexy. In these suits, I feel completely supported and the only thing I have to worry about is having a fabulous time!
Read for the beach?
As I prepare for Bermuda and Marseille, I'm looking for more fashions that are easy to pack and fashionable.
Are you ready for a beach vacation? Where do you find your favorite caftans and coverups?
Pin it!
Use pinterest to save your favorite fashion finds.
This Fun Summer Caftan for Beach Vacations feature is not sponsored.