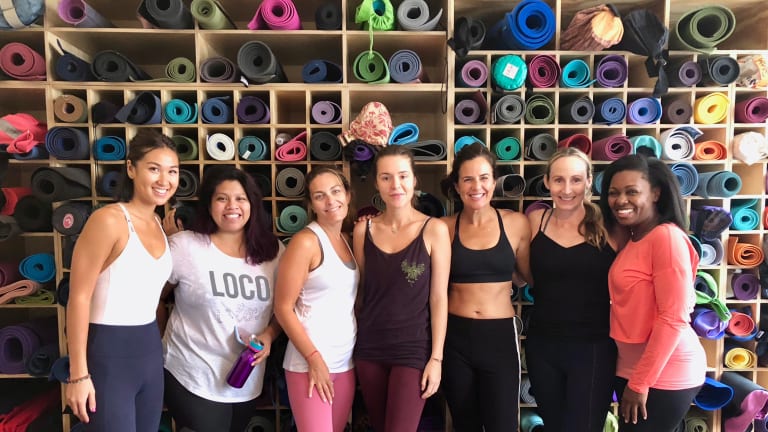 Fitting Yoga Into Your Mom Life
Time to make fitness a priority
Getting time to work out isn't as easy as it used to be. When I start planning out my week (I use a digital calendar AND a white board), I start with family obligations. First the girls' stuff goes in - teacher conferences, doctors appointments, music and sports. Then I add in Mr. Momtrends travel schedule. Next goes in Momtrends work. What's left? Not much. But with what's left I make sure to schedule in my workouts. I want to share some tips for fitting yoga into your mom life. Start here: get a 30-day FREE trial of Bulldog Yoga online.
Related: 5 ways to put a positive spin on back to school
Tips for fitting yoga into your mom life
I know it's not easy mama. Keep trying to make your schedule work for you. I know it's fleeting, but when you find that balance take a moment to savor it. The shift will happen soon enough.
Try an app. If you can't get to a class, bring the class to you. There are some great videos on YouTube as well as apps. I just found out about Bulldog Yoga on demand, a  new streaming video platform, that offers the same great sweat as their signature in-studio classes. These classes have been keeping me sane during COVID. Head here to get your first 30 days free.
Get a Yoga Buddy. This was easier when we could all go out and about, but if you have created a "pod" of friends during COVID, you can work yoga into the programming. The key is to find a workout friends who won't judge, just support. Find a friend who is also trying to make room for health and swap schedules and make it happen.
Build in some rituals. Spotify has a a great yoga playlist. Even if I'm doing a 5-10 minutes stretch session, I find music helps turn it into a practice. I also like how candles can set the mood. Try one of the Meaningful Mantra candles. They smell good and help me give intention to my practice. 
Cute clothes help. Cute workout gear goes a long way.  I like pieces from Vuori and Lululemon that can go from a downward dog to school pick up. More on my favorite pieces here.
Find a studio that works for you. Location is the most important. Right now it's terrific to find outdoor classes. Call ahead and find out how they are customizing classes to keep yogi's safe. When I'm in NYC, I love Yoga Vida in DUMBO, it's right by my office and my home and they offer a ton of classes. They have a great app to check out classes and book on my phone. 

Here's a sample yoga video
MORE YOGA FROM MOMTRENDS
PIN IT!
Use Pinterest to save your favorite ideas from Momtrends. Be sure to follow our Fitness and health board here.
This fitting yoga into your mom life feature is not sponsored. There are affiliate links in this post.