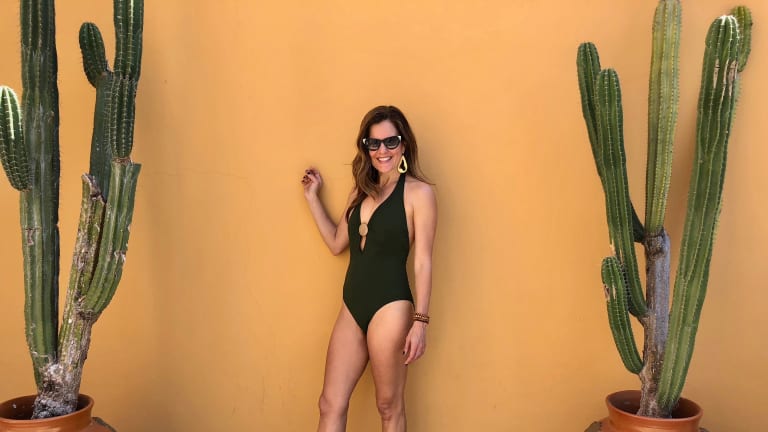 Figure Flattering Swimsuits
High End Swim Fashion from Amoressa
Ladies, it's time to talk swim. Beach season is upon us. I don't want you or any of my other friends to get stuck in a poorly-lit dressing room trying on suit after suit that makes you feel LESS THAN. Swimsuits shopping can make all of us a little crazy. I like my body, I'm fit and strong and 40++...I never put myself down and I don't point out my flaws. But I am a realist. My body has changed since my 20s and there's no going back. I have become savvy picking out figure flattering swimsuits that play up my assets and make me feel fabulous at the beach.
Related: Putting together fun outfits for spring
Where to Find Figure Flattering Swimsuits
My latest obsession? The suits from Amoressa. This is a new line to the Miraclesuit.com brand. Amoressa Swimwear is a high-end fashion line of figure-flattering swimsuits. The suits are sexy and refined. Each suit it engineered to make me feel sexy and strong. I love the sophisticated prints and the embellishments.  
I found this suit on the Miraclesuit.com site, and they are also available at many high-end department stores. The suits are made for women who have discerning style and who want to stand out. 
My Swimsuit Pick from Amoressa
I'm wearing the Amoressa Laura Mars Bianca Swimsuit. It retails for $180 and comes in black and olive. It's a slimming one-piece that looks great no matter your chest size (as long as you don't need too much boob support). I like the way it makes me look a little curvier than I am in real life. The deep v-neckline and gold embellishment add, rather than subtract from what god gave me. 
This suit looked great in the water and out. I also took it kayaking in the ocean. One pieces are a must-have for water sports. I want to focus on fun in the sun, NOT keeping track of bikini pieces. With this terrific Amoressa figure flattering swimsuit, I got to play and not worry about looking like I was in a "mom suit."
I'm not alone in loving these suits. For a special influencer getaway, we brought along six other women to style swimwear in Tulum, Mexico at the Dreams Resort and Spa. 
The point of the trip is to empower women to show off what they've got. When we showed up at the pool to take photos in our suits it was one huge love fest. I wish I could give each of you this experience as you try on suits. It was all about women supporting other women to be bold and beautiful. We all deserve this!
Here's what I think: A great swimsuit is a confidence booster. No more fretting about the beach, it's time to feel fabulous and show off your mom bod. My friends Mary from Downtownchicmoms and  Danielle from PrettyExtraordinary.com styled Amoressa in different colors and silhouettes. Mary is wearing the Diamonds are Forever Vesper in red and Danielle the Ramoes Bo one-piece. Don't they look smashing?
Show Off That Mom Bod
Motherhood is for the strong. We are warriors and leaders, we are busy creating and supporting those we love. It's time we showed ourselves the same TLC. When you look in the mirror in your swimsuit I want you to see how gorgeous your are.
My job is to show my girls they can do anything and be anything. I don't want them to see me sitting on the side of the pool watching all the fun or fretting in a dressing room that I look fat or have saggy bits and pieces. They need to see me jumping into life. That means having a swimsuit that embraces my joy of life and my love of the beach.
I don't wear mom jeans and I won't wear a swimsuit that's less than fabulous. Amoressa swimwear is all about giving women the confidence they need to dive into summer. Sexy has never been so simple.
MORE FASHION TIPS FOR MOMS
PIN IT!
Pin this page and reference it for your shopping. A great swimsuit is a must for all fashionable moms. I'm here to help you find the perfect suit. Be sure to follow our Mom Fashion Pinterest board here.
This Figure Flattering Swimsuits is sponsored by Amoressa.