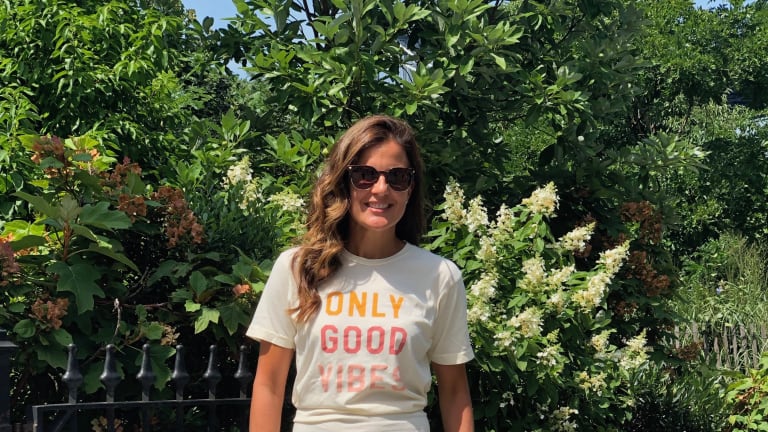 Favorite Graphic Tees for Moms
Only Good Vibes -- perfect summer style for mom
I know I'm not breaking the news on this trend for moms, but graphic tees are still going strong and I still love them. My favorite graphic tees for moms include messages that inspire or make us laugh. 
Nowadays, tee shirts can go to the office and right out to dinner. the trick is to keep it stylish and keep it pretty. When I pick graphic tees, I gravitate towards color and positivity. This new tee has both.
Only Good Vibes
This tee is from Polished Prints, one of my favorite spots for graphic tops. "Only Good Vibes" is one of their newest prints and I love the color and the vibe. Who can argue with that sentiment? Heaven's knows there's enough negativity, we can all spend time focusing on the good stuff.  
Dedicated to building connections through empowering, Polished Prints features meaningful messages that radiate positivity and spark conversation. The "Only Good Vibe" style is available for a limited time, and are available for adults, children and babies. Women's sizes run from XS to XXL. Grab yours while you can for $32.
Momtrends Style Tips
The cut of this tee is pretty standard, to slim it up, I twisted a knot at the back of the tee. It's an easy trick that doesn't involve tailoring or cutting.
When it comes to what to put on the bottom, I went for an olive color. It's summery and neutral. This pair is five years old and from cabi and they are still my favorites.
The Earth Shoes sandals are getting more and more mileage as the summer goes on. You can find out more about them here.
More Fashion Fun on Momtrends
Stay chic this summer with our favorite summer fashions.
PIN IT!
Use pinterest to save your favorite fashion finds.
This Favorite Graphic Tees for Moms feature is not sponsored.