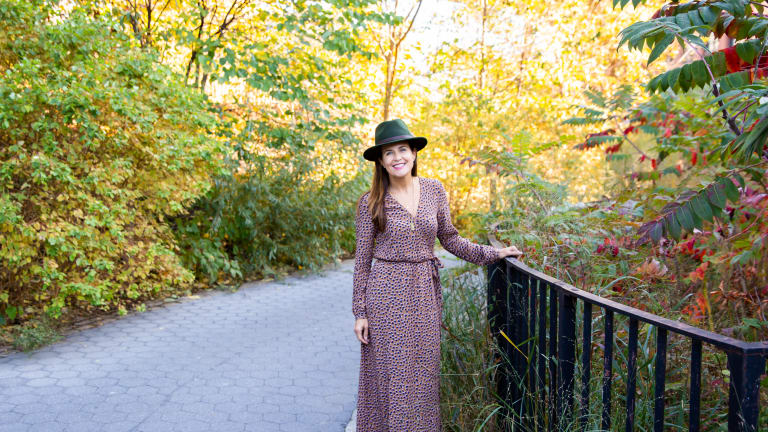 Fall Style Favorites from Joules
Getting dressed in pretty layers makes cooler weather a fun style challenge.
Fall means rich colors, sophisticated prints and layering on the accessories. This autumn, I've been staying warm and stylish with super cute fashions from British designer, Joules.
Styling Joules for a Momtrends Event
Last week I was hosting a mom influencer event here in NYC. Joules was one of our sponsors and I adored the outfit they sent me. Check it out. 
Since I liked it so much, I decided to give this client some non-sponsored love and share the details on this decidedly British brand. 
Joules is a newer brand - they came out in 2000 and now have 130 stores. They design for kids, women and men and the price points are about the same as J. Crew, though the clothes are more appealing for the trendiness.
Fall Styles from Joules
Getting dressed in pretty layers makes cooler weather a fun style challenge. I started with a print dress. This take on a wrap dress is quite flattering. I love that the length is well-suited to boots. Since there is a high double-slit, I added footless tights for warmth and coverage. 
The Chloe Wrap Dress comes in two colors and is an excellent dress for work of travel. It's not really a wrap - it just looks that way. It's got a simple belt to tie and I love this abstract fall print.
Get the Chloe Wrap Dress from Joules here.
I paired it with a felt fedora hat (also from Joules). I loved the feather trip and the rich dark green color. 
Get the Felt Fedora Hat from Joules here.
More Favorite Fall Accessories from Joules
They also have a great selection for women and men with some of our favorites being the chic 
If there is going to be one boot you purchase this fall to wear with everything, make it the Elmwood boot from Joules. It's $130 and AWESOME.
I love the fit and the fashion. I've worn these with jeans and with skirts and admire how they seem to go with everything. I'm impressed. So much so, that I might get them in brown too.
Get the Elmwood Boot from Joules here.
MORE FASHION TIPS FOR MOMS
PIN IT!
Use pinterest to save your favorite fashion posts. Be sure to follow our Fall Fashion Trends Pinterst board here.
This Fall Style Favorites from Joules post is not sponsored. I was given these fun pieces to style for a Instagram campaign and loved them so much I had to share.