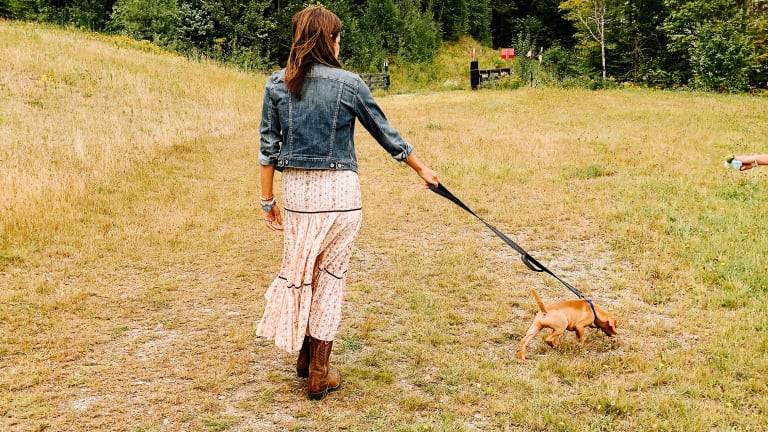 Publish date:
Fall Fashions from a New Designer Who Knows How Moms Dress
In The City Collection is perfect for moms who love boho chic style.
In The City Collection is perfect for moms who love boho chic style.
My new life in Vermont started a few months ago. We've been transitioning from city life to rural mountain life while we deal with COVID isolation. A lot of the joy I get from clothing has been absent. I'm homeschooling and puppy training and keeping my family going. I'm so excited to have a reason to talk about clothes again. I'm so excited to share these fall fashions from a new designer who knows how moms dress. 
In The City Launch
My friend Brianne, the mom and mastermind behind Stroller In the City, has a new capsule launch. The pieces launch today and are available via Shopify at StrollerInTheCity.com. Brianne and I have been friends for a decade and I've loved watching her build a brand into a national sensation. Now I can share in her impeccable style.
This collection is inspired by Brianne's January trip to Florence. She was in Italy covering children's fashion week and came home absolutely inspired. Between the playful kids' fashion, bright colored gelato cones, Gucci Gardens, and of course the gorgeous architecture, Brianne knew she wanted to create something whimsical. This skirt is part of the brand launch and I adore it.
I styled my skirt with cowboy boots, a white tank and my trusty denim jacket. It's an outfit that's perfect for my Vermont life. It's pretty, comfortable and reminds me of the all the joy I get from clothes again.

5 Pretty Ways To Organize Your Jewelry
I admit - I'm guilt. Despite my best efforts, my "jewelry drawer" has become a tangled mess of necklaces, bracelets and earrings. This cluttered collection not only makes it hard to see what I have, but difficult to untangle the pieces I do want to wear! This summer, I'm ...read more
This Year's Coolest Jumbo Pool Floats
Pool season is almost here! I can't wait to relax, read a book, and sip a cocktail while lazily drifting in an oversized float. (Just kidding, I have two toddlers--but a swim mama can dream, right?). If you've got a staycation planned, check out this year's coolest jumbo pool ...read more
Crystal Clear and Pristine: Pool-Cleaning Tips
Tropical Storm Isaiah gave us quite the midsummer surprise here in the suburbs of New York City. We just got our power back on after a whole week of darkness! With trees down, debris everywhere, and lots of uncertainty, one thing we forgot to check on: our above ground Intex ...read more
Get Your Hands in the Collection
The skirt is cotton with an allover floral pattern and velvet ribbon trim. All the pieces are made of 100% Japanese cotton imported from Japan and made in NYC. In addition to the dresses and skirts, the collection also features scrunchie sets of 2 in both mom and daughter sizes and matching masks.
I think you'll love this collection as much as I do. Head to Strollerinthecity.com to shop the collection and check out what inspires Brianne.
MORE FASHION TIPS FOR MOMS
PIN IT!
Use Pinterest to save your favorite fashion posts. Be sure to follow our Fall Fashion Trends Pinterest board here.