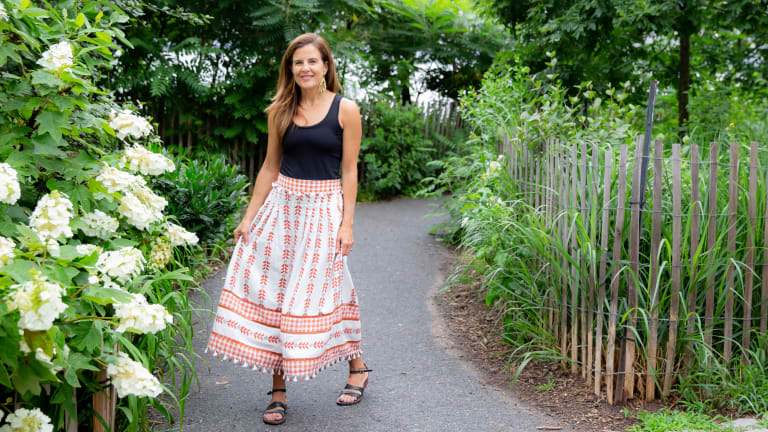 Publish date:
Embracing Summer Palazzo Pants
Shopping local for this fun summer look
Shopping local for this fun summer look
Summer is here and I love styling looks that are playful, that's why I'm embracing summer palazzo pants. I took them on a recent trip to Marseille and they were an absolute hit in France.
Related: Making money with The Real Real Consignment
And since I'm a word geek (an amateur etymologist), I did a little search about the pant. In Italian, Palazzo means a large, splendid palace or building. Palazzo pants are trousers with very wide legs. The relation is that like the pants, a Palazzo is a large, splendid area.
Shopping Local for Palazzo Pants
While I love internet shopping, there's nothing like touching and feeling clothes and using a good old-fashioned dressing room. A few months ago, I found myself with an extra 45 minutes before a parent-teacher meeting in Brooklyn. I considered it a "shopportunity."
If you haven't been shopping in a small boutique, I highly recommend it. Unlike a mall shop that is all one brand, boutiques specialize in finding smaller designers. 
I'd never heard of the designer and that's the point. I can't easily google them and find them on Amazon. Shopping small can be quite fun and rewarding.
Embracing Summer Palazzo Pants
I love Palazzo Pants for many reason. They are cool and chic and quite practical. This style gives you the freedom of movement of pants with the pulled-together feel of a skirt.
This easy outfit is perfect for a dinner out or for going to see museums in Rome (they would have been perfect for my family trip back on 2013).It's very packable and practical, but also loaded with style.

Fun Ways to Discover Venice Italy with Your Family
Greetings from Italy wear the gelato is rich, the clothes divine and the scenery is inspiring. Now that I've been to this fine city in the north of Italy, twice, I've amassed a list of favorites to share. These are some fun ways to discover Venice, Italy with your family. ...read more
Here's What No One Tells You About Olive Oil
produce is at its absolute PEAK right now. It's the time to prepare fresh veggies and fruit with ease and simplicity. When it comes to cooking, the farmer's market is my muse. As I prepare some of my summer harvest favorites, I'm sharing a little secret, what you put ON the ...read more
Four Fun Palazzo Pants
Athleta (comes in plus sizes, three colors) athleisure that can go to work. $89 
Summersalt leopard (comes in 5 colors) is also a perfect beach coverup. $80 
cabi snap crop, a pretty polished pant with button detail, available up to XXL ($124) 
Lunya Pima cotton (the fullest leg of the four options) comes in three colors and is the most fashion-forward of my picks. ($148)
How I Styled the Palazzo Pants
Since the pants have a lot going on, I kept the styling simple with a fitted tank top. You could just as easily add a t-shirt, the key is keeping the top fitted to balance out the volume of the pant. A flowy top and a flowy bottom would be too much fabric and overpower your figure. Fashion tip: Keep it simple, if you add volume, pick a top or a bottom.
Accessorizing  Summer Outfits
While this outfit would be fantastic with a heel, I choose a flat black sandal. This Cousins sandal is a classic to add to your closet. I have had this pair for a few years and they are constantly coming out to support my favorite outfits.
I kept the jewelry very simple and added a pair of gold earrings with a bit of length to them. That's it. 
Now tell me, how would you style this look? Would you try on the Palazzo Pant style?
MORE FASHION FUN FOR MOMS
PIN IT!
Use Pinterest to save your favorite fashion posts. Be sure to follow our Mom Fashion Pinterest board here.
This Embracing Summer Palazzo Pants feature is not sponsored.