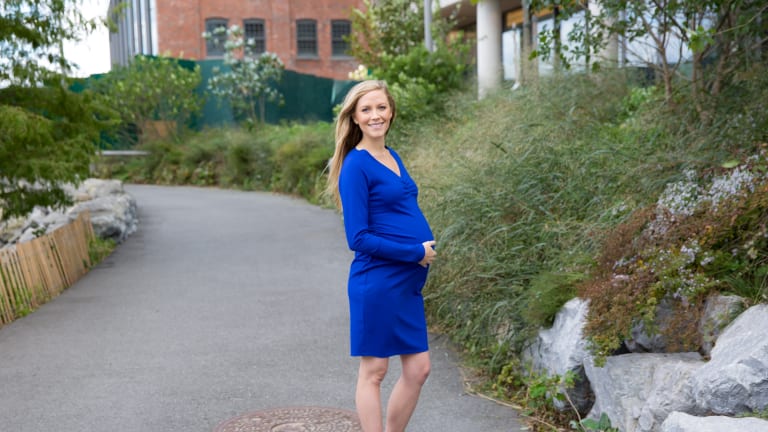 Embrace the Bump With Belly-Hugging Styles
We've loved sharing our maternity must-haves these last few days. From capsule-wardrobe basics to the most supportive foundation pieces to dressier outfits for shindigs and affairs, it's been a fun and stylish journey baring our bellies and sharing our inspiration. 
In this last installment, we're sharing our favorite ways to really draw attention to the belly! No subtlety here! We really want to flaunt the cutest curves that go with pregnancy. When else in your 30s can you wear tight body-hugging figure-flaunting dresses and tops?! (When else in your 30s would you want to?!)
Second Trimester - Tops and Panel Jeans
This Kimi + Kai Daisy V-Neck Top features an empire waistline that totally compliments a burgeoning baby bump in a signature stretch knit fabric, and the deep maroon hue pops. 
The second trimester is also when you're going to want to snag yourself a pair of full-panel jeans, if you haven't already. (You're going to wonder why all jeans for men, women, and children don't feature elastic waists!) This pair of Kimi + Kai Jodie Girlfriend jeans features contoured panels that reach high on the midriff to securely cradle your bump. Crafted from a super-soft, ultra-stretch denim, they are fitted through the hip and thigh..
We styled them with a comfy pair of brown suede riding boots for a fall-ready and flattering look.
Third Trimester - Dresses
Ah, the third trimester and home stretch... Go big or go home! That means, don't shy away from color and embrace that basketball accessory. 
The Sapphire color on this Executive Maternity Dress is a definite statement-maker. It can be worn during the day with trendy slip-on silver sneakers and then jazzed up for night with black heeled boots or nude pumps, making it the perfect desk-to-dinner maternity dress. The ruched siding will accommodate for the last few weeks of growth, so you can feel fabulous in this final stretch of your maternity style journey... Looking good, Mama!
This post is not sponsored.