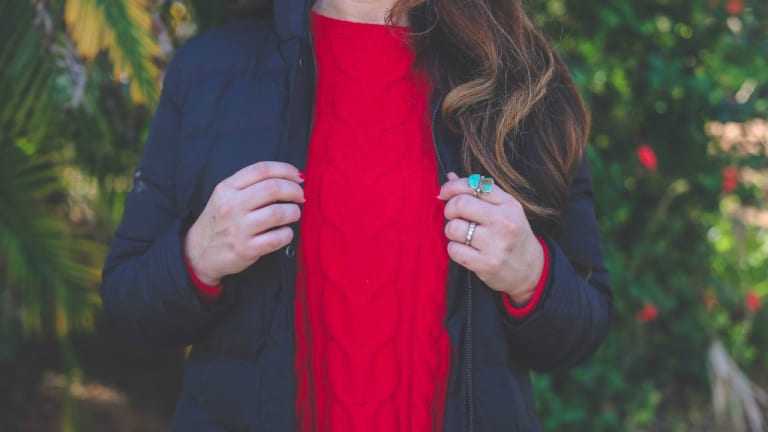 It's Time to Embrace Cozy Fashion
It's the most wonderful time of the right? The holidays are filled with plenty of opportunities to dress up...But you know what they're also filled with? There are also plenty of opportunities to dress DOWN. Bwah! It's time to embrace cozy fashion my friends. Perhaps you're already there. Maybe your closet is filled with comfy knits and athleisure galore. Just in case it's not, however, I thought I would make my case for cozy fashion today. I'm not sure if you've heard, but this winter is about to get REAL. The word on the street is that it's going to be one of the coldest we've had in a while, so cozy fashion is definitely in order.
The Case for Cozy Fashion
If you think about cozy fashion, what is the first piece of clothing that comes to mind? For this girl it's an oversized knit sweater....a slouchy cable knit sweater to be specific. Whenever I want to be nice and cozy, yet presentable at the same time, I reach for one of my go-to knits. This time of year you'll find me in winter whites and holiday red. I know, I know. Red is so over done right? Ask me how much I care. Yeah, not a lot. Haha! Color me overdone. I'm ok with it.
There is just something so cheerful about a holiday red sweater and they go perfectly with toppers like a green blanket scarf for instance. I'm not over blanket scarfs or holiday green either for that matter. Hey, while you're embracing that cozy fashion, why not embrace those holiday colors too? I'm certainly not above being a bit cliché. It's been a somewhat tough year and I could use some holiday cheer in any form! So, bring on the RED...and I might even through in some jingle bells to boot. Haha!
So, let's talk about what to wear with our cozy sweaters shall we? Actually, the real question is, what CAN'T we wear with them? Seriously. You can rock them with skinny jeans and booties like I have here. You can go full on comfy with it and pull on leggings and sneakers. Or you can work in the jogger trend. I have joggers that are baggier and some that are more tapered, making them perfect to wear with slouchy sweaters. The sky's the limit when it comes to cozy fashion. The one main rule is, make it comfy!
Shop the Post
And if you don't have things like skinnies with a good amount of stretch, leggings and joggers etc. in your wardrobe, it's time to add those along with your new cozy sweater. I'm assuming you want a new one right? Winter is COMING! That's right. A Jon Snow kinda winter is right around the corner. Don't say I didn't warn you. Make sure you're all cozied up when the snow hits the fan! Don't worry, I'm not going to leave you in the lurch. I linked some of my favorite cozy sweaters below!
popcorn cable knit sweater / relaxed v-neck sweater / asymmetrical cable mix sweater / cable stitch sweater / balloon sweater
Now that you know why it's time to embrace cozy fashion, for even more winter style advice, check out our top outerwear picks!
We were not paid for this post. It does contain affiliate links.
.