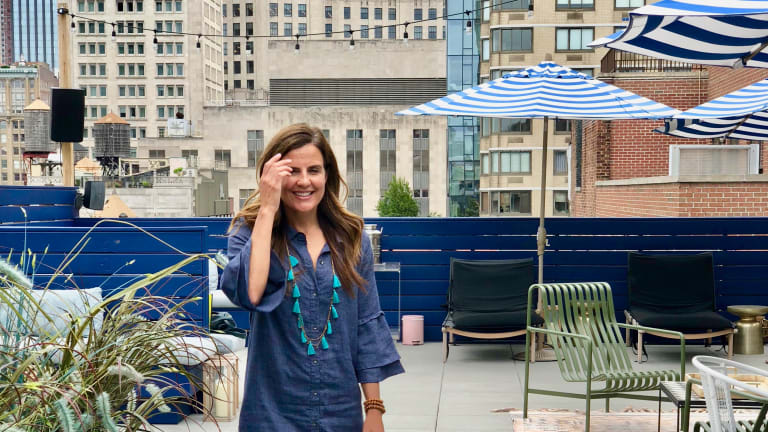 Easy Summer Outfit for Work or Play
Rooftop Life in New York City
In the summertime, I am all about living a blended life. I want to carve out special time with my family, but I also love my thriving business. Summer is a time when I need to be flexible. I need the same things from my clothes. That's why I love this easy summer outfit for work or play. It's a dress from Splendid that can go just about anywhere.
I've been wearing Splendid for years - the style is definitely West Coast chic. Easy, unstructured pieces without a lot of fuss. Almost everything costs less than $200 and nothing has to be dry cleaned. I'll tell you more about the dress in a bit. First, let's talk about this setting.
This summer, we've been busier than ever. Loads of brands are working with us to develop special projects and events. My team and I have been using an awesome new women's club called, The Wing to make the most of our time.
The Wing Co-Working Space
The Wing is a co-working space collective and club, with offices in Manhattan and Brooklyn, and DC with loads more coming. It was founded by Audrey Gelman and Lauren Kassan in 2016 and I joined in 2017 when they opened the DUMBO Brooklyn space. Yes, we have office space in DUMBO; it's small and purposeful and NOT a great place for networking. 
I use the Wing for coffee meetings, networking events and as a home base when I'm in Manhattan (they have this great spot in the Flat Iron area as well as a huge space in Soho).
Sherri and I used the Flat Iron space to prep for a day's worth of meetings. We love the rooftop deck and the whole vibe of women supporting women. There is a waitlist to join, if you are interested, I say APPLY NOW. This is definitely a trend that is here to stay. 
Easy Summer Outfit for Work or Play
Ok, back to the dress! This Splendid Chambray Ruffle Sleeve Shirtdress is really two in one. Underneath the shirt, is a cami that can easily be worn alone. The fabric is a chambray linen-blend that does wrinkle, but I think it looks fabulous that way.
To complete this easy summer outfit for work or play, I slipped on my Cousins sandals. Designed here in NYC, these strappy sandals are perfect for travel or work. No blisters, no discomfort, all style. 
As far as jewelry, I added a few beaded bracelets and this fun tassel necklace that I picked up at TJMaxx a few years ago.
Pin it and Wear it!
Use Pinterest to coordinate your outfit ideas. 
This Easy Summer Outfit for Work or Play feature is not sponsored. Affiliate links are included in this post.