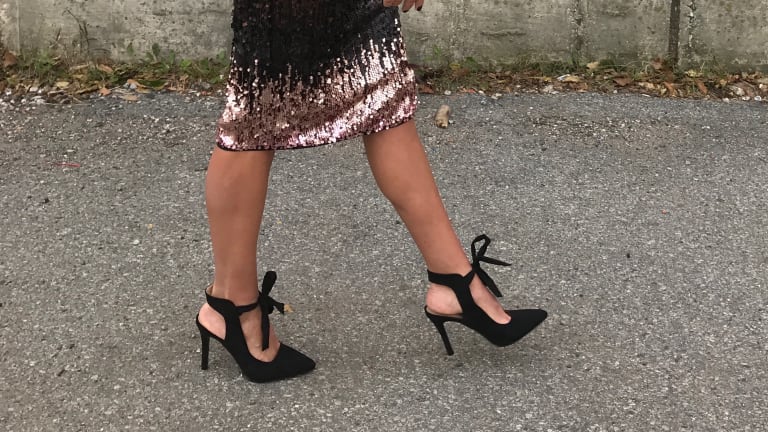 Dressing for the Holidays with Sequins
The Skirt Everyone is loving
Do you love sequins? I sure do. Ever since I was a little girl I've always been drawn to the sparkle and shine of sequins. Dressing for the holidays with sequins is a fun way to embrace all the festiveness and it's pretty easy to pull off.
I remember my mom's sequin dresses - they were always the ones I coveted and wanted tp play dress-up with. Well, the same holds true today. I always love to keep some sequins in my closet. You never know when you need to shine! 
I found this skirt for a holiday event and the entire look from head to toe is under $150. Let's talk style for a steal!
Perfect Sequin Skirt
Start with this Bianca skirt from Cents of Style, it's the one piece that you can wear from now to New Year's Eve and NEVER get tired of it.
This skirt is a steal (under $50) and has a sleek pencil cut. The ombre colors work with cream, black, grey and pink. And I'd love to see it with a denim top too.
How I Styled It
You could make this super sexy with a tank top or something that showed more skin up top, or you can make it a little more understated with a sleek black top.
I added a slim black turtleneck (under $20 on Cents of Style). It comes in a bunch of different colors - you might even try grey. It's easy to tuck in - and you should tuck your top in - so you can show off your waist.
Let's Talk Shoes
Of course the shoes really matter when you dress up. I added this lace-up heel called the Rexha (you guessed it, also from Cents of Style). I wore this all night long at the Momtrends Holiday Event and it's awesome. 
We gathered our favorite NYC bloggers for a night of celebrating trends. Our "mom models" dressed up in Riders by Lee with tops from Cents of Style - everyone looked fabulous and the outfits were all like this one, clothes you can really WEAR again and again!
What about you? Are you a fan of dressing in sequins for the holidays? Do you love to add a little sparkle to your holiday looks?
MORE FASHION TIPS FOR MOMS
PIN IT!
Use Pinterest to save your favorite fashion posts. Be sure to follow our Fashion File Pinterest board here.
This is not a sponsored post. There are affiliate links in this post. Shopping our links helps support Momtrends.