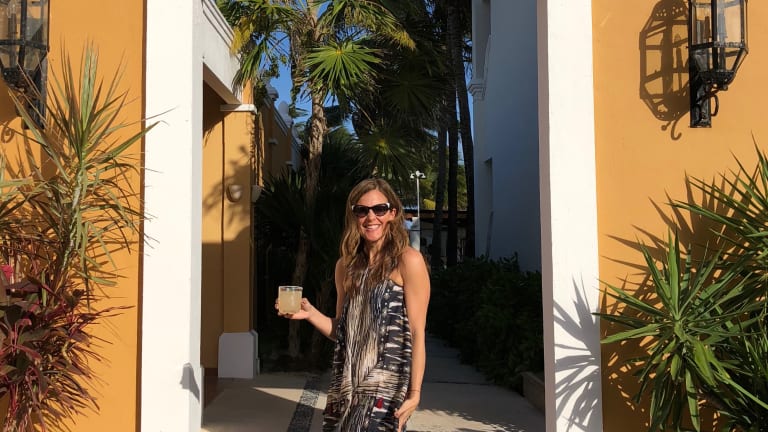 Dressing for the Beach in Style
Amoressa Cover-Ups and Summer Accessories
This week I've shared a lot of beach photos. I've been highlighting my favorite summer trends from my trip to Tulum. On the trip, I was sharing my favorite swimsuits from Amoressa (to read more about these stylish suits head here.) When it comes to dressing for the beach in style, every mom needs a great cover-up. This one from Amoressa works as a dress too. It quickly became an essential part of my beach wardrobe in Mexico.
Amoressa Swim Cover-Up
The Amoressa Swim Cover-Up is breezy and easy and prefect for dinner on the beach or as a dress you can toss over any swimsuit to add a touch of style as you head to the beach or pool. Don't worry about belts or anything tight. When I dress for the beach, I want lightweight fabrics and whimsical prints.
I feel pretty and chic in this dressy piece - I love the tassel details. Slip it over your head and then tie it in the back - the strappy details are right on trend. 
Beach Accessories Oka-B Sandals
I didn't need much more to make an outfit. Just a pair of sandals and a bit of sparkle. I'm still on the hunt for a perfect straw tote, but the hunt has ended for the perfect beach sandals. The Oka-B's Myla has massage beads in the foot bed and wide comfortable straps.  These sandals are made of recyclable material and they are super easy to clean; just wipe it down or throw them in the washing machine.
They are sturdy enough for walking into town or a casual bike ride. Consider them much smarter than your basic flip-flop.
Marcia Moran Jewelry
A girl sometimes wants to bring some glam to the beach. These light dangling earrings from Marcia Moran helped me dress up for dinner without a lot of hard work. 
Pin it and Style it!
Pin this to your fashion or beach board to save the island inspiration. Let me know where you are going and what you plan to wear.
This Dressing for the Beach in Style feature is not paid.