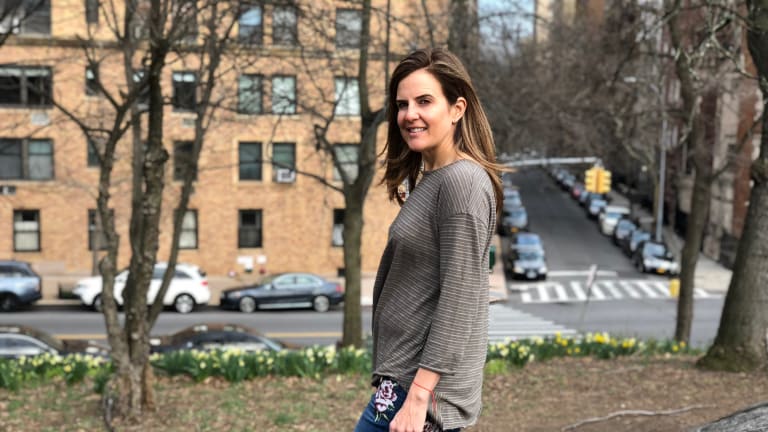 Denim is the Answer
What to Wear in Cold April Weather
When April rolls in like a lion, I'm often stumped when it comes to what to wear. I want to debut my spring apparel and lighter colors, but alas, the temperatures are in the 30s! When I see my friends posting from warmer climates, I want to hop on a plane and join them. But mom life demands I stay put. The question is: what to wear in cold April weather? Denim is the answer.
I found the cutest boutique in Park City when we were there on spring break. Mary Jane's is a fun, colorful shop on Main Street in Park City. The helpful staff helped me pick out a few things to try on, and these jeans were keepers.
Denim for Spring
The Skinny Jeans from 7 for All Mankind have a great fit and offer a hint of spring thanks to the floral embroidery. I don't know about you, but I say, thank goodness the super low-rise style is over. This pair actually approaches my waist. As a 40+ mom, I'm happy to have the support around my middle. They are embellished with needlepoint patches and have a somewhat cropped length. Right now they are on sale...so shop away!
At the same boutique, I also picked up this striped Michael Stars olive tee (I can't find a current link to the tee, but you can check out the Michael Stars site to find similar). The tee is light enough to wear into summer, or I can layer it with a sweater for now.
What to wear in cold April weather
Ah, sandal season will come eventually. While we are getting all the April showers, I'm constantly reaching for these Blundstone boots. I wrote about these fabulous shoes last fall, and I'm still loving them. Read the full review here.
They come in a bunch of colors, I'm wearing the Blundstone Super 550 Series Boot. Get them at Shoes.com. I hope you don't mind that I am blogging in the moment. Momtrends is always trying to relate to real-world problems. When spring comes, we will be ready!
Pin it and Wear it!
I hope you get style inspiration from this post. If you try this or something similar, let me know.
This denim is the answer feature is not sponsored.