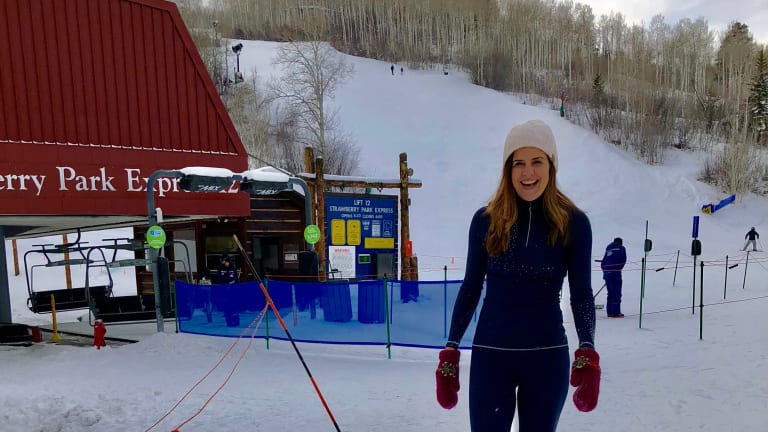 Cute Ski Clothes
Warm doesn't have to be boring with S'no Queen Base Layers
You know I spend a lot of time on the slopes. So far this season, I've have 22 days on snow. At the end of the year, I will have spent about 10% of my year on snow. That's why I insist on cute ski clothes. I want to carry my style on to the mountain.
My most recent find is S'no Queen. It's for women who want to feel warm and a little fancy on snow. 
Cute Ski Clothes from S'no Queen
The design team behind S'no Queen knows that good ski base layers can have a life of their own. Base layers can be boring and never see the light of day. Most of them stay covered up under ski pants and jackets. 
But there's something better - base layers that are cute enough to be worn on their own, like the S'No Queen's latest Midnight Blu Zip Polo. The deep navy color will work with loads of your ski clothing. But thanks to the sparkles, this top can also be worn apres ski.

This S'No Queen thermal top is adorned with beautiful crystals, scattered front, back and on the sleeve. It's fancy enough for even Aspen or Beaver Creek. 
I wore this top all day in 20 degree weather when I was at Beaver Creek. It's incredibly soft on the skin and it's sleek so it fits well as a first layer. 


Great Base Layer Leggings
Leggings can make a huge difference in your ski day. The S'No Queen thermal Midnight Blu leggings, are perfect for wearing under your favorite ski clothes. I layered them under my Skea ski pants and they kept me warm all day.
I love that these ribbed leggings are super-soft and stretchy. They are sleek and won't add bulk to your legs. 
When you're ready to up your game on base layers, head to the S'no Queen site and get your sparkle on!
Pin it and Wear it!
2018/19 Family Ski Guide
Want more great ski resources? Check out our Family Ski Guide!
This is not a sponsored post. I was given samples for review purposes.