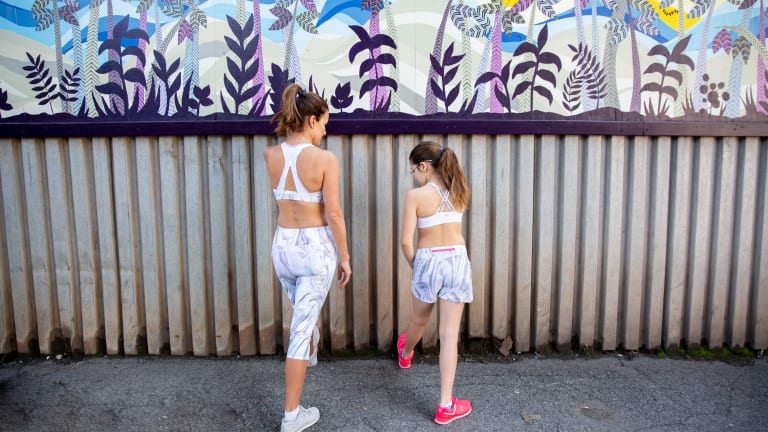 Cute Mommy and Me Workout Clothes
Getting the family fit in style with Athleta and Athleta Girl
Running with my teen and tween daughters has been a great source of pride and joy for me. It's a way to show them how much fun exercise can be -- it's a great way to turn a workout into a bonding experience. My 11 year old and I have done a number of 5K's together. As a treat to the two of us, we got these cute mommy-and-me workout clothes from Athleta.
Athleta Mommy and Me Workout Clothes 
Part of my plan to get my girls into working out is to encourage them in little ways. We do things like find scenic runs, and to sign up for girls' only races. Another tip to keeping running fun is to keep the gear cute! I've been wearing Athleta gear to workout for years. My girls also love the gear -- the prints and silhouettes are right on trend.
Let's start with the Athleta Girl Upbeat Bra 2.0. It's ideal for tween girls. It's got a little support, but mostly it's about style and getting girls used to the concept of running coverage. 
It's soft enough to wear to school and gym class. The fabric is super soft and it comes in an array of colors. And a bonus with all things Athleta Girl, it comes with an inspirational headband.
Athleta Girl Printed Record Breaker 3" Short
Shorts are a big deal. Most days my daughters head to school in leggings or shorts -- it's all about being active. This short is called the "record breaker" and though it's designed for running it's also great for every day life (and summer camp!). The short comes in tons of prints, I love the swirly Marble Glitch.
Great Running Clothes for Mom
I love that I can get coordinating fashions. For me, I also picked the Opal print. On the bottom I've got the Contender Opal Capri in Powerlift. It matches the girls' short in this fun gray-based print.
This legging is great for running and also works at the yoga studio or pilates class. It's soft and offers just enough compression to feel supported.  
Contender Printed Bra
On top I'm wearing the matching printed bra. It's the bra to reach for when you head to SoulCycle or on a run with your daughters. The bra offers medium to full support and is super-soft. 
Get the Marble Glitch Bra here.
Athleta for Girls
Getting the family fit in style with Athleta and Athleta Girl is a lot more fun in style. Let me know your favorite workouts!
More running inspiration
Pin it!
Use Pinterest to save your favorite workout fashions and fitness inspiration. Be sure to follow our Fitness & Health/ board here. 
This Cute Mommy and Me Workout Clothes feature is not sponsored.