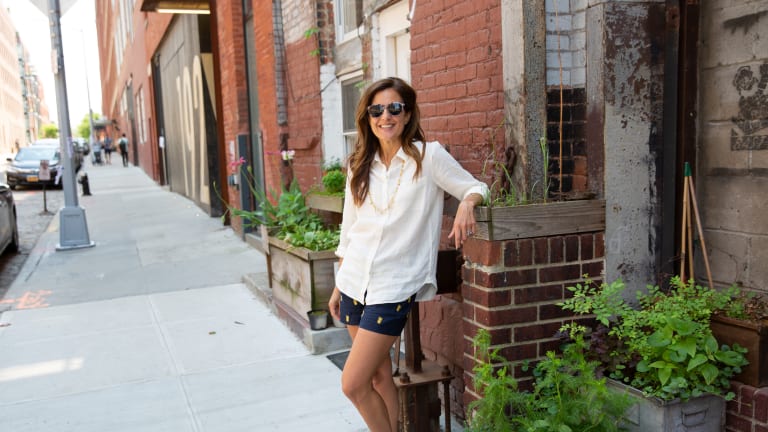 When it comes to adding cute linen pieces to my summer wardrobe, Boden is always a great resource. This summer I'm crazy for all things linen and metallic. Combining these two trends is my favorite way to pull off everyday effortless summer dressing.
Related: The 10 best flip flops for summer 
Boden Prints are Perfect for Your Summer Outfits
Here's another trend I'm in on: pineapples. Something about this tropical fruit has captivated me this year. 
My tropical navy shorts have a sweet metallic pineapple print. Rather than making them look too sweet, they are updated with a trim fit and a shorter length. 
Boden Pineapple Linen Shorts
These linen shorts have a 4" inseam, making them anything but "old lady." They're made from lightweight linen which travels effortlessly (I never mind a few wrinkles, that's the nature of linen). The waistband creates a flattering shape – but I do wish Boden had put pockets on them. Everyone needs pockets on everything --that's my style motto.
Shop the pineapple linen shorts here
Linen Metallic Shirt
I paired the pineapple shorts with a whisper-soft linen shirt with a hint of gold woven in. When it comes to cute linen pieces to add to your summer wardrobe, you can't miss with a white or ivory long-sleeve shirt.
This Boden shirt is ivory with a gold metallic stripe. It's got a roomy relaxed fit (I'm wearing a size 6 and I'm 5'6" and 125). This is perfect layered over a tank --it's a great alternative to a cardigan. 
For travel, this shirt takes up zero space in your suitcase while offering a ton of ways to style denim. The metallic stripes turn a basic into an elevated piece. 

Five Tips for the Perfect Pumpkin Patch Visit
It's that time of the year again...pumpkin patch time! While I love a nice Pumpkin Spice Latte as much as the next fall lovin' girl...for me, the season is all about spending time with my family...and hopefully that time is spent outside as much as possible. If you're headed out ...read more
Perfect for Fall Pumpkin Spice Dirt Bomb Recipe
Get your pumpkin spice fix with this tasty dirt bomb recipe. Unlike fried donuts, this recipe is a little lighter and, since no hot oil is involved, a lot less messy. These dirt bombs, or baked donuts, are irresistible cakey muffins that are spiked with nutmeg and ginger, and ...read more
Save Money at a Ski Swap
Are the slopes in your future? If you want to save money on ski gear, consider a ski swap. A swap is a great way to buy and sell used equipment. Most swaps consist of a variety of gear, from brand new to used skis and snowboards to skis; from poles to boots to bindings and ...read more
Shop the ivory linen shirt at Boden here.
Star Drop Necklace
I don't load on the accessories in the summer. I picked this easy star necklace in gold from Boden to finish off the look. It has delicate hanging star charms on it and looks great with my summer sundresses as well as denim and linen. 
Shimmery Gold Sneaker
I'm wearing the supremely comfortable Women's Naturalizer Marianne Slip-on Sneaker. Shop this sneaker at shoes.com
Alternatively, I'll be wearing this outfit with my Earth metallic sandals. How will you style your linen shorts this summer?
MORE SUMMER STYLE FROM MOMTRENDS
PIN IT!
Use Pinterest to save your favorite fashion posts. Be sure to follow our Summer Style board here.
This Cute Linen Pieces to Add to Your Summer Wardrobe feature is not sponsored.