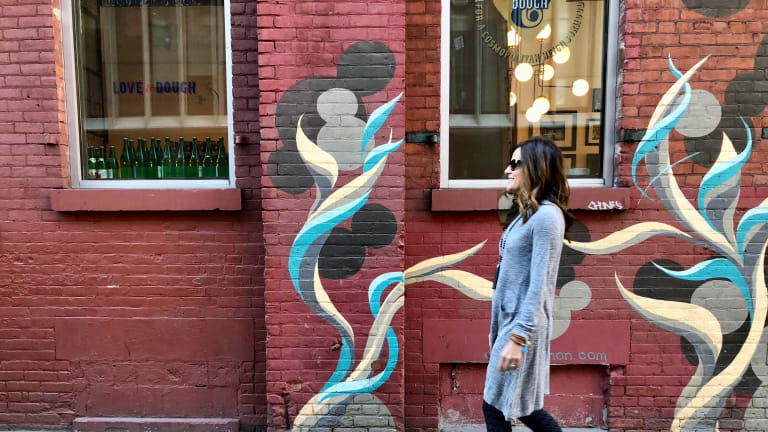 Cozy Cute Winter Dressing
Checking Out Aventura Fashion
Here we are. Knee deep in winter with no end in sight. The news this morning calls for a "wintery mix" later today in NYC. That's not good news. It can make even the most fashionable mom retreat into jeans and turtlenecks without hope of better options. But hang on friends, I've got an idea for cozy, cute winter dressing - I recently shopped Aventura and found a fun option.
Cozy Cute Winter Dress
You don't HAVE to wear pants in winter. A dress can be a great option, all you need are the right layers. I'm wearing the Sybil Dress from Aventura. It's soft and very easy to style. 
Thanks to the higher neck, you don't need to add anything on top - maybe a scarf or a fun tassel necklace like this one. The hem is asymmetrical hemline giving the dress a bit more visual appeal. Plus the light grey color is a nice break from all the black I wear all winter long.
Winter Tights 
Wearing dresses in winter can be counterintuitive; no one wants cold legs. Leggings and tights are the answer to that. To layer up the Sybil dress, I added the Gilda legging. The fun chevron print works to keep me warm without wrecking my style.
These tights are footless - the style I prefer. I add in some nice warm thick wool socks underneath. Currently, I am loving the Lorpen brand for warmth and construction.
Boots that Work with Everything
On my feet? The Dansko Maria. You'll likely see these on my feet at least 1x a week during the winter. They are roomy enough to wear with a warm sock and durable enough to sludge through messy weather. I just clean them (very occasionally) with a damp cloth.
Pin It and Style It!
Do you wear dresses in winter? How do you style them? Let me know in a comment and to remember how to style this Cozy Cute Winter Dressing look, be sure to pin it and wear it.
For more ideas on what to wear this winter, check out this winter fashion post.
This Cozy Cute Winter Dressing is not sponsored. The brand sent clothing for me to style.