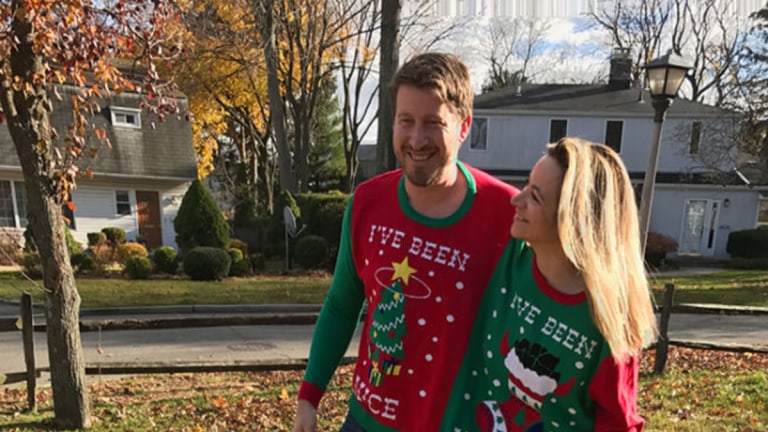 4 Ways to Up Your Ugly-Sweater Game
Whether you're attending an ugly Christmas sweater party or all decked out for gingerbread baking, these hilarious holiday styles are sure to spread cheer.
Holiday pajamas are my jam... But there's another piece of comfy-cozy Christmas clothing that I'm slightly obsessed with—and that's the ugly sweater. In the past few years, this hideously festive holiday tradition has become downright trendy. The sillier, the wackier, the uglier... the better!
Related: Host your own ugly sweater Christmas party
Naturally, a Christmas sweater should also be cozy and comfy. It should be snuggle-worthy, toasty, and, of course, tacky as can be. Bonus points if you can attach an oversize wreath pin or accessorize with Santa earrings! (Sounds like my second-grade teacher's December ensemble of choice.)
I generally prefer my Christmas sweaters to be kinda ugly and kinda cute, but when I saw this one, I couldn't resist putting it in my cart. 'Tis the season to be extra cuddly. Why not make the ugly sweater a family affair?
You better believe the big guy and I will be wearing this Naughty and Nice number all day on December 25—with wine in (free) hand, of course. And so it's in the spirit of sharing (and caring!) that I've rounded up a few suggestions to help you up your ugly-sweater ante too.
Whether you're attending an ugly sweater Xmas Eve party, rocking an embarrassing ensemble to your kid's school concert, or all decked out for baking gingerbread men in your kitchen, these hilarious holiday styles are sure to spread cheer and incite giggles. Go big, or go home!
Four Fun Ugly Christmas Sweater Ideas
The Two-Headed Sweater: I love my husband—and he hearts me back. Clearly. He's a sport, a team player, my partner in (fashion) crime, and my right-hand man (ha!). This is actually a large men's tandem sweater, but it fits us both well (sort of). It's also a good tool for couple's therapy. Tip: If you're leaving the house, wear a tee-shirt underneath this sweater—or bathroom trips get interesting. Note: this is an Amazon affiliate link.
A Riff on the Sweater: Who says you have to be so literal? An ugly sweater by any other name is a... skirt or leggings or even a dress. (Is it the egg-nog talking or are these all actually sort of chic?). Note: this is an Amazon affiliate link.
Light-Up the Room: Brighten spirits this season (literally) with a little light-up fashion action. In a sea of ugly sweaters, this one truly shines.
Craft Your Own: Can't find a sweater to your liking (or should I say, disliking?) Make your own. These kitschy kits not only make great gifts, they can help bring out your creative side. And the best part is, the bigger the Pinterest fail, the bigger the sweater success!
Happy Holidays! xo
MORE HOLIDAYS FROM MOMTRENDS
PIN IT!
Use Pinterest to save your favorite gift ideas. Be sure to follow our Holiday Recipes and Crafts board here.
This is not a sponsored post. All opinions are our own.