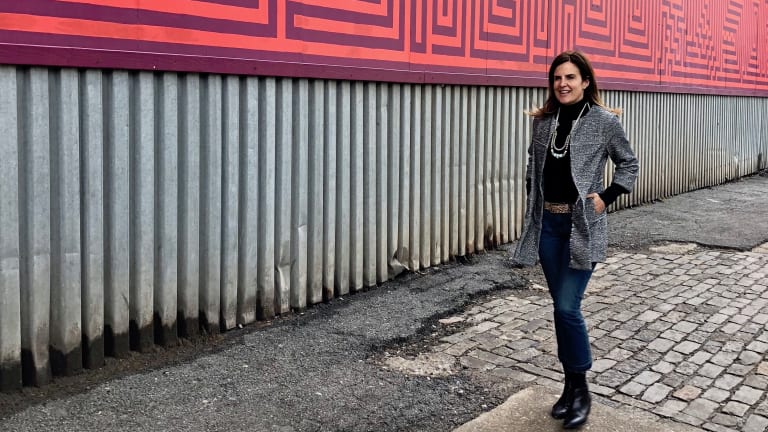 Publish date:
Cabi Spring Fashion Highlights
Easy Outfit Options for Busy Women
Easy Outfit Options for Busy Women
While my feet may still be in snow, my fashion radar is in spring. I got to pick a few cabi spring fashion highlights and I'm so excited to finally be wearing them.
Spring coats, they are a must in NYC. A few weeks ago I shared a trench I love from cabi on a fashion post, and today I've got another gem from cabi - The Times jacket.
Cabi makes jackets that are EXCELLENT layering pieces. I always seem to end up with these packed in my suitcase. The fabrics travel beautifully and are made for layering.
Picking the Perfect Jacket
Knits are a busy mom's best friend. They hold shape well and can be very comfortable. This tweedy jacket looks polished and pretty and can certainly go to an office. But it can also be paired with denim. The Times Jacket has a modern sleeve length that I like to wear with long sleeves in cooler weather. Once the sun decides to come out, I will pair this with short sleeve tops.

5 Pretty Ways To Organize Your Jewelry
I admit - I'm guilt. Despite my best efforts, my "jewelry drawer" has become a tangled mess of necklaces, bracelets and earrings. This cluttered collection not only makes it hard to see what I have, but difficult to untangle the pieces I do want to wear! This summer, I'm ...read more
This Year's Coolest Jumbo Pool Floats
Pool season is almost here! I can't wait to relax, read a book, and sip a cocktail while lazily drifting in an oversized float. (Just kidding, I have two toddlers--but a swim mama can dream, right?). If you've got a staycation planned, check out this year's coolest jumbo pool ...read more
Crystal Clear and Pristine: Pool-Cleaning Tips
Tropical Storm Isaiah gave us quite the midsummer surprise here in the suburbs of New York City. We just got our power back on after a whole week of darkness! With trees down, debris everywhere, and lots of uncertainty, one thing we forgot to check on: our above ground Intex ...read more
Easy Outfit Options for Busy Women 
To build the outfit, I added a ribbed/fitted black turtleneck. I have been dying to wear these flared crop jeans, so I paired them with dark socks and booties. The Kick It Crop is also from cabi and soon I'll have bare ankles and flats, but for now, I still need these socks. 
I layered on a funky necklace and a leopard belt to complete the look. I wore it to work and out to dinner. Cabi always makes me feel pulled together and professional. Do you have a brand that does that for you?
MORE FASHION TIPS FOR MOMS
PIN IT!
Use Pinterest to save your favorite fashion posts. Be sure to follow our Mom Fashion Pinterest board here.
This Cabi Spring Fashion Highlights feature is not a sponsored post. Cabi did send the fashions to me to style.