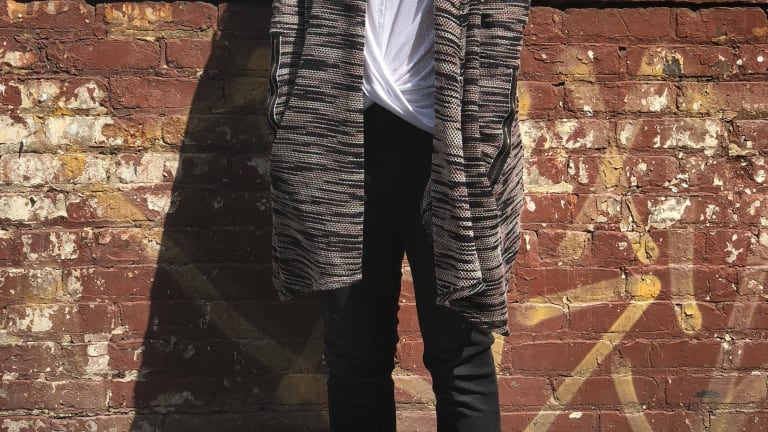 Black, White, and Foolproof for Spring
A Timeless Ensemble for the Transitional Season
Black and white--a timeless pairing that's basic, but never boring. When in doubt about what to wear, I go with this dynamic duo and classic color combo. 
The Knot-Front Blouse
I never met a white tee shirt or blouse I didn't like. But I have met a selective few that I absolutely love. I'm always on the hunt for a well-fitted, flattering white top: simple, clean, and versatile. I'm a perpetual collector of this signature staple piece. So when I saw this Crown & Ivy top while browsing the well organized racks at the flagship Belk store in Charlotte, NC, my heart went a flutter.
I've been eyeing tops with a twist or knot in the front for some time now, but I wasn't sure I'd be able to pull them off. Would the embellishment emphasize my middle? Well, here's the thing: some of these tops do, in fact, draw the eye to the tummy; but when styled properly and worn with the right jean, they can can actually be quite slimming.
Black Jeans
Skinny black jeans are a must-have in my book. They're more casual than dress slacks, but still have a polished edge. This ryder's by Lee midrise pair is extra stretchy so they're beyond comfortable and incredibly flattering. They're a bit higher waisted--which makes me feel more supported and works well with my top since it's a little shorter in the front (no accidental peek a boos from this mama!) Plus, the price point is just right!
Embellished Cardiagan
I found this cardigan hanging in my mom's closet (what I can say, she's got good taste!). I loved the knit pattern and blended colors But the zipper sleeve embellishment takes things up a notch and adds a trendy flair to an everyday piece. 
Slip Ons for the Win
I love that I can dress my black and white ensemble up with nude heels or keep it casual and comfy in a pair of black pleather slip-on sneakers. I got this pair last year at Payless (snagged 'em in white too) because the sneaker trend is going nowhere (and I'm pretty happy about that). 
Black and white and fail-free and foolproof... This outfit is so easy and effortless--it's basically my uniform. Oh, and when in doubt: add a pair of ray ban aviators!
What's your favorite fashion classic combo?
This is not a sponsored post. Some samples were received. It may contain affiliate links.