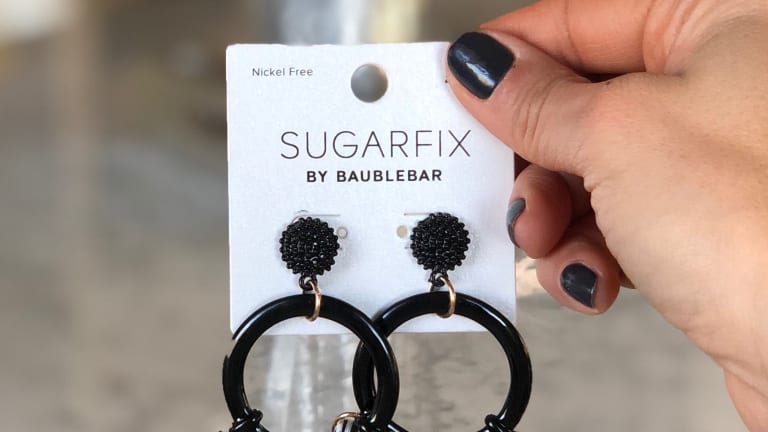 Publish date:
Bauble Bar SUGARFIX for Target
Jewelry for fun and easy style at guilt-free prices
Jewelry for fun and easy style at guilt-free prices
Yes, there's still a chill in the air, but that doesn't mean that we can't think about spring and having fun with fashion. There's a new accessory collaboration I want to share with you. One of our favorite well-priced accessory designers, Bauble Bar, has teamed up with Target to brighten up your jewelry collection. Bauble Bar calls this line SUGARFIX and I'm excited to host a giveaway and tell you a bit more about the collection.
Bauble Bar SUGARFIX for Target Earrings
Bauble Bar is all about bringing women jewelry at guilt-free prices. This Target collection is even more well priced than the original lines. SUGARFIX by BaubleBar, is designed for the savvy style-seeker who is working with a budget or simply adores a good deal. The brand is exclusively available at Target and on Target.com. 
Tassel Earrings
Keep things light and fun with the SUGARFIX by BaubleBar Mixed Media Hoop Earrings with Tassels. These bold black and white earrings are a fun way to dress up your transitional wardrobe as we wait it our for spring. 
I am still crazy for the tassel trend. I love how they create movement and drama. Pair these statements earrings with jeans, a white tee and a sleek ponytail for a casual-glam look you'll love.
Bauble Bar SUGARFIX for Target
Like the Bauble Bar sparkly things we know and love, Sugarfix has new items added monthly. Pop into Target or head online. Pick from fun floral earrings like the ones I'm wearing here or vibrant beaded hoops. They also have cool layered necklaces. 

5 Pretty Ways To Organize Your Jewelry
I admit - I'm guilt. Despite my best efforts, my "jewelry drawer" has become a tangled mess of necklaces, bracelets and earrings. This cluttered collection not only makes it hard to see what I have, but difficult to untangle the pieces I do want to wear! This summer, I'm ...read more
This Year's Coolest Jumbo Pool Floats
Pool season is almost here! I can't wait to relax, read a book, and sip a cocktail while lazily drifting in an oversized float. (Just kidding, I have two toddlers--but a swim mama can dream, right?). If you've got a staycation planned, check out this year's coolest jumbo pool ...read more
Crystal Clear and Pristine: Pool-Cleaning Tips
Tropical Storm Isaiah gave us quite the midsummer surprise here in the suburbs of New York City. We just got our power back on after a whole week of darkness! With trees down, debris everywhere, and lots of uncertainty, one thing we forgot to check on: our above ground Intex ...read more
I'm swooning for these SUGARFIX by BaubleBar Druzy Studs Fringe Drop Earrings. These three-tiered fringe earrings are light and move with grace. Since I'm crazy about fringe, of course, I picked these earrings for my spring looks.. 
They dangle delicately with a colorful bit of sparkle. Right now I'm wearing them with winter white as I attempt to brighten things up in March.
Find out more about the Sugarfix collection at Target here. I can't wait to see how other fashionistas style these pieces. For more spring inspiration, check out this post.
Pin it!
Use Pinterest to save your favorite accessories and fashion trends.
This Bauble Bar SUGARFIX for Target feature is not sponsored.