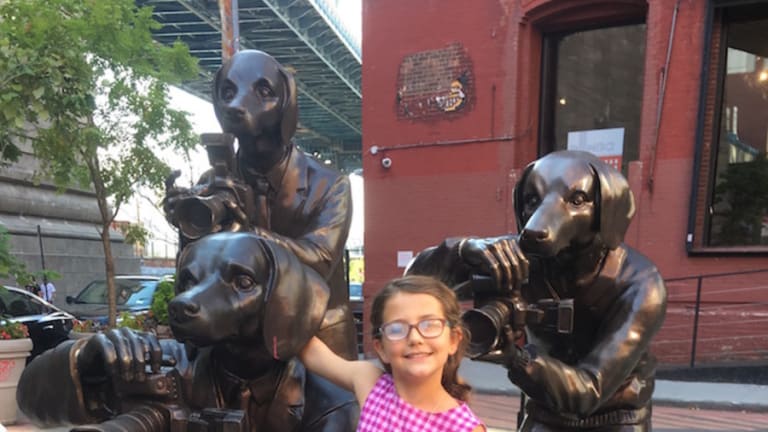 Back to School with J. Crew
Back to School with J. Crew fashions for girls. I found and adorable dress and a NYC t-shirt I know my girls will to wear to school.
The girls are heading back to school with J.Crew next week. The weather is still quite warm here, so we need transitional styles. No one is ready for jeans and sweaters yet. These two J.Crew outfits are perfect for the early days of school.
Related: Tips for saving on back to school
My little one still loves dresses. For this I am eternally grateful. Little girls in dresses make me smile. Oh, I'm a good feminist and all, but dresses are just sweet. There are TWO great things about this shirtdress. One it's got pockets (you know I love my pockets) and two it lets her move!
The gingham Tie-Front Dress from J.Crew is one of those styles I wish came in a mommy and me version. She's wearing it with her Saltwater sandals and all the bracelets she's accumulated over the summer. These girls are obsessed with bracelets. I guess it could be worse!
My older daughter is "over" dresses. She'll wear them for special occasions, but she's more of a t-shirt kind of girl. I did convince her that the J.Crew sequin cardi was cool. She likes pairing things in unique ways. The casual New York Destination T-shirt from J.Crew with dressy cardigan worked for her--the pizza, pretzels and pigeons are all there!
I also have to note her sneakers. We got them at this fabulous store in Paris called Pataugas. I can't find any US links to these shoes (which kind of make them cooler). They are bronze metallic and fabulous.
If I ever start an e-commerce site, I will definitely carry these shoes!
Photo Location
All the photos were in our DUMBO neighborhood. The fun new bronze sculpture just invited play. And that's what we do before school starts. The sculpture is called Paparazzi Dogs. You can find out more about it on the DUMBO blog here, 
Back to School Extras
One more fun thing. I tucked some back to school goodies, you might have overlooked into the backpacks. First, all kids get booboos. How cute are these DOG-GONE-IT™ BANDAGES from Robin McGraw. 
I'm going to say it: kids don't care about clean hands. But moms do. I am a hand-washing fanatic, and at school I have no idea what happens. I am sending the girls with packs of the Handy Candy wet wipes. The antibacterial wipes are made just for hands (we use Clorox to wipe down counters, tabletops, etc.). 
I think we're ready and I hope you and your kiddos are too.
MORE BACK TO SCHOOL ORGANIZATION FROM MOMTRENDS
PIN IT!
Use Pinterest to save your favorite recipes. Be sure to follow our Back to School board for more tips.
This is not a sponsored post.