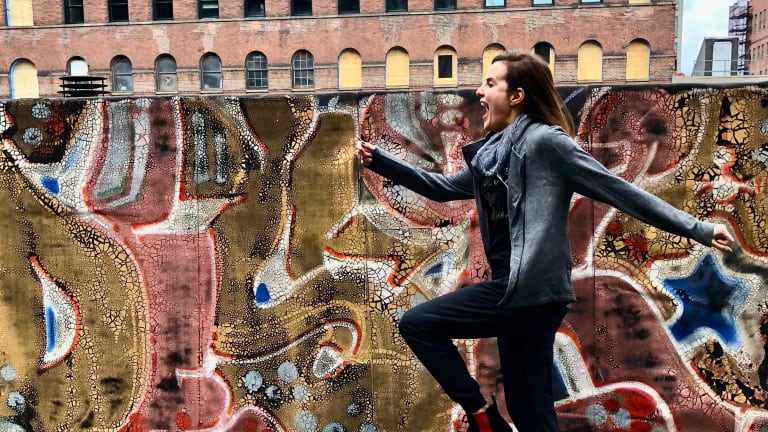 Athleisure Trend Perfect for Moms
Make every day stylish with Peach
I used to wear heels and "professional clothes" every day when I worked for Ralph Lauren. Then, when I became a freelance writer and a mom, my style evolved to include yoga pants and breastfeeding tank tops. Slowly, as my kiddos graduated out of diapers, my style also changed. Nowadays, I long to look pulled together, but I don't want to give up the comfort I earned when I gave up corporate life. I'm so glad I've found the athleisure trend that is perfect for moms.  
My latest style finds come from Peach, a brand that combines the fabrics I love from the gym with the style I want for my work and play life. You can check it out here https://www.discoverpeach.com/a/nicolef
Track Pants with Style
I've been loving this trend for a few years. They are great for travel or for meditation. They are comfy and more universally flattering than yoga pants. PLUS POCKETS! This drapy silhouette is a lot more flattering that hip-hugging styles. Wear it to the gym and then keep on going.
Don't Quit Your Daydream
Who doesn't love a  good graphic tee? This tee is under $50. I love the gunmetal foil on the inspirational message. Wear this with your favorite jeans or your joggers. You can't go wrong.
Top it off with a Moto Jacket
Leather is nice, but a knit moto jacket can go a lot more places...like to the grocery store! This easy topper has become my new jean jacket. I layer it over all my basics. It's an especially good piece now that the fickle spring weather is here. 
I paired it with my Seavees sneakers and not much else. This is how I really roll when I get dressed. Less is more.
Ready to try on Peach for size? Here's the link  https://www.discoverpeach.com/a/nicolef
Pin it and Wear It!
Let me know if you try this style. I want to see how you really wear clothes. 
This Athleisure Trend Perfect for Moms feature is not sponsored. The links are affiliate links.