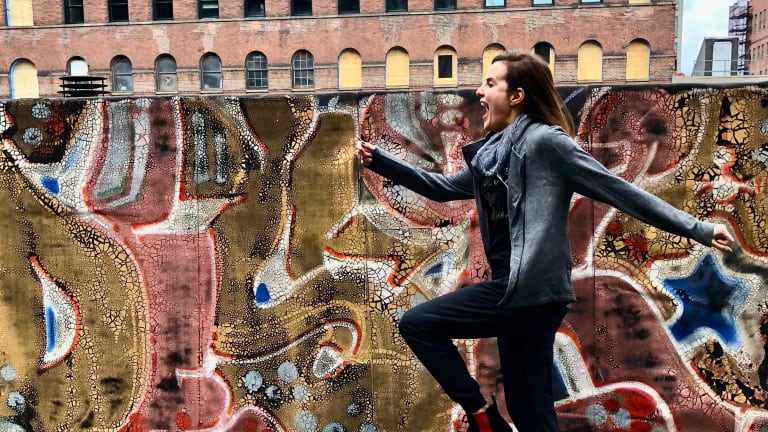 Publish date:
Athleisure Trend Perfect for Moms
Make every day stylish with Peach
Make every day stylish with Peach
I used to wear heels and "professional clothes" every day when I worked for Ralph Lauren. Then, when I became a freelance writer and a mom, my style evolved to include yoga pants and breastfeeding tank tops. Slowly, as my kiddos graduated out of diapers, my style also changed. Nowadays, I long to look pulled together, but I don't want to give up the comfort I earned when I gave up corporate life. I'm so glad I've found the athleisure trend that is perfect for moms.  
My latest style finds come from Peach, a brand that combines the fabrics I love from the gym with the style I want for my work and play life. You can check it out here https://www.discoverpeach.com/a/nicolef
Track Pants with Style
I've been loving this trend for a few years. They are great for travel or for meditation. They are comfy and more universally flattering than yoga pants. PLUS POCKETS! This drapy silhouette is a lot more flattering that hip-hugging styles. Wear it to the gym and then keep on going.
Don't Quit Your Daydream
Who doesn't love a  good graphic tee? This tee is under $50. I love the gunmetal foil on the inspirational message. Wear this with your favorite jeans or your joggers. You can't go wrong.

The Ten Best Wooden Play Kitchens For Kids
Cooking is a timeless fascination for children. This type of play goes beyond gender and teaches kids loads of life skills along the way. An investment in a play kitchen is money well spent, as it can provide hours of entertainment. We've rounded up the ten best wooden play ...read more
New Victory Announces a New Season of Shows
We know you're busy planning picnics and summer outings, but we wanted to let you know that The New Victory just announced their new season and it looks fantastic. We thought you'd like a sneak peek of what's in store! Each year the New Vic theater brings culture to tourists and ...read more
Fun Ways to Discover Venice Italy with Your Family
Greetings from Italy wear the gelato is rich, the clothes divine and the scenery is inspiring. Now that I've been to this fine city in the north of Italy, twice, I've amassed a list of favorites to share. These are some fun ways to discover Venice, Italy with your family. ...read more
Top it off with a Moto Jacket
Leather is nice, but a knit moto jacket can go a lot more places...like to the grocery store! This easy topper has become my new jean jacket. I layer it over all my basics. It's an especially good piece now that the fickle spring weather is here. 
I paired it with my Seavees sneakers and not much else. This is how I really roll when I get dressed. Less is more.
Ready to try on Peach for size? Here's the link  https://www.discoverpeach.com/a/nicolef
Pin it and Wear It!
Let me know if you try this style. I want to see how you really wear clothes. 
This Athleisure Trend Perfect for Moms feature is not sponsored. The links are affiliate links.