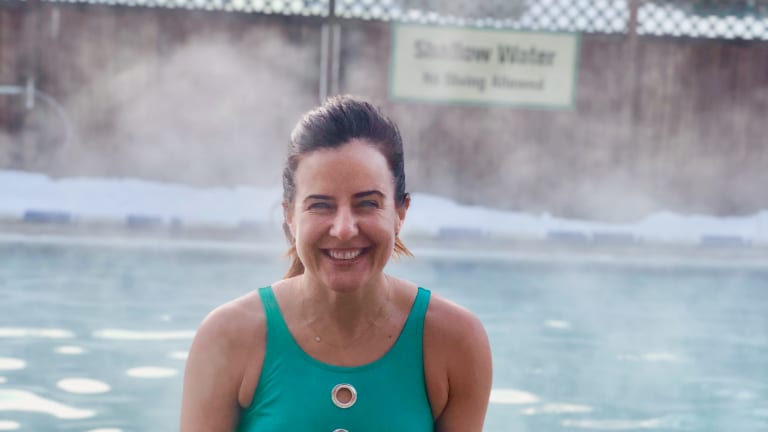 Amoressa Shaping Swimwear
Getting ready for a trip to the pool or the beach with a great swimsuit
Are you starting to think about spring break? While I may be skiing over our break, I'm still looking for great swimwear. Ski trips involve hot tubs like this one at the Grand Summit at Mount Snow. I slipped on an Amoressa Shaping Swimsuit to relax after a day on the slopes.
Why You Need a Great Swimsuit
Whether you're heading to the mountains or a city or a beach, it's always good to pack a swimsuit. Amoressa makes suits in vibrant colors and great styles and with a bit of support. These suits are perfect for moms. We don't want to fuss over our suits, we want to feel confident and pretty. Amoressa helps!
I'm wearing the Amoressa A Venetian Affair Rialto tank suit in jade. This suit has fun hardware and the color really pops. Black suits are nice, but maybe this is the season that you take a little risk and go for a color that's sexier.
Finding a Great Swimsuit
Built into the suit is fabric that helps shape the body. It's not a highly structured suit, but it does help the curves realign a bit.
I do have beach time scheduled soon, but until I get to dip my toes in the sand, I'll be wearing this suit to swim laps on my ski holidays and definitely for my hot tub soaks. 
Where did you find your favorite swimsuit? If you haven't been to Amoressa's website, check it out. These suits are made to help women feel fabulous. 
Spend money on a great suit and then let it see where it can take you.
Pin it!
Use pinterest to save your favorite fashion finds.
This Amoressa Shaping Swimwear feature is not sponsored.