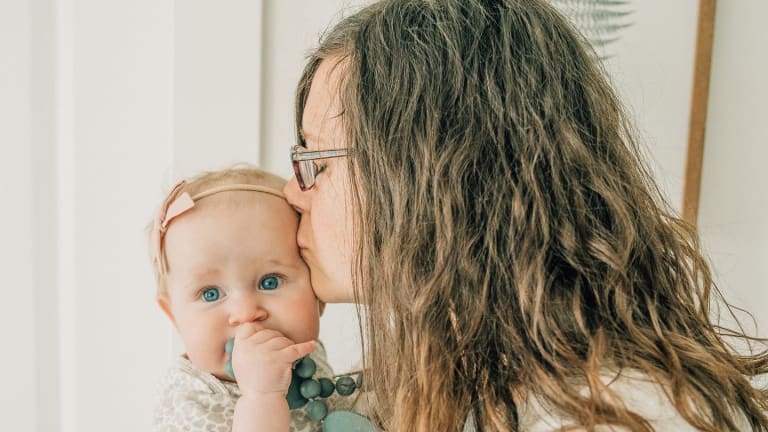 Amazing Breastfeeding Accessories for Mom
Stylish and functional accessories for nursing moms, we love Chewbeads and NuRoo because they do pull double duty!
As a breastfeeding mama I'm always on the lookout for stylish and functional accessories. Chewbeads and NuRoo offer moms products that pull double duty!
Add an extra layer of style while also keeping it functional with Chewbeads necklaces and NuRoo nursing scarves. Both of these fashionable products are great breastfeeding essentials for nursing mamas and are sure to quickly become your new favorite accessories. As an added bonus, you can still enjoy wearing long after your breastfeeding days!

Related: Best breast pumps and gear
Chewbeads - Nursing Jewelry
Chewbeads are 100% silicone jewelry that are mommy chic and safe for babies to tug, touch and chew. Chewbeads are non-toxic and contain no BPA, phthalates, lead cadmium or metals. They are easily cleaned with soap and water and are also dishwasher safe! Yes, you read that correctly!
I didn't discover Chewbeads when I had my older daughter but I absolutely loved Chewbeads necklaces when my little guy was a baby. You can check out my past Chewbeads review and see this necklace in action with my cute little guy.Chewbeads necklaces are a great sensory tool to help babies focus while nursing.
Playing with a Chewbeads necklace while nursing can help babies improve their hand eye coordination. I even used it as a distraction when my little guy kept scratching my chest while breastfeeding. It was a boob saver!
With lots of styles and bright fresh colors they also make a stylish accessory for mamas. I love giving them as gifts to new or expectant moms.
NuRoo - Discreet and Stylish Nursing Scarf
The NuRoo nursing scarf is designed for on-the-go nursing. The NuRoo scarf was created to be your favorite accessory so you have it on you when you need it.
Its lightweight fabric is super soft to the touch, moisture wicking, non distracting to babies and breathable. It's also wrinkle free means you won't look like a frumpy mess if it happens to get shoved in and out of a diaper bag while out and about.
The snaps on either end of the NuRoo scarf offer customized coverage and discreet nursing. There are many ways to style the NuRoo nursing scarf. You can drape it, wrap it, put it over your shoulders or just around your neck.
The striped scarf adds some pattern to a solid shirt or the navy scarf can be used for a bolder splash of color. NuRoo scarfs are machine washable and dryer safe which is always a good thing when we're talking about products for mamas and babies. Get the NuRoo scarf on Amazon.
FOR MORE MOMTRENDS MVP WINNERS, CLICK THE LINKS BELOW:
PIN IT!
Be sure to save your favorite gear for baby on Pinterest. Please follow our Gear for baby and kid board here.
This is a sponsored post. We were given samples to review.