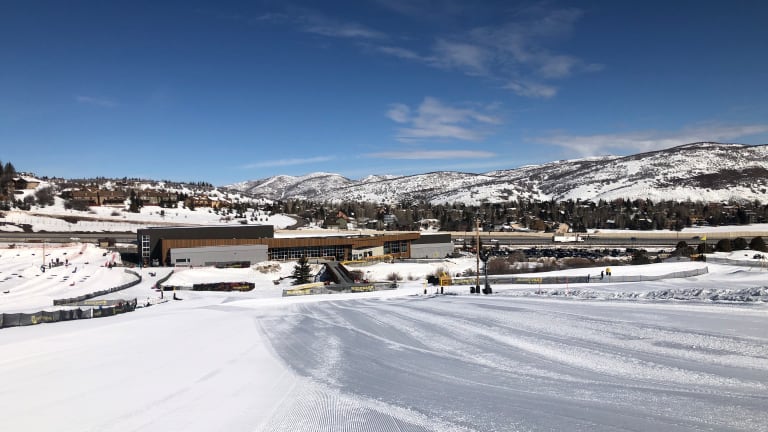 Woodward Offers Families a Cool New Way to Play in Park City
Even in Utah with the "Greatest Snow on Earth," it's fabulous to have options for how and where to play both indoors and out.
In the winter, families flock to Park City for the reliable snow. Each season they record more than 300" making it a haven for those of us who love snow sports. But even in Utah with the "Greatest Snow on Earth," it's fabulous to have weather-proof options for how and where to play. Woodward offers families a cool new way to play in Park City.
Relate: Visit Salt Lake City Winter Olympic Venues
Woodward Offers Families a Cool New Way to Pay
The Woodward brand has been around for years. My family loves the Copper, Colorado location (click for details of our recent visit). It's four seasons of fun for kids and adults who love to jump, move and play. The brand has long integrated playing indoor with learning new ways to challenge oneself on the mountain. Movements that start inside can be easily translated to snow.
With the new ski hill in Park City, Woodward is bringing the PLAY concept full circle. It's a fluid place where visitors can bring skill and joy inside or out onto Woodward's first ski/snowboard resort. 
In addition to the coolest new features on snow, they are also shaking things up on how to pay. The model at Woodward is a monthly membership. For $120 a month (ages 7 and up) kids get unlimited access to the outdoor Mountain Park and the indoor Action Sports Parks. 
Just visiting? No worries, drop-ins are welcome too. 
Outdoor Fun at Woodward Park City
Let's start with the outdoor facilities. They call it the Mountain Park; the new state of the art facility opened in December and is a tremendous addition to the Utah community. With 60 acres to play on, this is the newest skiing/riding offering in Utah. 
Learning at Woodward: If you are a beginner, this is a terrific place to be introduced to snow. With an inviting Beginners Area, newbies can learn to turn in a safe, secure area. With gated areas, there's no need to be nervous learning to glide. Once the novice gets the idea, there's a magic carpet and a mini jump to offer new challenges. 
From there, it's time tp head to the Hot Laps lift. This high speed quad runs skiers and boarders up to the top of the mountain in a flash. The runs are laid out with a natural progression. Looking uphill, things are easiest on the left and get progressively more intense as you move right. All day learning packages for kids 4-18 (ski or ride) start at $81. Adult options are available too.
Whether you are looking to catch your first air, or perfect a mind-numbing big air trick like some of the Olympians I saw there, there's a perfect run for everyone. 
One of our favorite programs is the Take 3 Ride Free. This package gives three days of group lessons, lift access, and rental equipment together for beginner skiers and snowboarders. Passionate Woodward Park City coaches guide students through the basics as they develop skills and confidence. Upon completion of the third lesson, you'll get a complimentary 1-month Mountain Park pass providing unlimited access to lift-served skiing and snowboarding for 30 days as a reward! 
Find our more about lessons here.
Favorite Features at Woodward Park City Mountain Park
Red's Backyard: Named after Red Gerard, these terrain parks are a mainstay of Woodward's facilities. At Woodward Park City, kids can hike up to the top, negating the need to get on a lift and providing even more of a chance to get them moving.
The idea came from Gerard's own backyard rail garden in Summit County, CO. There are rails of varying difficulty and it's a fabulous place for anyone to try a new trick.
Peace Park: It's all about feeling inspired in this rolling area of snow structures. Be creative and find your flow in this inviting park. Peace Park was founded in 2011 by Danny Davis, U.S. Olympic Snowboard athlete. Davis created Woodward Peace Park to be a new type of on-mountain experience.
Davis thinks people who freely and creatively express themselves doing what they love in the outdoors are as close to achieving peace as possible. Hard to argue with this logic.
Indoor Fun at Woodward Park City
Inside the 66,000s.f. facility is an action sports wonderland. If you have wheels, you'll find the area irresistible and if you love to jump, you are going to be in heaven. Everyone starts with an intro session that provides  safety guidelines and offers first-timers a launching point. 
After your intro session with a Woodward Coach, your next visit will allow you the freedom to sign and and PLAY. A few of my favorite things:
Skate Park: The Hub's concrete skatepark is amazing. It was created by California Skateparks legendary builder, Nate Wessel. With 10,000 s.f. to roam, it's the largest (and only) indoor park in the state. This enormous area is a terrific and relatively safe place to practice and acquire new skills. Whether in a class or self-guided, the spacious area is a blessing for kids who want to roll on a skateboard, skates or a scooter.
Parkour: The idea is to get from one place to another in a complicated, human-powered way. Woodward provides the obstacles, humans provide the ingenuity.
Foam Pit: Itching to try a new trick? Why not add a bit of safety to the mix. Start with a personal coach who can guide you through the mechanics on a trampoline and then test yourself off the indoor ramp. If you miss the landing, no worries, there's a delightful foam pit to catch you.
Coming soon...a digital lab. This will be a place where kids learn to record and edit digital media. Because if you don't have cool evidence of the trick you just mastered....did it even happen?
Partnering with the US Ski Team
Woodward Park City was named as an Official Training Center for U.S. Ski & Snowboard athletes through January 2025. This agreement will help athletes from the U.S. Ski & Snowboard get invaluable access to train and reach podiums.
You never know who you will see at Woodward. On my visit, it was teaming with Olympians. I saw Devin Marie Logan (She won silver in Olympic slopestyle at the 2014 Winter Olympics held in Sochi) flying off jumps with her gal pals, and Olympic slopestyle athlete Nick Goepper was training there the day prior to my visit. 
While watching these athletes from the lift is cool, it's even better to have one as a coach. I spent the morning with retired world-class slopestyle skier Jamie Crane-Mauzy. Jamie gave me a on-snow tour of the facility and provided pointers on how to tackle some of the easier features in the parks. She works with beginners and experienced athletes who are looking to develop their skills.
Jamie and the crew of Woodward coaches are really the secret sauce of the facility. All the coaches have had extensive training to make learning fun and rewarding at all levels. Jamie is oozing with enthusiasm for her sport and loves working with kids. How cool to learn from a world-class athlete who wants to give back to her sport and inspire more girls to dream big!
Plan a Visit to Woodward Park City
Even if you have no intention of becoming a freestyle skier or entering a big air competition, Woodward can still offer fun challenges and creative ways to move. Sure, some may become competitive, but most folks who visit want to enhance the way they play. 
In addition to the daily offerings, they offer camps. Whether you have time to fill during a school break, or summer, Woodward has flexible options for families.
The clever folks at Woodward have added a full family-friendly restaurant on the main level and an adulti-ish upstairs area with a full bar. While I highly advise parents to get into the mix on the snow and in the Action Sport areas, I also think having an adult beverage while the kids blow off steam is an excellent use of a Friday night.
And I'd be remiss to mention there's still tubing at Woodward, and lots of it. Your pass gets you unlimited tubing time.
Woodward Park City is located at 3863 Kilby Rd, Park City, UT 84098. Pricing is dynamic, the best prices will be available online at www.woodwardparkcity.com.
The facility is open from 10:00 a.m. - 8:00 p.m. daily. 
MORE SKI FEATURES FROM MOMTRENDS
PIN IT!
Use Pinterest to save your favorite family travel features. Be sure to follow our Ski Moms Pinterest Board.