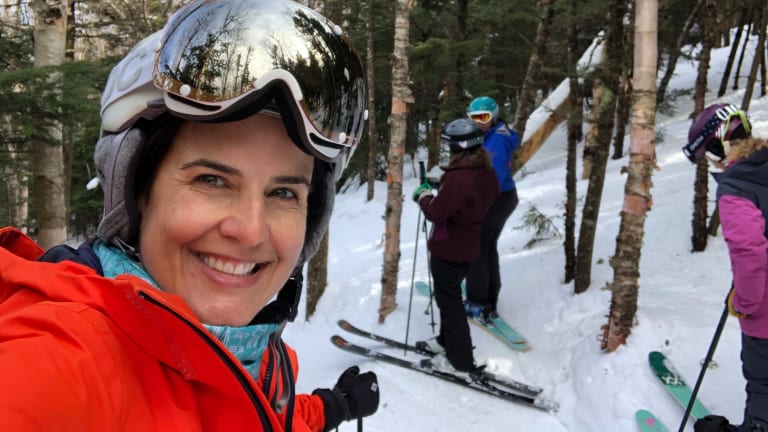 Why You Need to Go to a Women's Ski Camp
Learning and laughs dominate at Sugarbush for the Women's Ski Camp
When women gather together with a common goal, we can really move mountains. I like men (married a great one and I have an awesome relationship with both my brother and dad), but when it comes to imparting certain types of knowledge, well, women do it better. Female ski instructors who are passionate about the sport make all the difference. This is why you need to go to a women's ski camp. 
Related: Ski Moms Fun Podcast
Sugarbush for the Women's Ski Camp
I was lucky enough to attend the recent camp held at Sugarbush resort and I loved it from start to finish. I know we are late in the season to book a camp this year, but I want all of us to make learning in this type of supportive setting a priority for next ski season.
The secret sauce in this camp is the instruction. Learning from a woman takes a lot of the anxiety off the table. The language and approach is different and the dynamic in a women's only group never becomes competitive. 
Let's hear what some of the other campers had to say:
"I got out of the camp a great sense of adventure and continued growth in this ski journey. Felt great to grow as an individual and truly carve the end of a turn and watch my fellow women each grow and enjoy."
Jeremy Perisho - Stow Massachusetts 53
"My instructor Toni, said that women groups were easier because women tend to be supportive of each other, whereas men try to compete. Our group certainly was supportive. Whenever someone would fall, the others would lift her up."
Allison Spears - Atlanta, GA 50
Common Misconceptions About Ski Camp
Let's get over the common fears women bring to the mountain.
You need to be an expert skier. FALSE
You need to go with a friend. FALSE
I'm going to be judged on my abilities. FALSE
You are instantly going to be swept up in a judgement-free zone. You will make new friends, you will push past your comfort zones and you will giggle and laugh A LOT.
Who was at the Ski Camp
We were a mixed bag. Most women hailed from New England (shout out to my friend Alison from Atlanta who made the trek!) I'd hazard a guess the the oldest of the 30 women in the group were 60-somethings and the youngest were still in their 20's. We had a two mother-daughter teams (this made my heart so happy). Lots of women came solo, knowing no one. A number of campers didn't have kids and a ton of women had recently achieved empty nest status and were ready to PLAY.
From an outside observer, it appears the demographic that was missing was women in their 30's with kids. I know it's incredibly hard to carve out time to get to a camp when you are in the earlier stages of your career and childrearing. It was also notable that the women who could attend were pretty senior in their work lives and able to be flexible about time off. 
What to Expect at a Women's Ski Camp
Every mountain will run things a bit differently. Here's how it worked for the Sugarbush Women's Discovery Camp. The camp was advertised for Levels 4 and up; but there were two relative beginners in the group. The camp literature said skiers should be "starting to explore easy blues" and that feels about right.
The camp included video analysis, lunch, and ski demos (optional, a ski demo means you can try new skis, often skis that are high end). It did not include a lift ticket and many of the attendees had either Ikon passes or a Sugarbush season pass helping to further defray the cost. The cost was $350 (what a value) and participants get a 50% discount off a 2 day lift ticket.
The 2-day learning experience was led by a team of expert coaches. My coach, Paté is a Level 3 PSIA instructor (it's really challenging to get that far in PSIA) and blew me away with her knowledge and patience. 
We started the day with a brief overview and a bit of "meet the instructors." Prior to the start of camp, we all sent a self assessment in to help facilitate the groups. Day 1 started with some free skiing to make sure we were in groups that made sense. 
After the groups were sorted, we started with drills and instruction. I found the "hopping" drill very helpful to get me in the correct stance on my skis. We learned about turning using foot pressure and finishing turns.
From there, my advanced group took off to find bumps. Moguls are a challenge for me. My form usually flies out the window on bumps. Paté had me focus on smoothing out my approach to the bumps and keeping my skis connected in the middle of the turn. Each run had a purpose and a focus. 
Day 1 also also included professional video. It's incredibly helpful to see yourself skiing to identify bad and good habits. The video review was done with cocktails, making that learning experience a lot more fun.
Day 2 the two advanced groups had a mission: to take on the Slidebrook trail. This famous off-piste trail runs from the top of North Lynx at Sugarbush and winds for a few miles through the trees until it deposits skiers by a bus stop to get back to the base area. 
Slidebrook has been on my radar for a few years. Before I dropped in, I wanted more practice in tight glades with the help of an expert guide. This ski camp gave me both. I was excited and a tad nervous for this adventure. But thanks to our guides, Michelle, Paté and Rachel, I knew we were in good hands to tackle this experts only, side country terrain. 
As we had a bunch of Slidebrook newbies, we hooted, hollered and cheered our way through the trees. In a word, it was AWESOME. 
This was my breakthrough. Every woman had her own. Beth learned to tackle moguls with confidence. Crystal started out on greens and progressed to taking on blue trails with ease. At the end of camp award ceremony, each woman was applauded. It is my kind of girl gang.
Are you ready for a Women's Ski Camp?
The question really shouldn't be "IF" you go, but "when" will you go. Investing in your love of snow is an excellent way to spend your time and money. I truly hope I will see you at a camp next year.
I'm thrilled with how my skills improved, but more important I'm lucky that I met some new ski friends. I'll be hoping to get in more turns with Mary, Cristin and Michelle before the thaw comes.
MORE SKI FEATURES FROM MOMTRENDS
PIN IT!
Use Pinterest to save your favorite family travel features. Be sure to follow our Ski Moms Pinterest Board.
Momtrends.com was not paid for this post