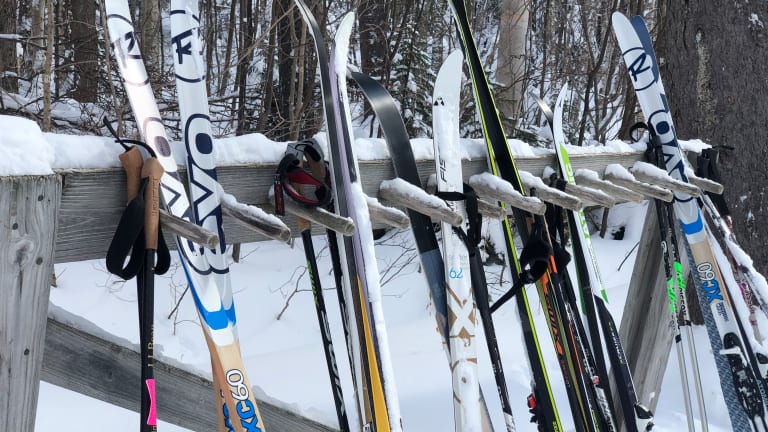 Why We Love The Trapp Family Lodge for Cross Country Skiing
This year the Trapp Family Lodge celebrates 52 years of cross-country skiing. And I can't think of a prettier place to explore Vermont in the winter.
My Vermont weekends are fueling my love of winter. With every trip north, I find another reason to adore this great little state. My latest passion is cross country skiing, and there's really no better place to cross country ski than the Trapp Family Lodge.
Related: What you need to know about learning backcountry skiing
Why We Love The Trapp Family Lodge for Cross Country Skiing
While I am completely charmed that the resort is still family owned by the von Trapp family of Sound of Music lore (more on that below), I'm most impressed that the owners have maintained a family playground of 2,500 acres of pristine Vermont wilderness.
Winter Outdoor Adventures at the Trapp Family Lodge
This year the Trapp Family Lodge celebrates 52 years of cross-country skiing. And I can't think of a prettier place to explore Vermont in the winter.
My first introductions to the resort was a day trip led by Sam and Kristina. As part of a group organized by Ski Vermont, the Trapp Lodge hosted a dozen of us for skiing and lunch. We started at the Outdoor Center where some of the group needed to get fitted for gear (I made the plunge this year and now own a full classic ski set up).
Check out our Video from the Visit
From there, Sam led us on a number of groomed trails to get to the warm-up cabin called Slayton Pasture Cabin. It's a cozy spot to warm up, grab some soup of a drink and get toasty by the wood fire. From the Outdoor Center, it's mostly uphill to the cabin. The good news, it was all downhill back to the lodge!
The trail network covers over 1000km and will not only get you to the cabin, it'll also wind to the Bierhall. Along the way, Kristina tried to help with my nascent Nordic skills as she answered questions about the resort and their winter offerings. She's a 100% a ski mama and I felt I found a kindred spirit in her. After seven miles, I barely scratched the surface of what Trapp has to offer for Nordic skiers. I knew I'd be back for more.
Indeed I was right. Just a week later, I brought my daughter back for a lesson I detail below. And even after two days at Trapp, I feel like there is so much to discover. Next year I might just get a season pass.
Planning Your Cross Country Day at Trapp Lodge
Ready to head out on the trails with your family? A day trail pass starts at $10 for kids 6-11 and goes up to $25 for Adults (19-64).
For those who plan to ski more than a couple times, the season pass is the way to go. Your family will get unlimited access to 100 kilometers of cross-country, snowshoe and back-country skiing trails on over 2,500 acres. The Adult Ski Season Pass is $250, and I love that they offer a few deals like the Couples Ski Pass $400, Senior Couple Ski Pass $300 and Family Ski Pass $450.
Getting Skate Skiing Lessons at the Trapp Family Lodge
If you are ready to try something new or improve your skills Trapp Family Lodge has excellent instruction and is a wonderful place for newbies to fall in love with cross country skiing.
As the season goes on, I'm getting more adept at classic Nordic skiing. Ready for a new challenge, I decided to take on skate skiing. My 12-year-old and I signed up for a private lesson at the lodge. Tyler, our guide was very knowledgeable and patient with us (though he could lighten up a bit, he was so, so serious!). He broke down the basic cadence and physics of skate skiing and had us practice some drills.
After our hour-long lesson, we tried the 5k Race Course Trail. It nearly killed us. Skating is MUCH more demanding than classic --especially in the beginning. I think we over-estimated our abilities. But we did finish the loop and we were very proud of ourselves for sticking with skate the entire way.
Are you ready to learn something new? Private Lessons are also available for $75 and an additional $35 for each added person. Group lessons are the most affordable option: rates are $30 for an hour of instruction. The size can range from 2 to 10 people. All lessons start at the Trapp Family Lodge Outdoor Center.
More snowy family fun at Trapp Family Lodge
On my visit I spotted sleigh rides on the property. I know my kids would love this. Trapp lodge offers both sleigh and carriage rides. I'm already planning what I'd like to take my parents on when then next come to Vermont. 
If you want an easier way to explore the property's trails and get some fresh air, there's a full snowshoe trail system. I'd also recommend the guided hike/snowshoe to Slayton Pasture Cabin. This is a 6-mile hike/snowshoe in total (3 miles each way) recommend proper foot wear, clothing and snacks. $15.
Dining at the Trapp Family Lodge Bierhall
Food motivates me to work out harder and longer. And the von Trapp Brewing Bierhall Restaurant is and awesome motivational tool. The restaurant is conveniently situated on the cross-country ski and mountain bike trails. After my 7+ mile excursion I was ready to dive in! They call the menu "a little of Austria, a lot of Vermont," and I agree. It's all about fresh food that's lovingly prepared in a setting that can't be beat. 
I sipped the low-alcohol Natür Helles 4.9% ABV 20 IBU. I admit to being an uneducated beer consumer. I liked the crisp freshness of the "Helles" beer. According to the brewery they use colder fermentation and longer lagering times to give this unfiltered lager bready aromatics, a crisp and peppery finish, while maintaining the complexity of our traditional Helles style.
I may not be an expert on beer, but I am semi-pro when it comes to consuming après ski calories. Do yourself a favor and start with the Bavarian Pretzels. Top it with one of the four House Mustards provided. You'll get two large pretzels for $8.
The Chicken Schnitzel ($18) with bacon apple kraut and braised red cabbage is the perfect way to refuel after a winter workout. The fatty deliciousness is balanced out with a generous portion of arugula and topped with lingonberry vinaigrette. If you are REALLY hungry (and I was) add the von Trapp farm fried egg. 
Open daily from 11:30 am - 9:00 pm. Get the full menu and more details about the Bierhall here www.trappfamily.com/bierhall.htm  
Trapp Family Lodge History
My 12-year-old daughter thought I was pulling her leg when I told her the Sound of Music family was responsible for our awesome day of Nordic skiing. I showed her the website and she slowly figured out this wasn't a hoax.In the early 1940s, the von Trapp family toured the United States as the Trapp Family Singers. 
When then decided to put down roots, they picked Stowe, Vermont. As legend has it, they thought Vermont offered them the closest thing to Austria.The lodge was born in 1950, and they had 27 rooms available. Over the years the family has added to the resort. Notably, they are producing some of the tastiest micro brews in New England. 70 years later, the family is still dedicated to the outdoors and hospitality. 
On my visit, I got to ski with Christina and Sam, Maria's grandchildren. Momtrends History Note: Maria von Trapp passed away on March 28, 1987 and is interred in the family cemetery at the Trapp Family Lodge.
Planning a Stay at the Trapp Family Lodge
The 96-room alpine lodge is located near the access road to Stowe mountain. The lodging is a mix of detached luxury cabins and rooms in the Austrian-inspired main house. I've not stayed in a room yet, but I can report the family is spending to keep the facilities up to very high standards. Guests re treated to a full activity calendar, tasty food options and oh, the setting!
Since I can't tell, you much about the rooms, I'm going to focus on the outdoor activities. Trapp Family Lodge is a four-season resort, our February visit was meant to explore skiing options for families.
Plan your trip here https://www.trappfamily.com/
MORE SKI FEATURES FROM MOMTRENDS
PIN IT!
Use pinterest to save your favorite family travel features. Be sure to follow our Ski Moms Pinterest Board.