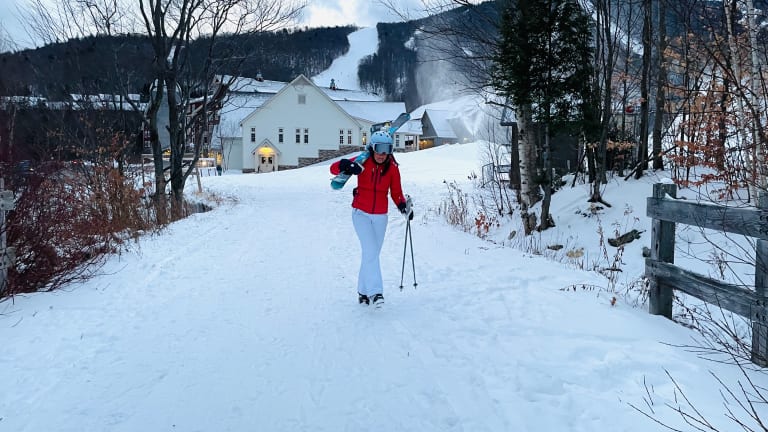 Why Every Skier Needs Heated Socks
Hotronic Heat Socks are ideal for warmth and comfort on the hill and off.
Cold toes make for a rough day. This is why every skier needs heated socks. When your feet are comfortable, everything is better. I've been wearing new Hotronic Heat Socks and am psyched to share my experiences and hopefully convince you that you need these too!
Get the Hotronic XLP Heated Socks with Bluetooth at CozyWinters here.
Testing Hotronic Heat Socks
Let me start with a little story. This week I was getting in some of my first turns of the season. I had a break in meetings and was off for a few runs at my home mountain of Sugarbush here in Vermont. We'd just gotten some fresh snow and the conditions were looking pretty good for early season. I slipped on my heated socks, layered up and was off. 
I made my way down to the Headwaters Lift to get in some top to bottom turns. About midway up the lift, we stopped. 
Uh oh.
30 minutes later, ski patrol was underneath my chair on the lift telling me that there might be an evacuation. I was a little nervous and a little stressed...but you know what? My feet were warm! One worry I didn't have was being too cold. 
After 40 minutes, we were moving again and I made it to the top. It was in the 20's that day and I'm happy to say my feet were completely fine. Now that's a ringing endorsement.
Once charged, these socks last for HOURS. You can now ski all day in comfort.
What You Need to Know About Hotronic Heat Socks
Hotronic Heat Socks are available in two thicknesses and have two heating elements to choose from. I have the comfort sock with the 2P battery. There is also a thin sock and smaller 1P battery pack. They come in sizes XS – XL (they are unisex). They are made of 74% nylon, 20% Lycra / Spandex, 6% Merino. It's a delightfully snug compression fit that keeps your feet dry and the blood flowing (and therefore warm) before you even turn the batteries on. There are four individual heat settings, so you can dial the heat up or down depending on the conditions. And I love this guarantee: The Hotronic Heat Socks carries a limited warranty of two years from the date of purchase. Should you have any issues whatsoever you can take them to any HOTRONIC retailer to be tested and replaced if need be.
To use them:
Start with a good long charge of the batteries (I like to put mine in overnight).
Then download the app from the app store. 
The next step is to pair your batteries. You'll locate the batteries on your bluetooth settings on your phone and then simply tap a few buttons on the phone and socks to sync the device. 
Once they are paired, you can use your phone to dial the heat up or down without having to dive under all your layers to find the battery. (Note: you can always use the manual battery control.)
With the Bluetooth app you have access to 5 consistent settings (1, 1.5, 2, 2.5, and 3) as well as a standby mode and a power boost setting. Setting 4 is a 'Power Boost' setting for a quick boost of extra heat that resets to Setting 3 after three minutes to keep from draining the batteries.
Video Demo of Hotronic Heat Socks
For more details on how to pair your battery packs to the App head to this YouTube Video. This video walks you through setup and use.
Testing the Hotronic Heat Socks
One of the big issues with socks is the fit and the comfort. I've now worn these for 10 ski days so far and feel nothing underfoot. No lumps, not  bumpy seams or wires. They feel just like my favorite compression running socks--a snug fit with lots of support.
Another issue is the cost. Yeah, I get it. It's a lot of money for socks. But this is more than a fancy ski sock. It's a rechargeable heating unit. The cost is really set by the battery. The replacement socks are about $90. So, it's not the wires or the wool in the sock, it's the heating unit. You are paying for excellent engineering and construction. To get the batteries to be small while also long-lasting, they are inevitably expensive. 
Finally, I've had folks ask how these compare to heated liners. Heated foot beds are nice, but won't keep your feet nearly as warm. Plus, these socks work in every pair of shoes and boots that you own...not just your ski boots. I wear mine Nordic skiing, hiking and even when walking the dog on super cold days.
Hotronic Heat Socks XLP 2P BT Surround Features
High-performance, low-weight Li-ion batteries in a compact design
Output: 4400 mAh
Intelligent charging technology (additional USB charging option)
Constant heating power
Controllable via Bluetooth and heat app
Ideal fit
Ideal moisture wicking
Additional shin-protector
Compression: soft – PFI 50, 10 – 15 mmHg
Up to 18 hours of comfort in the cold (on the lowest setting)!
With all these great features, you can see why these comfortable and durable battery-operated heat socks are the leaders of the pack. Check out this SkiRacing.com Gear Guide article for more information on the socks or other great gift ideas for the skiers and ski racers in your life.
Get details on the socks here www.hotronic.com
This is a sponsored post.