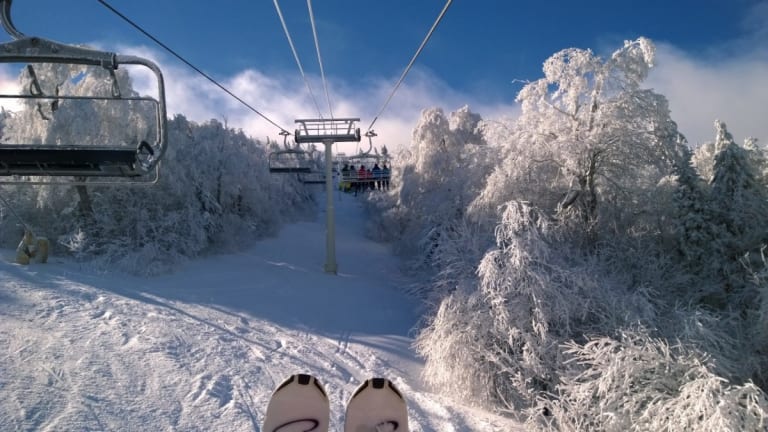 Publish date:
Where to Eat Near Stratton Mountain Vermont
Our ski mama friends shared their favorite places to eat or near Stratton Mountain in Vermont.
Our ski mama friends shared their favorite places to eat or near Stratton Mountain in Vermont.
Stratton Mountain is an extremely popular weekend destination for families who live in New York, New Jersey and even Boston. With big wide open runs, a cute village and tremendous snowmaking abilities, it's sure to be a top choice for your spring break or school holiday.  Since any great vacation also involves food, we asked our ski mama friends where to eat near Stratton Mountain in Vermont and put together this list of family-friendly resources.
Related: Plan the perfect family ski trip to Okemo
On Mountain Dining at Stratton
Normally, on-mountain dining is a blast. This season, things are weird. The best bet is to eat a big breakfast, pack some snacks and carry on until you are ready for aprés ski. But we'd be remiss to not share our favorite.
Mountain Smoke: Make reservations online for any base lodge offerings, they are all on Opentable. You'll get great views.  Only open on weekends.
Grizzlies: Our mom friends say this spot in the base lodge feels very covid safe and they love the yummy nachos and drinks!
For more tips about Stratton Mountain check out our full feature here.
Stratton Village Dining
Stratton has a sweet little pedestrian village that's filled with shops and a few restaurants. Families take note: there is definitely an up charge for convenience. Here are a few of our favorites. For more village dining information, head to this page for hours and details www.stratton.com/things-to-do/dining.
The Fire Tower: The fancies restaurant in the village. It's the spot for high end cocktails and grilled food. You'll need a reservation. Book on Open table or call 802-297-2000.
Mulligans: Generic pub faire and bonus for the little sibs they have a mini arcade. There are more than 60 beers to pick from as well as Stratton's biggest selection of house-infused Bloody Marys. Limited eat-in dining. Call for take out 802-297-9293.
Benedicts: The place to get a hearty breakfast before a big ski day. Our girls loved the avocado toast here. 802-297-4377
Walk in take out available.

5 Pretty Ways To Organize Your Jewelry
I admit - I'm guilt. Despite my best efforts, my "jewelry drawer" has become a tangled mess of necklaces, bracelets and earrings. This cluttered collection not only makes it hard to see what I have, but difficult to untangle the pieces I do want to wear! This summer, I'm ...read more
This Year's Coolest Jumbo Pool Floats
Pool season is almost here! I can't wait to relax, read a book, and sip a cocktail while lazily drifting in an oversized float. (Just kidding, I have two toddlers--but a swim mama can dream, right?). If you've got a staycation planned, check out this year's coolest jumbo pool ...read more
Crystal Clear and Pristine: Pool-Cleaning Tips
Tropical Storm Isaiah gave us quite the midsummer surprise here in the suburbs of New York City. We just got our power back on after a whole week of darkness! With trees down, debris everywhere, and lots of uncertainty, one thing we forgot to check on: our above ground Intex ...read more
Off the Access Road
Save yourself a trip to Manchester and try one of these spots closer to the mountain.
Honey Pie: We LOVE Honey Pie for burgers and shakes. It's right off the access road and perfect for a hearty dose of calories on the way home. 8811 VT-30, Jamaica, VT 05343 (802) 548-4999. Get the menu here www.eatathoneypie.com
Ungrounded Coffee Roasters: A great coffee shop with a maple latte that is amazing. 8814 VT-30, South Londonderry, VT 05155 (802) 459-1552. ungroundedcoffee.com
Family Kitchen: Where the locals get pizza. 8814 VT-30, South Londonderry, VT 05155  (802) 297-0458. Get the ordering app here.
The Grindstone Pub: is also a good spot for casual food in Bondville (base of access rd). Serving dinner five nights a week featuring appetizers, salads, sandwiches, burgers, and BBQ. 1 River Rd, Bondville, VT 05340 (802) 787-7027www.grindstonepubvt.com
Workhorse Cafe: Open 7 days a week for delish sandwiches like the Vietnamese BBQ Pulled Pork Banh Mi and to-go breakfasts. 59 VT-30, Winhall, VT 05340 (802) 856-7190
Manchester, Vermont
Manchester is the nearest town to Stratton (there are other small hamlets, but this one is more population dense). We usually go to the Shaw's in Manchester to shop for groceries when we intend to cook in our condo. It's about a 30-minute drive into Manchester so plan accordingly (and don't forget to bring some shopping bags from home).
For more ideas on things to do in Manchester, head here.
Ski Moms' Top Pick: Cilantro. It's like a freshly done Chipotle and not to be missed and folks rave about the burritos. Perfect for take out. And I'm told you cannot miss their queso fresco! Closed Monday/Tuesday. 5036 Main St, Manchester Center, VT 05255 (802) 768-8141. Get menu here cilantrorestaurantvt.com/
Up for Breakfast: A family-friendly and super cute breakfast spot. 4935 Main St, Manchester Center, VT 05255 (802) 362-4204
Zoey's Deli: Great breakfast and lunch sandwiches and soups. Order online and pickup in 20 min or so. 539 Depot St, Manchester Center, VT 05255 (802) 362-0005 Online ordering here www.zoeys.com
Depot 62: has yummy wood-fired pizzas and Greek mezzes tucked into a furniture store. 515 Depot St, Manchester Center, VT 05255 (802) 366-8181 www.depot62.com/cafe
Seasons: Higher-end American with and Asian flair. Open Thursday- Sunday. Limited dining in. Best for takeout right now. 4566 Main St, Manchester Center, VT 05255 (802) 362-7272 www.seasonsvt.com/
Raven's Den: Steak house in Manchester has a ridiculously good salad bar! 1844 Depot Street Manchester Center, VT 05255 802-768 -8779  www.ravensdensteakhouse.com
Gringo Jack's: Open 7 days a week. Our moms say they make a mean margarita and we love the kids menu. 5103 Main St, Manchester Center, VT 05255 (802) 362-0836 www.gringojacks.com
Social House: Mediterranean restaurant with amazing flavorful food with sharing and family style options. They offer dine in and take out and our moms have been impressed with their covid protocols.  1716 Depot St, Manchester Center, VT 05255 www.socialhousevt.co
Thai Basil: The best Thai food outside of the city, they offer curbside takeout. 4940 Main St, Manchester Center, VT 05255 (802) 768-8433 thaibasilvt.com
Moonwink: Yummy Burmese food. 4479 Main St, Manchester Center, VT 05255 (802) 768-8671
Ponce Bistro: Casual dining in a converted historic home with quaint decor & a small patio.4659 Main St, Manchester Center, VT 05255 (802) 768-8095 poncebistro.com
Mystic Cafe: Book on Open Table. 4928 Main St, Manchester Center, VT 05255 (802) 768-8086
Mother Myrics: If you want sweet treats they make amazing fudge, chocolates and candies. 4367 Main St, Manchester, VT 05255 (802) 362-1560 www.mothermyricks.com
And one more...J.J. Hapgood's near Bromley, Mountain. they offer family meals to go, like lasagna, shepherd's pie and quiche. All you need to do is pop it it the oven. Order ahead and pick up to prepare at your condo. 305 Main St, Peru, VT 05152 (802) 824-4800 jjhapgood.com
MORE OF OUR FAVORITE VERMONT SKI EXPERIENCES
PIN IT!
Use Pinterest to save your favorite family travel features. Be sure to follow our Ski Moms Pinterest Board.