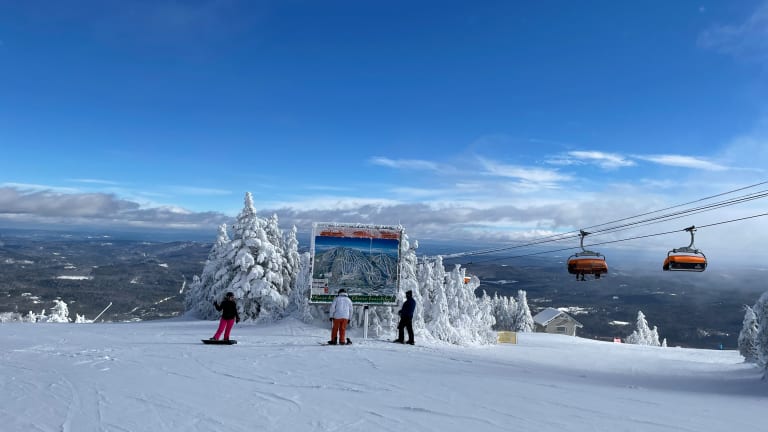 Where to Eat Near Okemo Mountain Vermont
Our ski mama friends shared their favorite places to eat or near Okemo Mountain in Vermont.
Okemo Mountain is an ideal spot for a family vacation. It's got a great variety of terrain, an amazing ski school and lots of housing options for families. Since any great vacation also involves food, we asked our ski mama friends where to eat near Okemo Mountain in Vermont and put together this list of family-friendly resources. 
Related: 12 Ways to Recycle and Resell Old Ski Gear
Where to Eat at On Mountain at Okemo Mountain
Like many Vail resorts, Okemo puts a premium on food. They are always tweaking menus and updating the offerings. If you're planning to eat on mountain this year, you'll need to plan ahead. Use the EpicMix app to book your tables and have proof of vaccine available.
Here are a few on-mountain favorites:
The Sitting Bull: Located at the base of the Clocktower area this is the spot to get a salad, soup or awesome burger.
Fireside Snacks: Eat S'mores by the fireplace. Coleman Brooke Tavern sets up families with do-'em-yourself on your own tabletop campfire. Take the treats to the fireplace indoors or out.
Waffle Cabin: No reservations required!
Where to Eat Near Okemo Mountain in Ludlow, Vermont
If you've rented a condo in town, or simply want a break from cooking, Ludlow is packed with options to give Mom and Dad a break. And we've put in a few here that are worthy of hiring a sitter if you can find one. 

Mojo's: Warm, casual joint for Tex-Mex and ample craft brews. Do order Mojo's for dinner at 2 pm when they allow online ordering to start.  106 Main St, Ludlow, VT 05149 (802) 228-6656 Get details here www.mojocafevt.com/menu.html
Java Baba: Has amazing breakfast sandwiches, soups, BLT's and baked goods. Perfect for a hearty breakfast or a nourishing lunch after a day on the slopes. Right now everything is to-go. 57 Pond St, Ludlow, VT 05149 (802) 228-7810. Please order ahead online. Order through toast tab here.
Tom's Loft: Great burgers and a relaxed vibe for after skiing. They are still serving indoors. 300 Mountain Rd, Ludlow, VT 05149 (802) 228-5638
Harry's Cafe: A Ski Moms favorite. Now offering takeout. Open Friday through Sunday. 3621 VT-103 S, Mt Holly, VT 05758 (802) 259-2555. Get details www.harryscafe.com
The Homestyle Hostel: Open Thursday through Sunday. Some dining inside by reservation only. Place your takeout order starting at 10am for same-day pickup only.  119 Main St, Ludlow, VT 05149 (802) 975-0030 Check out the menu here homestylehotel.com/restaurant
Main and Mountain: The perfect spot for drinks outside with a safe social distance and plenty of air circulation. All ages are welcome to enjoy the fire pit and the vibe. 112 Main St, Ludlow, VT 05149 (802) 242-1608 Get the details here www.mainandmountain.com/bar
Cookster: for gourmet take out/meals to eat at home. 1 Lamere Square, Ludlow, VT 05149  (802) 228-4983 They post the menu on Facebook.
Goodman's American Pie: if you want pizza that week call American pie very early as they sell out or have very long waits. 5 Lamere Square, Ludlow, VT 05149 (802) 228-4271 Check out the menu here.
Outer Limits Brew Pub: Simple delicious bar food and beers. Start with a beer flight of six tastings and don't miss the pretzels. 60 Village Green, Proctorsville, VT 05153 (802) 287-6100 Reservations available on Open Table. More here www.outerlimitsbrewing.com/home
Downtown Grocery: Family-owned, farm to table. Great food, but weird hours. 41 S. Depot Street, Ludlow, VT.
Wine and Cheese Depot: An incredible assortment of Vermont cheese (plus imports) and wine for those nights when a cheese board is all you want for dinner. 46 S. Depot Street, Ludlow, VT.
Stemwinder: In the back of the Wine and Cheese Depot, you'll find this small restaurant  they focus on thin-crust pizza and wine.
Sweet Surrender: Best donuts and crullers and a perfect way to start a ski day or end a weekend. 44 Pont St. #4, Ludlow, VT.
Coffee Bar: pop in to the TPW Management Real Estate Office for a Maple Latte, this clever office decided to branch out. 207 Main Street.
Stop Along the Way to Okemo
If you've got time, these places are nearby and worth an extra few minutes in the car.
Southern Pie Company: If you love pie, or even if you don't think you like pie, try this place. The chocolate chess pie is our dreamy favorite. Offering curbside pickup. 94 Common St, Chester, VT 05143 (802) 875-7437 Find our more www.thesouthernpiecompany.com
Meditrina: If you're driving through Chester and need to stock up on wine and beer, Meditrina has an amazing wine selection, great local beer, as well as a few cheeses, etc. It's just about a block past the turn for Okemo, but well worth the small detour if you are through while they are open. 295 Main St, Chester, VT 05143  (802) 875-9463
Boutiques in Ludlow
Be sure to pop into 3 Graces Boutique on Main Street for denim and awesome sweaters. 118 Main St, Ludlow, VT 05149
Teaselwood Interior Studio has lovely little hostess gifts. And if you plan to redo a condo, contact them for design services. www.teaselwooddesign.com
MORE SKI FEATURES FROM MOMTRENDS
PIN IT!
Use Pinterest to save your favorite family travel features. Be sure to follow our Ski Moms Pinterest Board.
Momtrends was not paid for this post.