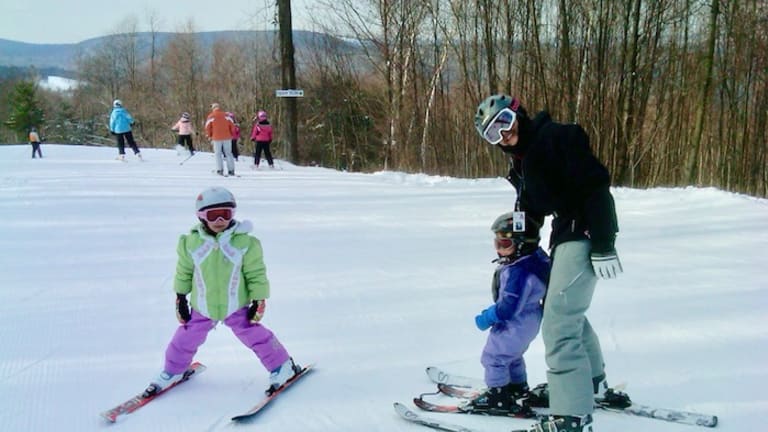 Where to Teach Kids to Ski Near New York City
Ski and riding lessons near New York City that will get city families out on the slopes.
As a dedicated ski mom, I'm all about providing more kids access to snow. Just because you live in an urban area like New York City, doesn't mean you can't find a way to the slopes. I've tapped my ski mom friends from the tristate area to come up with a list of 10 places where to teach kids to ski near New York City. 
Related: Easiest ski and snowboard lease for families
All of these suggestions can all be planned as day trips. Of course, while I think more skiing is better, I also realize that money and time are always an issue. This resource should be helpful to getting your kids up and skiing or riding. 
New York State Ski Areas to Learn to Ski
When it comes to skiing and snowboarding and all things fun in the snow, New York State's 50+ ski areas are accessible, affordable and great for families. There's still plenty of time to plan a cozy winter getaway that the whole family will enjoy. We've compiled a list of the best family-friendly ski resorts to fit your needs, whether you're a family of beginners or pros, each ski resort will leave you feeling ready for more adventure.


New Jersey Ski Resorts Where Kids Can learn to Ski
Mountain Creek. Mountain Creek is NYC metro area's closest snow resort located just 47 miles from the George Washington Bridge.  Even on holiday break, city families can find some quiet on the mountain. They have a little bunny slope with a people mover for beginners. With over 167 skiable acres and over 1,000 vertical feet to ski you can stay busy here. Plus they have 100% snowmaking coverage and full night skiing. 200 McAfree Vernon Road, Vernon, NJ.
Big Snow. This is the only indoor skiing and riding facility in North America with actual snow. Located inside the American Dream Mall near the Meadowlands, it's a clever and novel business model that is suited to beginners and seasoned skiers alike. Big Snow is a great place to learn with temperature controlled conditions and an excellent rental program with everything from snow pants to helmets to boards and skis.Read our full review here.
Pennysylvania Ski Resorts Where Kids Can learn to Ski
January is learn to ski month in PA. There are deals at more than 20 mountains and it's a fabulous place to learn. Get more details here on the offers. 
Camelback. Located in the Pocono Mountains region, Camelback is just under two hours from New York City, this Pocono family retreat promises to be just the thing to bring you family together for SNOW MUCH FUN! Read the full Momtrends review here. 193 Resort Drive, Tannersville, PA 18372
JFBB. Parents say that Christmas Break isn't too crazy at Jack Frost/Big Boulder. And you get two mountains for the price of one at JFBB.  Big Boulder devotes 50% of its overall terrain to park features ( they boast they have the most innovative terrain park program in the Poconos) and Jack Frost is a more tradition ski hill. The location is about two hours from NYC.  Big Boulder 357 Big Boulder Dr, Lake Harmony, PA 18624
Connecticut Ski Resorts Where Kids Can learn to Ski
Mohawk Mountain. Mohawk sits 100 miles north of New York City in Northwest Connecticut. They do close on 12/25, but other than that this mountain is a gem. Both my girls learned to ski here and I do love that there is no alcohol served at the mountain. 46 Great Hollow Rd, Cornwall, CT 06753
Massachusetts Ski Resorts Where Kids Can learn to Ski
Butternut. If snowboarding is your thing, Butternut has an actual Burton Learn to Ride program. I love Butternut. Small mountain and they have lots of cheap deals too. If you are FD, PD, military and one other profession it's super cheap. Located on Warner Mountain in The Berkshires this location is one of our further recommendations. 380 State Rd, Great Barrington, MA 01230
And for more tips on where to ski near New York City, check out this post from our friends at www.theavantski.com/skiing-near-new-york-city
MORE SKI FEATURES FROM MOMTRENDS
PIN IT!
Use pinterest to save your favorite family travel features. Be sure to follow our Ski Moms Pinterest Board.