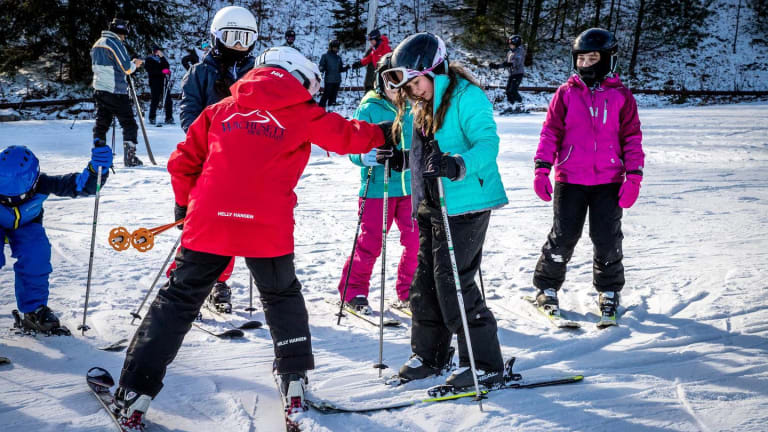 Where Families Can Learn to Ski Near Boston
A dozen places close to Boston that are perfect to get your family started with skiing and riding.
Is this the year your family learns to ski? If you live in Boston, we've rounded up a list of more than a dozen mountains where families can learn to ski. I made the rule it had to under three hours away, but many are MUCH, MUCH closer (one is even 15 miles from the center of Boston!). 
Convenience matters when picking your mountain, but so do other factors. I don't know Boston well, so I tapped into the knowledge of the largest group of ski moms on the internet. Like all good ski moms, they shared wisdom and some LOOK OUTS for all the families that plan to learn to ski this year. Ready to hit the slopes? Let's do this!
Related: Where to teach kids to ski near New York City
Nashoba Valley, MA
Located in Westford, MA this ski hill is an hour outside of Boston. Our ski moms love this place. Here's what they say: A vote in favor of Nashoba's teaching program -- I credit our teacher, big time! (And possibly the fact that we took 9 lessons over the course of 7 weeks.) They did a great job with limiting attendance in their classes and with lift tickets.
Our moms say this is an awesome place to learn. They offer lots of weekly options, a race team and even a tubing hill. The one major negative about Nashoba: once you've moved beyond their bunny slopes, the big hill that you progress to is quite dauntingly steep for a beginner. Multi-week lessons start as young as age 3! 
Get details: 79 Powers Rd, Westford, MA 01886, (978) 692-3033, skinashoba.com
Distance to Boston: 29 miles, 60 minutes
Mt. Sunapee, NH 
Mount Sunapee is a 5-mile-long mountain ridge in the towns of Newbury and Goshen in western New Hampshire. Since this is one of the East Coast mountains on Epic Pass, we love this option for families.
Lessons start at age 5 at Mount Sunapee. You might try the Frequent Flyer Lesson Pack. This multi pack of group lessons gives you the ultimate in flexibility while providing access to 20 days of group lessons for your child all winter long.
Mountain Details: Mount Sunapee, 1398 Route 103, Newbury, NH 03255, www.mountsunapee.com
Distance to Boston: 100 miles, 2 hour drive 
Pat's Peak, NH
Pats Peak is an independent alpine ski resort located in Henniker, New Hampshire. The ski area opened in 1963 and has a vertical drop of 770 feet (which means it isn't too steep). 
One of our ski moms picked, Pat's Peak because they have good beginner terrain, she says,"that I feel you can't actually find at the smaller places." It's also a super family friendly mountain and will have a lot of more difficult terrain as they progress. They also sell "Valley Area" tickets for $49 and even cheaper tickets for the "Beginner area" if you don't need access to the whole mountain.
Mountain Details: Pat's Peak, 686 Flanders Rd, Henniker, NH 03242, www.patspeak.com
Distance to Boston: 80 miles, 1.45 hour drive 
Wachusett, MA
Mount Wachusett straddles the towns of Princeton and Westminster, in Worcester County. It is the highest point in Massachusetts east of the Connecticut River. With 25 trails, 8 lifts, and a 2006 foot summit, Wachusett is New England's most accessible ski resort.
Our ski moms say, "We really like Wachusett for its proximity to Boston and excellent kids ski program. Both my kids have received highly individualized instruction in the group classes. They also have a development program (which we have not done)."
From another mom, "When we don't feel like doing the drive up to NH, I'll take my youngest here because its the perfect mountain for him to navigate (just turned 6 and still on mostly greens a some easier blues)." 
One of our ski moms praised the long green beginner traiIs, "I found Wachusett's two long green trails much more accessible and confidence imparting, and the jump from green to blue a more gradual transition." 
On the downside, we've heard that on weekends the lines there are "insanely long." And have been warned that on holidays you'll spend most of your day waiting in lift lines.
Mountain Details: Wachusett Mountain Ski Area, 499 Mountain Rd, Princeton, MA, 01541, (978) 464-2300 www.wachusett.com
Distance to Boston: 55 miles, 1.15 hour drive 
Blue Hills, MA
Blue Hills is the closest mountain to a major city. Being this close to a learning experience is pretty amazing for urban families. Ski mom Carrie Bonnivier Snyder says, "My son learned at Blue Hills doing weekly lessons there as a preschooler and now races there as a teenager. At less than half an hour from our house, it was a fabulous place for him to ski often." 
One popular program is the Snow Puppy group. It's a 5 week session for 4-6 year olds. Each lesson is 75 minutes long. A perfect way to introduce your kids to snow sports and allow them to make new friends.
Mountain Details: Blue Hills Ski Area, 4001 Washington Street, Canton, MA 02021, 781-828-5070 www.bluehillsboston.com
Distance to Boston: 15 miles, 30 mins 
Ski Ward, MA
Ski Ward offers skiing, snowboarding and tubing. The winter offers 9 trails, 4 lifts and 8 tubing lanes, a rental shop, and a snow school with more than 100 instructors teaching private and group lessons, multi-week lesson and vacation lesson programs. 
Moms describe it as "an incredibly small mountain," with excellent lessons that are reasonably priced.
Try the vacation week programs. School vacation weeks are the perfect time to learn to ski or snowboard or just brush up on your skills. Programs are available during both December and February vacation weeks. Choose 1, 2, 3, 4, or 5 days. December 27 – 31, 2021 . February vacation dates: February 21 – 25, 2022.
Mountain Details: Ski Ward 1000 Main St, Shrewsbury, MA 01545, (508) 842-6346, www.skiward.com
Distance to Boston: 40 miles, 1 hour
Ski Bradford, MA
Ski Bradford is a small ski area located in the Bradford section of Haverhill, Massachusetts. It's a great spot for little people to get up and running on skis.
Our moms all say, "Ski Bradford is great for learning." It's a small spot and moms call it "more a hill vs mountain." One of our moms took her daughter for a couple seasons to their weekly program. They taught her how to snow plow and turn and she continued happily with the after school program. The mom says, "She loves the independence and skiing with her friends."
Mountain Details: Ski Bradford 60 S Cross Rd, Haverhill, MA 01835, (978) 373-0071 skibradford.com
Distance to Boston: 35 miles, 45 minutes
Waterville, NH
If you are willing to drive a bit more, you can get a more full-mountain experience at Waterville. Waterville Valley is located within the White Mountain National Forest and home to a charming ski town. In fact, it was voted the best East Coast ski mountain in Conde Nast's Traveller poll. Our moms say "Waterville valley is fantastic. It is by far the least expensive place we've found for ski lessons - only $126 for the full day and their lessons are top notch." 
Lessons and programs start as young as age 4. One mom says, "Both of my kids learned in private and kids kamp programs there and I have always been impressed with their instructors and the connections they make with the kids." Kamps are for younger beginners or novice skiers who are in need of more basic instruction and are not at the lower intermediate skill level yet. The Kamps feature age appropriate groups & activities and meet at Kids Kamps in the Base Lodge. Participants must have valid season pass or valid lift ticket. Kamp programs include snacks and lunch.
We love this deal: When you purchase a 2021/22 Waterville Valley Adult Season Plus Pass, you will also receive a voucher for a free Junior Season Pass valid for any child age 6-12
Mountain Details: 1 Ski Area Rd, Waterville Valley, NH 03215, www.waterville.com
Distance to Boston:  130 miles, 2+ hours
Gunstock, NH
Gunstock Mountain Resort, originally known as Belknap Mountain Recreation Area, is an outdoor recreation complex located in Gilford, New Hampshire. Constructed by the Works Progress Administration, it was completed in 1937 and is owned by Belknap County. It is one of the larger mountains with a 1400' vertical and 48 runs. From the top, you'll get exceptional views of Lake Winnipesaukee.
Down below, you'll find a ton of family fun. They offer everything from adaptive skiing lessons, to racing programs and everything in between. Our moms say, "Gunstock also has a fabulous program and lift tickets are including even in the 7+ classes, so full day lessons are also reasonably priced."
Mountain Details: 719 Cherry Valley Rd, Gilford, NH 03249, (603) 293-4341 www.gunstock.com
Distance to Boston: 100 miles, 2+ hours
Ragged Mountain, NH
Families love this small family run hill. One program that stands out is the Bebe Wood Free Learn-to-Ski or Ride Program. If you thought learning to ski or snowboard was something you could never accomplish or afford, Ragged Mountain Resort's Bebe Wood Free Learn-to-Ski or Ride Program is perfect for you! This program is a fun and easy way to learn without any risk to your wallet. 3 lessons for first-time snow sport athletes only, ages 7 and up. 
Mountain Details: 620 Ragged Mountain Rd | Danbury, NH 03230 | 603-768-3600, raggedmountainresort.com
Distance to Boston: 100 miles, 2+ hours
Crotched Mountain, NH
Our moms say Crotched Mountain offers "better snow and less crowds than Wachusetts and Nashoba." 
Crotched Mountain is a small mountain in western Hillsborough County, New Hampshire, in the United States. The 2,063-foot summit of the mountain is in the town of Francestown, while the western slopes of the mountain rise in the town of Bennington, and a long southern ridge of the mountain is in Greenfield.
Though it's on the smaller side, Crotched Mountain is on Epic Pass, making it a great value for families that want to ski multiple places this winter.
Mountain Details: 615 Francestown Rd Bennington, NH 03442 (603) 588-3668 www.crotchedmtn.com
Distance to Boston: 75 miles, 1.45 hours
Berkshire East, MA
Berkshire East Ski Resort is a medium-sized alpine ski area located in the Berkshires. Berkshire East is an old-school gem but with modern facilities, a great snow making system, first class grooming, and our moms love the instructors there. And we should note: Berkshire East is the only ski area in the world to produce 100% of its energy from onsite renewable energy. 
The most popular children's program is the Mountain Explorers. It's a 7-week program that provides kids of all abilities the consistency and group environment they need to learn new skills and develop a lifelong passion for skiing and riding. Designed for kids ages 7-14, kids are grouped by ability from first-time skiers and riders to those ripping every trail on the mountain. These 2-hour group lessons are offered as either a Morning 10am-12pm session or an Afternoon 1pm-3pm session.
Mountain Details: 66 Thunder Mountain Rd, Charlemont, MA 01339, (413) 339-6618, berkshireeast.com
Distance to Boston: 130 miles, 3 hours
Bretton Woods, NH
This is probably the furthest option on out list, but we couldn't leave Bretton Woods off. It's New Hampshire's largest ski area with 464 acres of skiing and snowboarding on 63 trails and 35 glades. The nearby Omni Mount Washington also offers Nordic skiing and tubing.
From the top, your family will get stunning panoramic views of the Presidential Range. Bretton Woods is consistently recognized by SKI Magazine as #1 IN THE EAST for SNOW, GROOMING and SCENERY. 
We think the Bretton Woods Trailblazers is a great seasonal program for young skiers. These skiers will enjoy all the various terrain that Bretton Woods has to offer, challenge their friends on the NASTAR Course as well as free skiing around the mountain with their coaches. This program is for skiers ages 7 through and 15*.
Mountain Details: 99 Ski Area Road, Bretton Woods, NH 03575, (603) 278 - 3320, www.brettonwoods.com
Distance to Boston: 160 miles, 2.45 hours
More Ways to Ski in Boston
Youth Enrichment Services (YES) in Boston offers a cool option for kids ages 7 to 12 to learn to ski and ride. Operation SnowSports is YES's flagship program. Every winter season, hundreds of Boston youth get the opportunity to experience downhill skiing, snowboarding, and cross-country skiing with YES. All Operation SnowSports trips include an equipment rental, a lift ticket, a bus ride to one of New England's best skiing locations, and a ski/snowboard lesson.
YES is dedicated to serving Boston youth with a targeted focus on reaching low-to-moderate income children and teens: 79% of youth served by YES live in low-income households , 70% are youth of color, and 58% live in our target Boston neighborhoods of Dorchester, Roxbury, Mattapan, and Jamaica Plain. YES currently serves more than 1,600 children and teens annually.
MORE SKI FEATURES FROM MOMTRENDS
PIN IT!
Use Pinterest to save your favorite family travel features. Be sure to follow our Ski Moms Pinterest Board.
Momtrends was not paid for this post