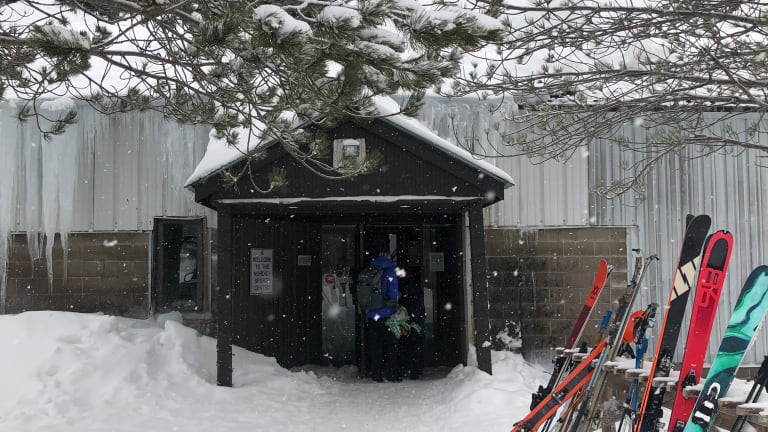 What You Need To Know About Trying Backcountry Skiing
A mom's guide to trying a new sport with a steep learning curve. Bolton Valley, Vermont is the perfect place to learn
Here's what you need to know about backcountry skiing: It involves a lot of gear and isn't the type of sport you just take on with some trial and error. Bolton Valley Resort in Vermont is the perfect place to learn about this new sport in a safe and educational way. And as for the why: Backcountry is a.) a great workout and b.) a way to free yourself from the restraints of the lift system.
I'm a huge fan of Vermont's smaller family-oriented resorts like Pico Mountain. When the opportunity to visit Bolton Valley came up thanks to an event hosted by Ski Vermont, I made space on my calendar. I'd heard great things about their backcountry program -- the timing seemed fortuitous.
Bolton Valley is Home Base for Learning New Winter Sports Skills
Bolton Valley is family owned an operated. After a bit of transition, the children of the original Founder, Ralph DesLauriers, have taken the helm of this ship (and it's great to see a Lindsay helping increase the numbers of women in charge of ski operations!). It's located just 20 minutes from Burlington and does a great community service of teaching the local city kids to ski. 
As far as traditional ski mountains go, this one is a haven for families. With well-priced lift tickets, child care and an easy-to-nagivate, lift serviced terrain it's a  perfect spot for the whole family.
Education has long been the mission of this family and this mountain. Nearly 50,000 kids have arrived on school buses as novices and made the transformation to winter sports aficionados. With a strong foothold in skiing education, it's only natural that Bolton Valley became the leader of backcountry education in Vermont. 
Learning About Backcountry Skiing at Bolton Valley
With 5,000 acres to work with, Bolton Valley offers those of us who love to play in the snow a LOT of options. They have 400 acres of trails for skiing and snowboarding (and they are open for night skiing for those who can't sneak out from work during the day). But what's really cool about this place is the outdoor center which can get folks up and running on snowshoes, Nordic skis and with backcountry gear.
For me, backcountry was the big unknown. I know the concept -- climb up things with your skis (or split board) on and then ski down. But I had way too many logistical challenges and, to be frank, too many fears to want to take this on without a LOT of support.
Ski Vermont offered up an Intro to Backcountry course for some journalists. And in my 49th year, I thought "if not now, then when?" Plus, there's the numerous times I tell my kids to NOT be afraid to try new things. Yep, I believe my girls learn fearlessness by seeing women do brave things. Time to stop talking and start skinning.
We started off with gear rental. None of my standard alpine gear would work (and I do love my custom Nordica boots). The only things I could cling too were my helmet and my goggles (which were frankly useless, I need some low-light or clear goggles for snowy days).
The Gear Your Need to Backcountry Ski
Bolton Valley has all the gear you need. Skis, skins, boots and poles. I was set up quickly and headed to class. 
Momtrends Tip: Bring a backpack. This was the one thing the Outdoor Center didn't have. A pack is essential to hold extra gear, skins and your helmet (more about the when and what to come).
Once I had all my backcountry "stuff" we went to a large open area to meet Alek, our fearless instructor. He looked just like a mountain guide from central casting, young, cheerful, fit and bearded. When he's not instructing newbies, he's flying helicopters or exploring on skis with people who know what they are doing.
Alek was incredibly patient with us as we booted up. The boots felt squishy and quite comfy. Next we learned about the skins and the sticky residue that magically affixes them to the bottom of the skis and then removes without leaving a mess. 
Once we got the concept of how the skins work, we practiced putting them on and off. 
It's not as easy as you'd think. the skins are really sticky and can latch on to just about anything with fabric. Oh, and if you drop them in the snow glue-side down, they won't work. 
My brain was doing ok with all this new information. Next step: figuring out how to step into the skis in climb mode and how to switch them out to ski mode. It's a matter of setting bindings and boots and can vary from manufacturer to manufacturer, so I won't get into details here. Suffice to say, it's not as easy as just clicking in.
We practiced getting set up to climb and to ski until we were all comfortable-ish with the concepts. After a short break, it was time to head for the hills.
Getting Going Uphill
You can uphill ski on groomed trails (check with your resort on rules), but the real fun is going into the woods to find solitude and untouched pow. Alek led us back into the glades behind the Outdoor Center towards Holden's Hallow. It's a great beginner backcountry area. 
Flats are fairly boring (much more fun on classic Nordic skis), but things got more interesting with the climb. I started to feel the workout portion of the sport kick in. This is where the pack is necessary. You don't need a helmet or heavy clothing going up -- stash those in your pack. We climbed for about 30-45 minutes (with a few breaks) and then when Alek found us a nice untouched line we switched it all up, added layers back on and took to the trees. 
It was quite fun glade skiing in such a secluded spot. I grasp why women love this sport. In all, we took two "runs" back in the glades and the switch up process got faster and easier as time when on. 
If you want to try out backcountry, you won't find a better spot than Bolton Valley. With good equipment, expert instruction and inviting terrain, it's a can't miss first experience.
Will I Free the Heel in the Future?
I'm not sure. It's another big investment of gear and a bigger investment finding WHERE to go. With resorts, the trail map tells you what's out there. With backcountry, you need guides, or friends who are knowledgeable. 
In addition to the gear, I feel like I'd need some basic wilderness and first aid skills that I don't have yet. Don't count me out, but I'm not sure when I will fit all this in.
I'm intrigued by human powered skiing, and I sure love the workout of earning my turns. Please let me know if you are a die-hard and what else I need to know. I saw pictures of more experienced skiers doing the Bolton to Trapp trail and am putting that experience on my ski bucket list.
Get More Details About Backcountry at Bolton Valley
The Bolton backcountry has 1500 acres of terrain (they have use of the Mount Mansfield State Forest, making it the largest wilderness area in the Vermont State Forests). Every Saturday and Sunday, they offer scheduled introductory clinics and group tours (respectively) at reduced rates. 
Get details about intro backcountry course at Bolton Valley.
Want to try backcountry with some girlfriends?
Consider the Bolton Babe Force Camp. This is an awesome opportunity for women to learn to backcountry ski. If you are a solid intermediate skier and comfortable in the trees, this could be a great way to expand your skills.  It's led by phenomenal women instructors including the head of patrol and President, Kaitlyn and Lindsay. Get details on the weekend-long March event: Bolton Babe Force Presents: Babes in the Woods 2 Day Backcountry Camp
MORE SKI FEATURES FROM MOMTRENDS
PIN IT!
Use pinterest to save your favorite family travel features. Be sure to follow our Ski Moms Pinterest Board.
Momtrends was not paid for this post