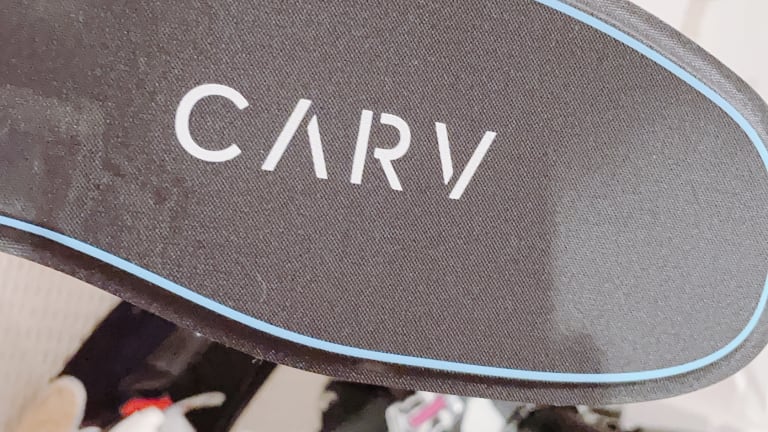 What I Learned Testing the Carv Ski System
The Carv system is a tracker and a coach and improved my ski skills without having to hire a private guide or coach.
Skiing is an art form and a sport. If you were lucky enough to learn when you were young, you'll know it's as much about feel as it is about technical knowledge. I learned late in life and am always seeking to make my turns stronger and my skiing more fluid. This is what drew me to the Carv. It's a way to improve your skiing without hiring a private instructor. I want to share what I learned testing the Carv system.
Related: How to get your child involved in ski racing
Carv is a sensor based ski analysis system. With a smart-tech insole, it reads your motions and gives you real-time feedback. The system is a tracker and a coach and improved my skills without having to hire a private guide or coach. 
What You Need to Know about the Carv Set Up
There are a few steps to get the system up and running. It's a little more complicated that I anticipated. I thought I'd pop these in my boots and head off to ski, then I would get a few coaching tips after. 
Let's start by walking through the steps
Putting Carv in your boots
Setting up a profile
Working with the app
Putting Carv in your boots
This was easier than anticipated. I've never actually removed the liners from my boots and I thought it would be complicated and impossible to get them back in. News alert: it's not.
After I pulled my liners out, I read the instructions THOROUGHLY and placed the liners in my boots. There's one tricky bit, getting the cord that connects the base to the tracker pack. Be careful to keep the tape smooth along the interior of your boot to avoid irritation.
Once I had them in and the CARV trackers charged, I thought I was set. Nope. Now it's time to calibrate and connect the trackers with the app.
Setting the Your Carv Profile
With the liner installed, it was time to get my profile set. After entering some basic information it's time to connect the app with the sensors in your boots. This took me a few tries.
In fact, I had to contact customer service to figure it out. Apparently there is a left and right sensor and they have to go on the appropriate boot or they won't work. It may be a software glich, but eventually we got it sorted and I was able to install the software and finish calibrating the set up.
Calibrating requires moving the boot around in the air. I don't know the whys, but that's what you have to do. One must also put the boot on, and then lift it in the air. 
As I said, it's a bit of a process getting started. After a few false starts, I was able to set out on a ski day with my Carv.
Working with the App
There are four modes in the app: Free Ski, Training, Challenge and Monitor
Note: you must allow location services to work with this app. To start working with Carv, you press the red button at the bottom of the app.
My first tests have been in the Free Ski mode. This allows the sensors to collect information about my skiing and make recommendations. This is building up my SkiIQ. With Free Ski you can get coaching on the lift. After your run, the app figures out when you are seated and will give you feedback to work on. 
I've also tested the Training mode. This is really like having a personal coach along with you. In training, you'll need an ear piece in to get the training and instruction as you ski. I started with carving turns, and I found the instruction spot on and helpful.
Every turn and run is tracked in Carv so you can see your progress and where you need to work. 
What to Know About Training with Carv
The biggest thing to know is that you can't do anything else but train. It's an activity that requires focus and I would NEVER recommend training on crowded slopes. There's quite a bit of chatter in your ear as you train. I was really focused on my turns, not my surroundings. 
Often, I ski with friends or family. Skiing is social for me. Carv is not well suited to social skiing. It's excellent for a skier who wants to dedicate a day or a few hours to working on skills while solo. I can see myself improving as I work through the challenges. 
I've gotten enough coaching to know the cues the app is giving me. Carv is the perfect coach -- it reminds me to to put all the things I already know into practice. 
The battery life is excellent. I can get a few days of turns in before having to charge. I do wish Carv came with a port that didn't require two charging cubes (not included), it's a rather inefficient charging process, but I bet they can improve that.
The trackers are fairly low profile, but they do add a bit of bulk to your ankles. It didn't take long to get used to them and they are VERY light.
The Carv system is $349. Find out more details here getcarv.com
MORE SKI FEATURES FROM MOMTRENDS
PIN IT!
Use Pinterest to save your favorite family travel features. Be sure to follow our Ski Moms Pinterest Board.
Momtrends was not paid for this post.