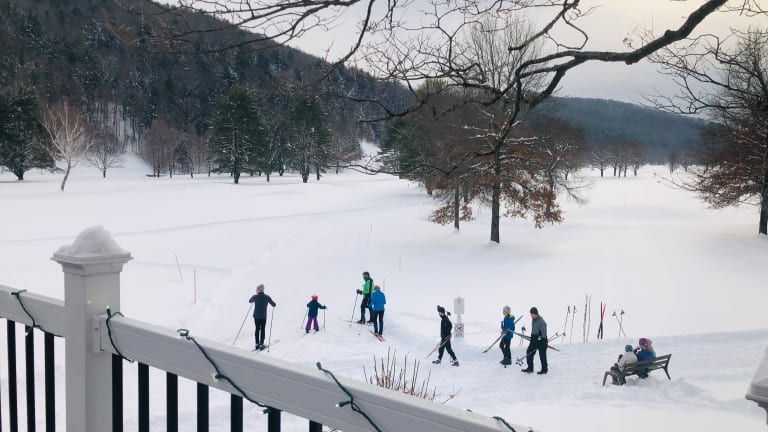 Vermont Winter Adventures at Woodstock Nordic Center
The Woodstock cross country ski center has everything you need to explore on skinny skis.
Is this the year you try Nordic skiing? It's a wonderful winter sport that the whole family can enjoy. Start planning your Vermont winter adventures at the Woodstock Nordic Center. This cross country ski center has everything you need to explore on skinny skis. 
Vermont Winter Adventures at Woodstock Nordic Center
The Woodstock Nordic center is located right down the road from the picturesque Woodstock Inn (click here for more information on the inn, it's so charming). In the summer, the trails are a golf course, once winter arrives, the greens are turned into a playground for skiers. 
KNOW BEFORE YOU GO: Head here to learn about resort operations. Plan your trip to Vermont: Find out about how to travel to Vermont safely here.
Nordic Skiing 101
Nordic skiing is also known as cross-country skiing. Most people only pay attention to the sport around the Olympics, but I want to get the word out that it's something to enjoy every winter. 
The learning curve is low. If you can walk, you can cross country ski. As you progress, there are more skills involved, but maybe you just want a means to get out on the snow, well, that's ok too. The Woodstock Nordic center is there for serious athletes and those who just want a scenic tour. 
Learn more about cross country skiing here xcski.org
Woodstock Nordic
During the COVID period, the resort is trying to limit how much time folks spend inside. I booked my tickets online and filled out my Vermont safe visit affidavit online (to learn more about safely skiing in Vermont, head here). When I arrived, I wore my mask into the main building. I did a temperature check and then sanitized my hands before picking up my tickets. From there, my daughter and I headed out on the trails. Minimum interaction, maximum time outdoors.
The Woodstock Nordic Center offers more than 45 km of skiing right in the town of Woodstock, VT on two trail systems. Since central Vermont just got two feet of snow, the trails were in sublime condition. When possible, the trails are groomed and set with classic ski tracks (parallel lines grooved in the snow to make skiing easier). I mostly classic ski, it's a little easier for beginners. There's also a wide track groomed for those who skate ski (as it sounds, skate skiing is a motion that mimics ice skating, it's zoomy for those who have skills).
My daughter and I toured the flat area, there's about five miles of course to explore, we did a bit of the rolling hills too to get a variety of terrain. For beginners, you can't beat this scenic setting. It's rare to have such a pretty layout for novices. 
If you want a challenge, there's plenty of that too. Check with the trail map or the grounds crew to map your course. 
What Else Do You Need to Know
There's a fully-outfitted rental shop at the Nordic center, they can get you set up with skis, boots and poles. And if you need to upgrade your winter gear, this is a great spot to shop.
When it comes to snacks, there are a few things to purchase for grab-and-go at shop, I recommend bringing easy to transport snacks and plenty of water. There are clean and safe restrooms available at the center.
Once your day is done, I suggest you pop into scenic Woodstock for a bit of shopping and a bite to eat. Our favorite spot is the Mont Vert cafe, try the grilled cheese with bacon. Call ahead with your order (802) 457-7143, they are currently only serving takeout. 28 Central St, Woodstock, VT 05091
Plan Your Visit
The Nordic center is located at 76 South Street, Woodstock, VT 05091. Get information on rates and opening times here (802) 457-6674. The Nordic Center operation is open 7 days a week, from 9 AM – 4 PM (subject to change based on snow conditions). A little bit of planning is involved. 
Enjoy!
Season passes, day passes, rental equipment, and lessons are available. All day trail fee is $25 for adults. Rentals of skis or snowshoes including poles range from $20 to $30 for adults and $18 for children (aged 5-17). Private lessons are $75 per hour.
Check out the L.L.Bean ski free pass. L.L.Bean has partnered with the Cross Country Ski Areas Association and many NE Ski Resorts to offer 1 free trail pass at participating cross country ski resorts for the 2020/21 ski season. Each pass, given to a new skier, is good for one free trail pass and does not include lessons or rentals. Each person who redeems a pass will be entered into a raffle for ski gear to be drawn on April 15, 2021. Woodstock Nordic is included this year! Find our more here.
MORE SKI FEATURES FROM MOMTRENDS
PIN IT!
Use Pinterest to save your favorite family travel features. Be sure to follow our Ski Moms Pinterest Board.
Momtrends was not paid for this post. 
For even more Momtrends, follow us on Facebook, Twitter, YouTube, Pinterest and Instagram!