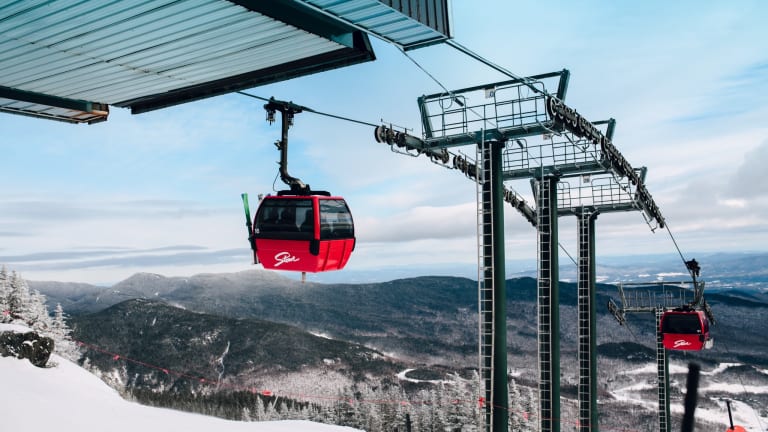 Trip Planning Your Ski Vacation to Stowe, Vermont
The luxurious Stowe resort can keep a family busy for a week of outdoor winter fun.
Stowe is the East Coast gem in the Vail Resorts portfolio. It's a magnet for wealthy ski families from Boston and even as far south as New York City and Philly. Unlike many of the ski resorts in the East, this is a real destination for a multi-day ski holiday. If you are trip planning your ski vacation to Stowe, Vermont, use our helpful ski mom tips.
Related: Topnotch spa vacation perfect Vermont winter getaway
The Stowe Difference
Since Stowe has a well-earned reputation as a premium ski destination (and home to the highest peak in Vermont), they invest a lot on facilities and in snow making. The housing developments and hotels are high-end and the quaint on-mountain village is teaming with charm (and it's splendid in the summer too, be sure to read this post). It's a ski resort that can keep a family busy for a week with on and off-mountain activities. 
Stowe has created quite a community of second home owners who come to flee cities and enjoy the outdoors. Stowe knows their client base and they cater to families with high standards. These skiers are wealthy and busy and can ski just about anywhere. They pick Stowe because they make a ton of snow (83% of the terrain is covered by snow guns), give kids a safe/fun learning experience and offer everyone the chance to relax and get pampered.
Where to Stay
The Lodge at Spruce Peak is the on-site hotel property and it's full of large rooms with mountain views. Other than private condos, it's the best access to the slopes. Along the access road to Stowe, you'll find plenty of smaller family-run inns and a few larger resorts like the Trapp Lodge and Topnotch. For a family with young children, I highly recommend staying in the Spruce Peak village for convenience and entertainment. 
If you are in the market for a second home, be sure to check out the new One Spruce Peak building. With starting prices at $2.1 million (and going up to $10 million), this will be the swankest spot on the mountain. There will be 27 units in all with ski-in/ski-out access.
The Stowe Ski Experience
Once you have your lodging booked, it's time think about recreation. Stowe has a wonderful variety of trails and plenty of acreage for adventurous days. If your family is new to skiing, the Stowe ski and ride school does an excellent job of getting beginners up and running and I love the sheltered learning area. Stowe was home to the first ski patrol and they invest in the safety and education of their guests. 
Start planning your ski day in advance. Likely, you'll already have your Epic pass, if not, be sure to book your lift tickets and lessons in advance. Don't forget the gear--I always tell ski families to take care of rentals before the vacation. Use a local ski shop for your gear if you can. A crowded ski shop is not place to start a vacation. If you have to get skis onsite, do it the day/night before you plan to ski.
The Spruce Peak base area can be a little overwhelming at times, so give yourself plenty of time to get to your lessons. Stowe invests a ton of time and energy into training the instructors, you'll feel good about your child's learning experience and for the grown-ups, I highly advise getting a mountain guide on your first trip to any new resort. 
Skiing at Stowe
Stowe is split into two mountains joined by the Over Easy Gondola. Day trippers will park in the enormous lot by the Mt. Mansfield gondola. For them, booting up in the car makes sense and heading right up to Mount Mansfield's peak. It's a big wonderful mountain (2,360 feet vertical) with a terrific variety of terrain. They offer everything from groomers, to glades, to terrain parks. For families staying in condos and in Spruce Peak, they can start the day at that base area and hop between the two peaks.
The on-mountain team is excellent. They maintain the trails to keep guests happy. I'm always happy to see the Stowe Ski Patrol making the rounds and slowing down skiers and riders who are out of control and skiing too fast. This is a Vail Resort policy and it definitely makes skiing with your kids safer and a lot more fun. 
The main lodge has plenty of storage and ample restrooms and is also the customer service center. My tip for skiing large mountains is to make a plan, have a meeting spot and keep your phones charged. With 116 trails, families can sometimes get separated.
Dining Options at Stowe
While I love cooking, I don't want to spend my entire ski break preparing meals, Stowe has terrific options in the Spruce Peak village and on mountain. Weary moms can dine out for breakfast lunch and dinner in style. 
For a special dinner, book a table at the Cliff House. This on-mountain restaurant is only accessible via the Mansfield Gondola. Reservations are required for this fun experience.
The Spruce Peak Village 
This charming village is strewn with fairy lights and centers around an open air skating rink. The village also hosts an indoor activity center with climbing wall.
Spruce Peak has a high end spa and plenty of shopping. Everything is safe, cute and walkable making this a family-friendly spot. 
Traveling to Stowe During COVID
Now that you are drawn to all the charms of Stowe, let's talk about trip planning during this weird COVID year. Here's what you need to know. 
Book in Advance. Stowe will be limiting the number of skiers on the mountain. Book your lift tickets early to lock in your preferred dates. Epic Pass Holders can reserve both Early Season and Priority Reservation Days using the Epic Pass app or on the website. If you plan to purchase Epic day tickets, you'll book those online too. Secure your pass to ski and ride at Stowe here.
Vermont has a quarantine. You will need to sign an attestation form stating you've met the state of Vermont's travel and quarantine policies when using the resort. If you purchase a pass or lift ticket or make a reservation, you'll be making this attestation in the checkout or reservation process. Find out more about how to safely ski in Vermont here. 
Bring a mask (or two). Face coverings will be required to access the mountain, in all indoor spaces, in any line, in chairlifts and gondolas, and whenever you are unable to maintain physical distance. 
Lift/Gondola Access is different. Guests can ride chairlifts and gondolas with their related parties, and no one will be required to ride with someone they don't know. Lift lines and mazes will be larger to accommodate greater physical distancing between guests. Windows of enclosed lifts will remain open.
Smaller Half-Day Lessons. Group and private lessons will be offered this season and they will only be half-day lessons. Note: lessons do not include lunch. All Ski & Ride School classes will have a maximum class size of six. The 5-and 6-year-old lessons will be a maximum class size of four. For 3- and 4-year-olds, they offer one-on-one, one-hour lessons. Three- and four-year old children are also welcome to join their family in a full or half day private lesson. Note: Lessons will need to be purchased in advance – no walk-up, day-of lessons will be available.
You'll Need a Lunch Plan. Stowe has both Grab & Go dining options and reservations for sit-down service. Families should utilize the EpicMix app to learn more about which restaurants will be open this year and to book.
MORE SKI FEATURES FROM MOMTRENDS
PIN IT!
Use Pinterest to save your favorite family travel features. Be sure to follow our Ski Moms Pinterest Board.
Momtrends was not paid for this post.