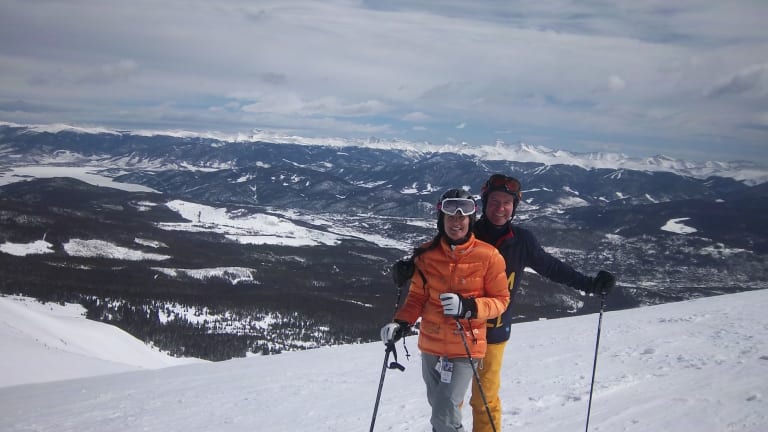 Tips for Skiing Breckenridge with Your Family
Get ready for an awesome ski school experience and family ski break in Breckenridge
Before you book your family ski trip this season be sure to read the dozens of resort reviews we've done at Momtrends. My family is lucky to have skied at more than 50 North American destinations. We got the chance to test out the slopes at Breckenridge last year and have worked with the mountain to provide tips for skiing at Breckenridge with your family.
Breckenridge News
This year Breckenridge celebrates its 60th anniversary. To celebrate Breck is getting a new high-speed 4 passenger chair on Peak 7 called the Freedom SuperChair. This investment will greatly enhance the on-mountain experience for skiers and riders, providing relief to the Independence SuperChair and the base of Peak 7, while improving the circulation of skiers and riders.
A kids ski experience that can't be beat
During our visit, we headed west for the record-setting snow season and stayed at the luxurious One Ski Hill Place, we checked out this RockResort and gave it a rave review. It's a great way to start a holiday to lodge in accommodations befitting rock stars.
While the lodging options are awesome, Breckenridge is also investing in the little ones. If you want to teach your kids to ski or build on their skills, you should consider this resort. And for families with experiences, there is so much terrain it's insane.
We can't say enough about the ski school. Kids 3 - 13 head to the Mountains of Discovery Program that teaches the fundamentals of traditional ski and ride school while building a sense of passion for the sport. And no tot is too small for Breck. At Breckenridge, the child care will accommodate kids as young as two months.
Breckenridge offers two kinds of lessons a quad squad lesson, which is set up with one instructor and a maximum of four kids. This lesson can be any level and can be for ages 4 to 6 or 7 to 14. The quad squad has become more popular over the years because of the smaller group size, the kids and instructor eat lunch on the mountain in one of our dining facilities, and we also offer extra activities throughout the day. For example, meeting the avalanche dogs, having a photo shoot while skiing and learning about lifts.
They also offer normal group lesson for 3 year olds, ages 4 to 6, and ages 7 to 14. They try to max our classes for 3 year olds at 4 kids, for 4 to 6 year olds at 6 kids, and for 7 to 14 year olds at 8 kids. I think that if a family is looking to get the most bang for their buck, the quad squad lesson is going to be the best choice. They will be in smaller group sizes and the bonus activities make it a super fun experience for the kids.
Get the Most Out Of Your Group Lesson
Come prepared for all types of weather. Bring gloves, goggles, face mask, long underwear, and a waterproof coat and pants. There's nothing worse than being cold during your lesson.
Listen to your instructor and the instructions they give you.
Keep trying even if you fall. Falling down is a part of learning.
Introduce yourself to other students and make some ski school friends!
Expert Instruction for Your Family
Breckenridge Peak 8 Kids Ski School Supervisor Lexi Dolan grew up skiing between Aspen, CO and Kirkwood, CA. She learned to ski with Aspen/Snowmass ski school at age 3 and progressed through lessons until she was 14. Dolan believes that children learn better and faster while having someone who is not a family member teach them. She says, "We see children that come to Ski and Ride School who have been over-terrained and over-leveled by parents."
According to Dolan, the Breckenridge Ski School are taught how to properly level children and match them on appropriate terrain. It helps keep a more positive learning environment and keeps the confidence levels higher.
Top three reasons to book a kids group lesson
Ski school is a great opportunity for kids to learn to ski in a group environment rather than just with mom and dad.
Children will learn from instructors who have gone through training and certifications to teach skiing specifically to children.
Ski & Snowboard School has a large focus on safety and our instructors are trained to choose the correct task on appropriate terrain, keeping kids safe throughout the whole lesson.
On Mountain Improvements
At Breckenridge, the company plans to install a new four-person, high-speed lift to serve the popular Peak 7 area called the Freedom SuperChair. This additional lift will increase uphill capacity and improve access for the intermediate terrain on Peaks 6 and 7. The lift will drop guests off just above the Pioneer Crossing restaurant. 
Breckenridge Lodging Options
One Ski Hill Place is the luxury mom (and family) deserve when skiing. The condominiums opened last summer and this is the first winter they were opened for ski vacations.  Find our more here One Ski Hill Breckenridge.
Residence Inn: About 2 hours from the Denver airport, the new Residence Inn (owned by Marriott) is incredibly convenient to downtown Denver and to the slopes. Tucked at the end of town, the Residence Inn boasts prime access to everything a family can desire. Find our more here Residence Inn Breckenridge.
More Things to See and Do in Breckenridge
Families always enjoy some of the special festivals at Breckenridge. 
Ullr Fest (Dec 8--Dec 17, 2021). Story has it the Norse winter god, Ullr was pleased with Colorado's snow. The local's decided on this story and built a festival around it. There are snowshoe and Nordic skiing events, the crowning of the King and Queen of Ullr, and a free ice-skating party at the indoor arena. 
International Snow Sculpture Championships (January 22-24, 2022) is a world renowned snow sculpting competition where 16 teams from around the world descend on Breckenridge, Colorado to hand-carve 20-ton blocks of snow into enormous, intricate works of art. Get more details Gobreck.com
Spring Fever Festival in April.
Visit www.breckenridge.com for the latest on Breckenridge.
MORE FUN IN THE MOUNTAINS
PIN IT!
Use Pinterest to save your favorite family travel features. Be sure to follow our Ski Moms Pinterest Board.