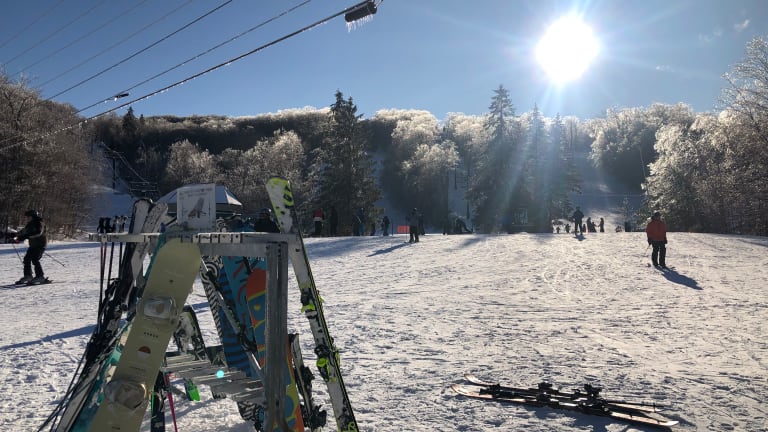 The Reasons Why We Love Pico Ski Resort
With 468 skiable acres, Pico resort in Vermont it's a great place to learn to ski, it's easy to navigate and provides amazing access to terrific snow.
If you've skied on the East Coast, it's likely you've heard of Killington. But you may not of heard of Pico Mountain, the sister property of the Killington aka "The Beast." While Killington may get the lion's share of the attention thanks to the World Cup Races, steep pitch and active nightlife, we think PICO (just 5 miles down the road) is the perfect match for families. I'm going to spell out the reasons why we love Pico Ski Resort and hope you consider it for your next family ski holiday.
Getting more families on snow is my life's work. I'm lucky to get to share my passion with other women who think winter is pretty fabulous. On this trip, we focused on one of Vermont's best mountains for families, Pico. 
Pico was started back in 1937 with a single 1,200 rope tow. Back in the day it was powered by a Hudson motor car engine and a lot of love. I've skied a ton of places in Vermont and few can compete with the family-friendly charm of this place. The area is blessed with 250" of snow on average per year, making it a reliable spot for your ski break.
Learning to Ski and Ride at Pico
With 468 skiable acres, it's a great place to learn to ski and they have a thriving race program too. Since it's easy to navigate, parents can feel at ease with the learning process. Getting to a ski school when there are 800 kids involved (that's what I experienced at Snowmass!) is pretty stressful on kids. This is a place where time slows down. Check out the photo. This happy ski instructor was taking the kiddos back to their parents on a snow tube!
It's a wonderful place to take ski lessons and start your kids on snow. And if you are a nervous adult, don't fret, this is the place to gain new skills and up your game. The Pico Snow Sports School offers specialized learning programs for everyone from children and first-timers to seasoned pros, all created with quality and value in mind. 
On our visit we were thrilled to see a bunch of visually impaired skiers on the slopes. Pico is the type of place to make everyone feel welcome. And I noted quite a few families of color on the mountain too. I can imagine that Pico is a place to make non-white families feel at home. They are doing so many things right.
Getting Around Pico
Once you nab your FREE parking spot, it's just a short walk to the lodge to take care of rentals and lessons. Even on a busy day (when we skied here last they'd just gotten a foot of snow), you'll get personal attention. 
Families love that there is only one base area. It's hard to get lost in the shuffle here. Having all trails converge into one area make it easy to stay connected with friends and family throughout the day. 
Momtrends Tip: Pico is open from Thursday to Monday. Plan accordingly!
The Pico Vibe
Pico's central base area is home base for families. There's plenty of room to spread out in the cozy lodge with stone fireplaces (yep, they burn REAL wood here). You'll see moms breastfeeding by the fire and kids sipping cocoa while they warm up toes. They get that families need time and space to make skiing fun.
From the iconic waffle cabi to the boisterous upstairs bar, there are plenty of opportunities to mingle with other ski families. While the kids were in lessons, our group popped up to listen to live music at the Last Run Lounge and grab lunch. With its laid back pub atmosphere, crackling fireplace and views of the sun setting on the mountain, it's the perfect place to make Vermont memories.
Skiing Pico Mountain Vermont
There are 57 trails serviced by seven lifts, including two high-speed detachable quads. You won't find a ton of terrain parks nor will you see slightly tipsy (or totally drunk) adults out of control. It's about groomers and getting out in nature. There are plenty of inviting glades if you want a challenge and the pitch at the top is fairly steep. Pico's vertical drop of 1,967' --very respectable for the East. The Summit Elevation is 3,967' and I love skiing the long runs down from Pico's Peak. If you want to get top speed (under control of course), take Upper Pike from the Summit Express Quad.
When it comes to newbies, you can't beat the gentle learning terrain here. Tucked out of the way, the beginner area is all about gaining confidence.  Pico can cover 75% of the mountain with manmade snow. This also helps insure that families will have a successful visit. 
With the newer skiers in our group, we loved taking the speedy Golden Express Quad up to the Prospector run. The kids had a blast on the rolling hills and dipping in and out of the trees. 
Here's how the terrain breaks down:
Easier: 10 trails | 18% of the mountain
More Difficult: 26 trails | 46% of the mountain
Most Difficult: 21 trails | 36% of the mountain
Find out more about the mountain here
Where to Stay with Your Family at Pico
Pico Resort Hotel and Condominiums offer a quiet retreat, easy access to all the activities and a full-service gym facility. This is where our ski mom friends stayed for the weekend. There are a very limited number available -- so book early. Other options include Airbnb and also a multitude of small inns along the access road to Pico/Killington
All condominiums at Pico are 100% smoke-free. Guests get complimentary access to the Pico Sports Center featuring a 75-foot indoor pool, weight and cardiovascular equipment and sauna. Take part in a variety of fitness classes as well from yoga to spinning and more. 
Book your lodging via Killington here 
Where to Dine Near Pico
We had a great group dinner at the Wobbly Barn. It's just a short 5 minute drive from the Pico base. Start with the all you care to eat soup, salad and bread ($10) and then dig into a hearty main course. I loved my salmon (done to perfection and a huge piece of fish for $29) and the fresh green beans. My daughter's bison Bolognese was also terrific. The service was spot on. 2229 Killington Rd, Killington, VT 05751. We made reservations since we had a large party (802) 422-6171
Upstairs things get a little rowdy with live music and a robust bar scene, but families are 100% welcome at the restaurant. More restaurant details here.
MORE SKI FEATURES FROM MOMTRENDS
PIN IT!
Use pinterest to save your favorite family travel features. Be sure to follow our Ski Moms Pinterest Board.
Momtrends was compensated to put together this influencer weekend for Pico Ski Resort.