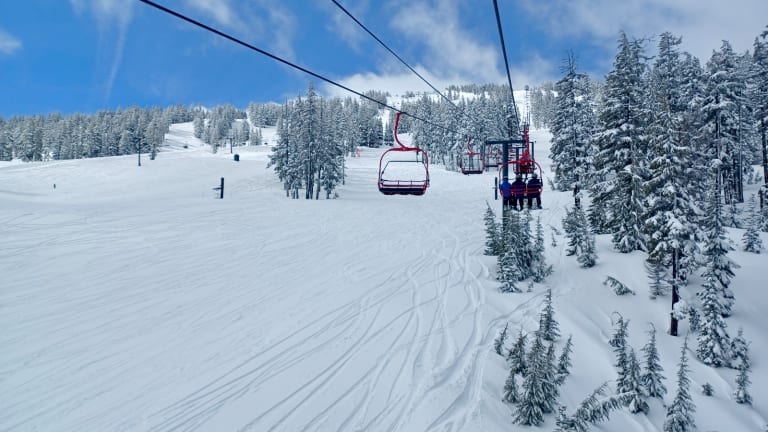 Spring Skiing at Mount Bachelor, Oregon
Spring skiing at Mount Bachelor was a completely unexpected delight, and it might just need to be added to your ski travel bucket list.
No one told me it was possible to ski in a foot of fresh powder in May. Being part of the ski world has opened up many exciting travel opportunities for me. Heading to Bend, Oregon for a bit of spring skiing at Mount Bachelor was a completely unexpected delight, and it might just need to be added to your ski travel bucket list.
Related: Best discoveries when exploring Bend, Oregon
When my daughter's ski academy planned a spring training trip to Bend, I figured they were going to ski on the last dregs of man-made snow out West. I signed on to help support the team thinking I'd bring hiking boots and trail shoes to make the most of the comprehensive trail system near Bend. I had zero expectations of the snow. 
A few members of our ski team convinced me that I might be underestimating the conditions, so I dug out my ski bag (you can head here to see all our travel favorites) and added two sets of skis (one Nordic one alpine) and boots to my luggage. I went from carry-on to most definitely NOT. Between my daughter's gear and mine we ended up checking FIVE BAGS. But...
100% worth the effort.
While we were there, the snow gods supplied us with nearly two feet of snow in seven days. And that just added to the 400+ inches the resort had prior to our arrival. I was simply blown away with the spring skiing conditions at Mount Bachelor. To date, they've received 447" inches of snow...and that's BELOW average. 
Planning Your Trip
I shared travel logistics in this Bend, Oregon post. Now it's time to dig into the ski specifics and help you plan. First thing to note, the rental shop on the mountain was still in operation. And it's a good thing since I forgot my poles. The friendly guys at the on-mountain shop set me up for a 4-day package for about $40. They were not very busy as the spring skiers tend to be locals. As for off-site rentals, the pickings are slim, as most of the gear shops in town have converted to mountain bike inventory. In short, if you have your own gear, bring it.
Since we stayed in Bend, the drive to Mount Bachelor couldn't have been easier. It's a straight shot up to the mountain. Once there, midweek parking was free and ample. I parked near the Nordic Center since most days I started there and then headed to the lifts in the afternoon. 
The hours are limited, so you'll want to get going in the morning. In the afternoon you can head back to Bend, on my visit it was in the 20-30 degrees warmer in Bend than on the mountain -- don't be fooled by mild temps down below. Bring layers with you to the mountain. It'll start chilly and warm up.
The price was right. Mount Bachelor is a limited Ikon Pass partner. Passholders get 7 days (no restrictions) here, so I went right to the lifts with my pass. Since I had most of my own gear, it was basically FREE. There was one place serving food, but many of the skiers were tailgating in the parking lot rather than paying to eat. Again, it was a VERY local scene. 
Nordic Skiing at Mount Bachelor
My daughter is a Nordic skier, for her and her team, all the action was at the Mount Bachelor Nordic center. As it turns out, LOTS of teams were there, including the US SKI TEAM and Jessie Diggins (boy was it fun watching the pros cruise the course and churn up the hills). Most of the skiers were very skilled. I felt a little out of place but at 51, I have few qualms about just doing my own thing.  
I brought my own classic skis and poles, if you need to rent, there are rentals available. Unlike the alpine terrain, my Ikon Pass DID NOT work at the Nordic Center. Not a big deal as cross country skiing passes tend to be quite affordable. I bought a three-day pass for $46.
Get your pass at the window at The Nordic Center. It also has a small retail area where you can get gear and wax. There's a bathroom and a tiny changing area too. A large wood stove warms the main lobby and everything looks properly Scandinavian. The staff is quite friendly and chatty and happy to help.
Lessons can be set up, I did see a beginner group getting started on one of my visits. Since staffing is light, it makes sense to call ahead. For $170 you'll get a full introduction to the sport with the Private Lesson Package, designed especially for the beginner, and includes a 90-minute lesson, ski rental and trail pass.
The trails were in sublime condition and most everything was open. I will note getting started is a little daunting. As they rank it, only 5% of the trails are for beginners. And that feels about right. There's a sizable downhill to get to the beginner loops. I safely navigated it two of my three days of skiing and had a nice spill on my third attempt (maybe I got a little cocky!) Once I had that out of the way, I looped on some of the green/easy trails (btw, not so easy) and finally felt brave enough to tackle some of the long intermediate loops. The longest trail is Oli's Alley (12km or 7+ miles).
Over the three days, I skied about 20 miles and never seemed to do the same terrain twice. There's tons of variety with a total of 56 km of groomed trails for classic and skate style skiing. And if snowshoeing is more your speed, there's 10 km of signed and packed trails.
Fresh snow kept filling in the already generous base. Groomers freshened everything up each day, making it a real delight. The center closes on May 31, and many folks will likely be drooling over what's left to ski.
Alpine Skiing at Mount Bachelor
I'm sure the locals don't want me sharing this, but Mount Bachelor is a true gem. On the week of my visit, fresh snow arrived every night and blue skies greeted me every afternoon. While it might have been a bit of kismet, I think there is a pattern of great late-season snow here.
Mount Bachelor is not a flashy mountain. It's a day tripper spot as there are no on-mountain housing options. The nearest condos and hotels are 20 minutes away. That means you'll get a lot of locals who love powder. The lifts are on the small and slow side, but that's ok, you can chat with your neighbors and friends to learn where the good powder stashes are (just don't tell them you're from the East Coast).
Like all the other locals, I booted up in my car and walked right to the Pine Marten lift. Another option from the parking lot is the VERY slow Red lift that was only open sporadically. Either way, it's a great way to start your day. I loved lapping the blue trails like Coffee and Olympian and watching the athletes in the Woodward terrain parks that are right under the lifts. 
If uphill is your thing, you'll find nice paths from the base and plenty of space to hike up. Kiosks indicating open/closed status are located at the bottom of Red Chair, at the compression of the Cone (the uphill side of the Cone where West Boundary merges on to Leeway), and at the bottom of the NW Crossover which displays the Summit hiking route status.
The terrain parks are also noteworthy. This is a Powdr Mountain, they are owned by the same folks that own and operate the Woodward indoor facilities and parks a are big deal. You'll find tons of jumps and features at Mount Bachelor (if that's your thing).
Sunrise is the second base area. This area suits beginners nicely. Normally this is where beginners get going, but all the facilities are closed in May. The lifts still run to service the green runs and they are delightful. 
From the Summit
Mount Bachelor is a BIG mountain. It's got a 3000' drop and lots of expert terrain. A nice thing about spring skiing is that you can access the top most days. I'm told wind and weather delays are frequent on the Summit Lift. We had so much overnight snow one day that they were still blasting at noon to try to make the skiing safe. But on the other two days, I zipped right up to the top to take some of the best turns of my season. I loved Healy's Heights and the views up here were awesome. 
The trails are steep up there, but they are wide and the visibility happened to be great on my visit. Unlike Vermont where I normally ski, the terrain was remarkable for the absence of trees. It reminded me of skiing in St. Moritz. There's tons of bowl skiing off the backside, but since I didn't know the terrain that well, I stuck to the blues.
Mountain Stats
With over 4,300 acres of lift-accessible terrain, Mt. Bachelor is the 6th largest ski resort in North America.
Runs: 101
Average Snowfall: 462"
Top Elevation: 9065'
Lowest Elevation: 5700'
Longest Run: 4 miles
Number of Lifts: 12
There are no trams or gondolas. The largest lift is a 4-seater.
Who's Spring Skiing?
Most of the Mount Bachelor skiers are Oregonians making the most of the freshies. 
I did see a few very capable families skiing. I'm guessing they were homeschool families. In general, the crowd was made up of us folks over 50 who have the freedom in our schedules to call the shots. I met an instructor on the lift named Debbie Wong. She was cruising around chasing powder on her off days. We bonded over a few Vermont connections and ended up skiing together. Her knowledge of the mountain was a huge help. As a bonus, I got to meet Eiger, her adorable 12-week old Bernese Mountain Dog. He was a HUGE hit at the Pine Bar terrace at the end of the day.
Besides the 50+ crowd, there were a few 20/30 somethings out as well, and they all tended to have remote work setups (and no kids). The lack of crowds was a complete joy. 
Since it's very late in the year and the staff is limited, you'll want to book any lessons in advance. I'm sure they have to make arrangements to accommodate the handful of folks who want to learn, as most of the skiers were advanced. 
I have zero negative feedback to give this resort. Sure the lifts are old, but things ran smoothly. I'm told lift lines can be long on weekends. I couldn't say.
It's not a big foodie/party scene. Folks come to ski, some might have a brew or two in the parking lot and head home, others looked like they were headed back to work.
What's Open in May?
The hours are reduced to 8:30 a.m. - 1:30 p.m. daily and parking is only available in West Village Base Area. While Sunrise Lift will remain open through closing day (scheduled for May 29), Sunrise Lodge — including tickets, food & beverage service, and parking — as well as Skyliner parking lot will be closed for the season starting April 25. 
Why So Much Snow in May?
I'm told my experience wasn't an anomaly. Though what I saw was on the extremely good end of the spectrum, spring skiing in general at Mount Bachelor is consistently good. Located on the eastern flanks of Oregon's Central Cascades, they get an average of 462 inches of snowfall each season. It tends to be a bit heavier than Utah powder, but lighter than the cement-y snow found at Whistler and Palisades.
According to BestSnow.com, "Mt. Bachelor is higher and farther away from coastal clouds, rain and mild night temperatures than any area in the Northwest. The steep north-facing Cirque Bowl at the Summit should hold winter conditions into April. Spring conditions arrive earlier on the intermediate pitched lower slopes and the other Summit exposures. With 360-degree exposures and low skier density, Mt. Bachelor's real claim to fame in spring is consistent and reliable corn snow."
Well, it wasn't corn on my visit, it was powder and packed powder. 
A Really Cool Pass
As I was writing this up I came across the Outplay 365 Pass. Buy the pass now, and start enjoying a full year of benefits this summer through May 2023 at Mt. Bachelor and beyond. Outplay 365 will now be available for purchase through September 30 (for pay-in-full option only), but the lowest pricing is only available through May 31, 2022.
Winter Benefits
UNLIMITED alpine skiing and snowboarding lift access throughout Mt. Bachelor's 2022/23 winter season
Ikon Base Pass* unlocking access to over 40 world-class ski resorts with unlimited access to 13 destinations and up to five days each at 29 destinations worldwide
Unlimited Nordic skiing during Mt. Bachelor's 2022/23 Nordic winter season
50% discounts on (2) single day Fast Tracks upgrades to access express lift lanes at Mt. Bachelor
Summer Benefits
Unlimited All-Mountain downhill biking access at Mt. Bachelor's Bike Park during Mt. Bachelor's 2022 summer season
One free Big Eddy Thriller rafting trip with Sun Country Tours during the 2022 summer season or spring 2023 season. Advance booking is required (call 541-382-1709 to reserve) and the trip must be taken no later than May 31, 2023
Unlimited Scenic Lift Rides on Mt. Bachelor's Pine Marten Lift valid for Summer 2022
Two 50% discount rides on ZipTour zip line — Mt. Bachelor's three-stage zip line — for Summer 2022
The price? $1,728 for adults. Yes, it's a LOT, but you get a ton. And now I want to move to Oregon.
MORE SKI FEATURES FROM MOMTRENDS
PIN IT!
Use Pinterest to save your favorite family travel features. Be sure to follow our Ski Moms Pinterest Board.
This is not a sponsored post.