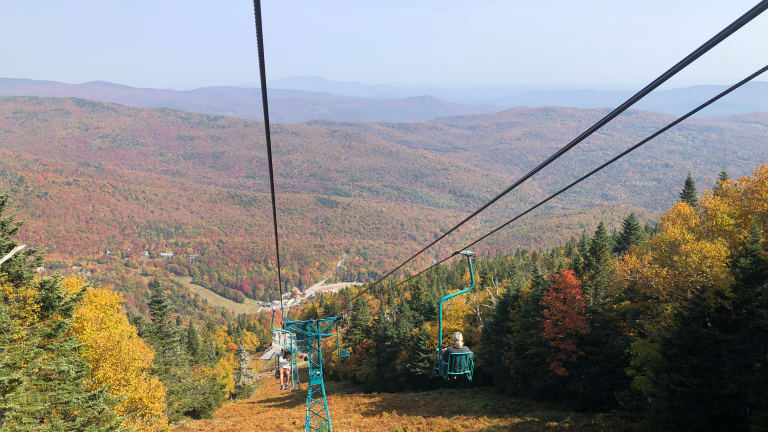 Soaking Up Autumn Scenic Lift Rides Mad River Glen
Best of New England Fall Foliage Single Chair Lift Rides in Vermont
The fall colors are spectacular right now in Vermont. With warm day temperatures and loads of sun, now is the time to check some things off your Vermont bucket list and enjoy the fall splendor. On the top of your list should be soaking up autumn on a scenic lift rides at Mad River Glen.
Related: Seven ways to prepare your family for ski season during COVID
Single Chair Experience Video
Mad River Glen is a quirky little ski hill. They mostly rely on natural snow and is the only ski resort with a U.S. national historic registry. It's owned by local ski lovers and is run as a co-op. They cling to the history of the resort and embrace their independence. When the snow is fresh, this spot in Vermont's Mad River Valley is a treat to ski, it's rarely crowded because out-of-towners don't like the slow lifts. I think there's beauty in taking things slow, and I'm a huge fan of the hill's single-chair lift. 
Each fall during peak leaf-peeping season, the co-op fires up the single chair for scenic lift rides. It's a can't-miss Vermont experience and the ultimate way to see the fall colors.
Scenic Lift Rides Mad River Glen
Mad River Glen first cranked up its now famous Single Chair on Dec. 11, 1948. Roland Palmedo, the mountain's founder, had built the Single Chair for Stowe in the 30's and brought the chair with him when he founded this new skiing spot. The mountain opened for the 1949 season with a network of five trails. Now it's community owned and operated, but not much else has changed. 
Fall is the chance for non-skiers to enjoy the scenery. The long and lovely ride to the top is the perfect way to enjoy the changing seasons. 
Head over to the Mad River website to purchase your tickets. They are running during late September and early October. Tickets are $15 for adults.
Purchase your tickets in advance here www.madriverglen.com/event/foliage-lift-rides/
Hiking Down
The ride takes about 20 minutes to the top and it's a good time to check in with your own thoughts. At the top of the lift, you'll hop out and enjoy the views. You can snap your instagrams and then take the lift back down or do it the long way.
If you opt to get walk down (which I recommend), you'll take the Stark Mountain Trail. It's a 2.5 mile descent (2,036' drop) and it's mostly gravely and pretty easy. You'll get the enjoy the valley views along the way.
Plan your Trip to Mad River Glen
Lift rides operate from 10-2:30, but you have to have tickets purchased before 2pm. Wear sturdy shoes and bring water. This year you'll also need a mask and for those of you outside of Vermont, please be sure to review the Vermont travel restrictions.
Momtrends note: it should be noted, this chair lift is quite exposed and this is not a great adventure for those fearful of heights. Also, if you child is 7 or under, best to have them on a lap.
I suggest picking up snacks at the Waitsfield Farmer's Market and making a picnic on the mountain as you walk down. Or if you plan to take the lift up and down, get a Lawson's beer and a burger at the base and eat at one of the picnic tables provided. Food service is offered from 11-3pm.
Be sure to stop into the General Store at the base area to scoop up a tee or legendary Ski It If You Can sticker. 
In addition to hiking down from the top, Mad River Glen is home to some amazing trails and the notable Long Trail runs right atop the mountain. Get more details on hiking here.
Mad River Glen 57 Schuss Pass Road, Waitsfield, VT 05673, 802.496.3551
MORE SKI FEATURES FROM MOMTRENDS
PIN IT!
Use Pinterest to save your favorite family travel features. Be sure to follow our Ski Moms Pinterest Board.