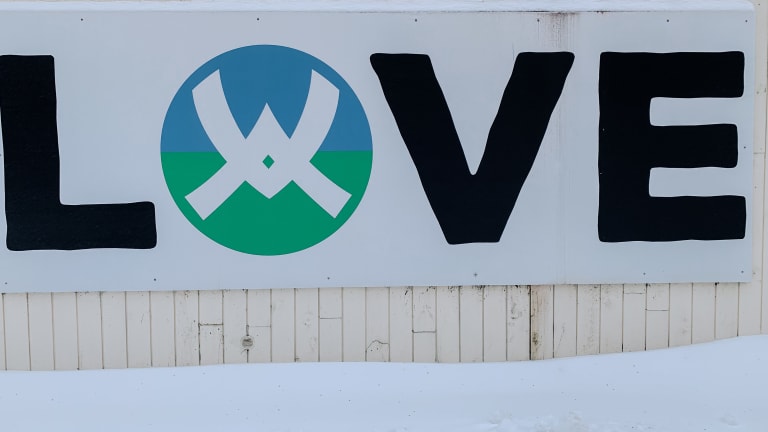 Skip the Crowds and Take A Family Ski Trip to Waterville Valley
An independent New Hampshire ski resort offers families a way to embrace all the best of winter in the White Mountains.
After a sizable snow storm over Martin Luther King weekend, there were plenty of lift lines and skiers heading to Vermont. Amazingly, most of them drove right past an awesome resort. I'm encouraging families to skip the crowds on the next winter holiday and take a family ski trip to Waterville Valley in New Hampshire. 
Related: 12 Ways to Recycle and Resell Old Ski Gear
Take A Family Ski Trip to Waterville Valley
Waterville Valley Resort is located in New Hampshire's White Mountain National Forest. The vibe is relaxed and extremely friendly. In fact, I can't remember feeling so welcome at a ski resort before. Whoever is doing the HR training here should get a raise. And this is across the board -- from the hotel staff who let us back into our room at the inn (we were locked out), to the waitstaff, to the lifties, it was all smiles. In a year where everyone seems short-staffed and overworked, the camaraderie of the crew here really stood out.
I know it's a privilege to travel, I recognize that. I felt truly appreciated at this resort. Enough gushing about the staff, we all know what really matters with a ski resort is the skiing. That's a win too. Let's start there.
Mountain Stats
Elevation: 4004'
Vertical drop: 2020'
100% snowmaking
62 trails: Beginner 15%/Intermediate 59%/Advanced 23%/Expert 3%
Annual snowfall 148"
265 skiable acres
The resort is privately owned and you'll get the vibe that it's independent. The Sununu family is now the principal investor in the Waterville Valley Resort, which was originally developed in the 1960s by Tom Corcoran, a two-time Olympian who died in 2017. It's notable that New Hampshire Governor Chris Sununu is part of the investment team. 
While you'll see plenty of local New Hampshire families skiing here, it's a big draw for Boston families, many of whom own second homes in the valley. In general, the homes are in condo developments that are tasteful and relatively modest. There are a few single family splashy homes, but that isn't the norm. The focus isn't on wealth and labels, it's on getting outside.
Favorite Runs
The resort has something for everyone--glades, parks, bumps and even a Nastar Course. And a note on racing, Waterville Valley was home to FIS World Cup races and has a great set up for racing. Over the course of Waterville's history, ten World Cup races have been hosted on the slopes of Mount Tecumseh. In fact, there's a ski academy in town. The small, but mighty Waterville Academy trains world class skier and riders and balances it all with a strong academic reputation. Waterville Valley Academy is for full-time student-athletes in grades 6-12 who are dedicated to pursuing alpine racing, freestyle skiing and freeskiing in parallel with an individualized academic program. There are currently 25 students in the school! 
The skiing is well suited to advanced intermediate skiiers. There are lots of LONG trails that are well-groomed offering the chance to practice carving turns. There's plenty of progression for those working on skills. I loved the easy glades off of the Valley Quad Run. They have a Nature Adventure Park for kids (of all ages) in the Sugar Shack Glades. My favorite runs were the groomers off of White Peak's Express, like Tippecanoe and White Caps.
Check out Our Video Review
Head to YouTube to see our video review. And don't forget to subscribe!
Dining on Mountain
Waterville Valley has spent effort sprucing up the lodges. The main lodge has a marketplace with cafeteria service. We loved the two HUGE fireplaces here. It's a great spot to warm up with a cup of tea. For pub food, head across the main base to T-Bars. For apres-ski, check out the Freestyle Lodge. And the kids all appreciate the Waffle Cabin by the Valley Quad. I love that there are options to keep everyone happy.
Mountain Layout
Parking wasn't a problem midweek. On busy weekends, Waterville Valley has a clever system that allows you to ski right back to your car. In the morning, you can drive up and drop the kids off at the Kinderpark, then head to the short term drop off area to deposit your skis. From there, park in one of the numbered lots. At the end of the day, the Waterville Valley folks have groomed trails so you can skip the schlep and get right to your car.
We put our boots on in the lodge and stashed our gear in a locker. It's $15/day for a large locker (bring a credit card!).
Learning to Ski
It's easy to get kids to lessons here. After the convenient drop off, they will be heading out to the safe and secure learning area. It's set off the main part of the mountain to let beginners gain confidence in an area with slow traffic. After the Pasture, they can move on to the Lower Meadows terrain or the long wide greens off of the Valley Quad. Kids get lunch at the Sunnyside Timberlodge which is a real treat. 
Try the Learn to Ski/Ride Package. This includes a 2hour private lesson, gear rentals, and a lower mountain lift ticket.
Waterville Valley has an adaptive ski program. Email the director to set up your experience. info@watervilleadaptive.com for more information and specific questions. It makes me happy to see mountains working to get all abilities out on snow.
The Perfect Pass for Waterville Valley
When you plan your trip, go ahead and book your lift tickets online. It'll offer savings up to 40%. Day passes are $102 for last-minute bookings, with discounts for kids, teens, college-age kids, seniors and military. Kids 5 and under always ski free.
The Kids Ski Free Pass is mighty popular at Waterville Valley. When you buy any adult season pass, kids 6-12 ski free all season. Season passes are $1188 for the Plus Pass. I say step it up and go for the White Mountain Pass ($1359) that offers four great New Hampshire Mountains: Waterville Valley, Bretton Woods, Cannon and Cranmore. 
Waterville Valley is also part of the Indy Pass. The Indy Pass gives you 160 days of skiing at 80 resorts. The cost is $329, but you only get two days at each resort.
Momtrends Tip: Look into the 4th and 5th grade Ski NH passport
Skiing is the Official Sport of New Hampshire, and Ski NH is offering a great opportunity for kids from all over to explore the Granite State's 33 alpine and cross-country options. Ski NH's 4th & 5th Grade Passport includes one day (or night) ticket that is redeemable at each of our 32 participating ski areas. The passport cost is $59. To find out more about skiing in New Hampshire visit www.skinh.com
Winter Activities
In addition to skiing, Waterville Valley offers fat bikes, Nordic skiing, snowshoeing, tubing and an ice rink. 
The trails are "many use" trails so stay alert. They are open to fat bikes, Nordic skiers and snowshoers. This means folks will be traveling at different speeds, so please be aware. To get started, get your gear rentals and passes at the Adventure Center in the Town Square. There are more than 70k worth of trails to explore. Note: On weekdays, only the Nordic skiing and the snowshoeing is available, the rest of the activities are staffed from Thursday to Sunday.
The ice rink is open on weekends for public skating, rentals are available too. Get times and details here wvicearena.com. Families can head to the tubing hill on weekends. It's located near the golf course at the Clubhouse Tubing Center and has a warming center. Grab a cocoa for the kids and a glass of wine for you as you take a few runs down the hill. 
Waterville Valley Freedom Pass
This pass is your ticket to family fun. It comes as an amenity for guests who stay at the local properties. You can use it for discounts at local businesses and admission to the White Mountain Athletic Club. The athletic club has a HUGE indoor pool (with shallow play area for little ones), with hot tubs and lane swimming. Mom can enjoy a workout in the gym, or take a yoga class. Or the parents can play some tennis on the indoor courts. 
Town Square
One of the charms of Waterville Valley is the small footprint. The town is quite manageable on foot. In this sweet New England setting you'll find, shopping restaurants, a small market and activities (mentioned above). The town is centered on a pond, that was rimmed with lights, it's a setting that will instantly put you in a relaxed mood.
I loved the nearby Osceola Library. It's picture perfect and a nice stroll from town. The Osceola Library is open Tuesdays, Thursdays and Saturdays from 3pm-5pm. Other indoor fun kid-friendly fun includes an escape room and the Rey Cultural Center with Curious George Cottage. There's a a story time and other programming offered each week. Head to waterville.com/resort-insider for more details.
Never one to miss out on shopping, I popped into the Jugtown Country Store. I picked up some cute cards and couldn't resist this ski sign. There's also a book store, toy store, sports store and a market for your essential groceries, like pasta, milk and hot chocolate.
Don't forget your Freedom Pass-- it'll get you discounts at most restaurants and activities.
Dining at Waterville Valley
We had a nice dinner at the Coyote Grill. This pub is located above the athletic center. It's a casual experience with good food and extremely friendly service. We had a tasty mezze plate to start and then devoured the peanut butter pie dessert. All with a lovely Chianti. 
On our second night, we tried the La Hacienda Mexican restaurant. We made quick work of our chips and salsa to start and then dug into salads and quesadillas. It's a fun and colorful restaurant, again with a great staff. 
Silver Fox Inn
You won't find any hotel chains in Waterville Valley. There are a few inns and lots of condos. We stayed at the Silver Fox Inn. It's a small, cozy mid-market lodge. The rooms are modest, but clean and warm with plenty of space to unpack. The best part of the stay was the tasty full breakfast in the sunroom. Rather than getting a stale muffin, we were treated to a warm egg and spinach casserole, fresh fruit and plenty of tea and coffee. Everything we needed to fuel up for a big ski day.
The Silver Fox is just one of the inns on the Waterville Valley shuttle system. You can leave the car behind if you want and shuttle wherever you want to go.
As a seasoned ski traveller, I was completely delighted by Waterville Valley. With all the buying and consolidating going on in the ski industry, it was sweet to find an underdeveloped ski area that focuses on fun and family not profits. This is a terrific place to turn a young ski family just starting out into lifelong skiers. They've removed a lot of the friction points and focused on getting families playing outdoors.
Family Ski Trip to Waterville Valley
Ready to Go? Head to https://www.waterville.com/ to get lodging, lift tickets, lessons and more. It's the hub for all your trip planning. 
At just under two hours from Boston, this is a great destination for families who want to try a ski weekend. New Hampshire families are clearly spoiled with options and are lucky to have Waterville Valley as a resource. There are 19 ski resorts in New Hampshire, and this one should be near the top of your list. 
Waterville Valley Gallery
More Skiing Resources from Momtrends
PIN IT!
Use Pinterest to save your favorite family travel features. Be sure to follow our Ski Moms Pinterest Board.