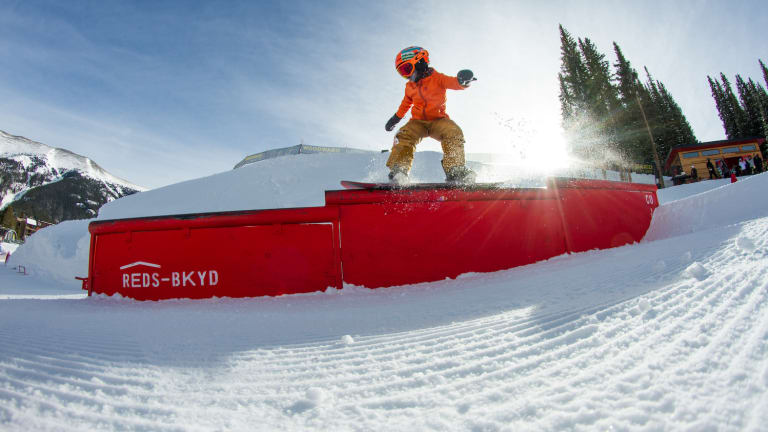 Ski Moms Guide to Avoiding Crowds and Dominating the Slopes on MLK Weekend
Martin Luther King Weekend is traditionally one of the biggest and busiest ski weekends of the year, here's a guide to help you navigate this weekend.
Martin Luther King Weekend is traditionally one of the biggest and busiest ski weekends of the year. Since we're all about having "snow much fun" here at Momtrends, I've put together a guide to help you navigate this weekend. I call it the "Ski Moms Guide to Avoiding Crowds and Dominating the Slopes on MLK Weekend." 
Reserve Your Gear Early
I've been telling folks for months to plan ahead and get a season pass. If you did, skip ahead to getting gear and lessons. If you don't have a pass, go online and book lessons, gear and lift tickets. If you are traveling, use Ski Butlers to get your gear delivered to your condo, Airbnb or hotel. 
Use this link to save 10% on your Ski Butler reservations.
Momtrends Tip: Now is the time to measure your kids and get the correct height and weight and SHOE size to give the rental dept. 
Lift Line Management
It's time to rise and shine. Give the family a light breakfast and head out the door. You can break for an early lunch when the lines start to pile up. If you can, get there about 30 minutes before the lifts open for the lightest morning crowds. Generally, you will find the shortest lift lines and least crowded runs during the first two hours of morning skiing and the last two hours of skiing each day. 
Many families will call it a day early on Sunday or Monday. Plan to ski then! Book a tubing hill adventure or head to the hot tub on Saturday midday when it will be busiest on the mountain.
Purchase a Special Experience
If you can, consider the new "fast pass" -- some resorts sell an upgraded First Tracks lift ticket, and others now offer a fast pass lane. The First Tracks experience seems a little more democratized. I feel slightly gross getting the fast pass when all the other families are in line. At least with first tracks you aren't sliding in front of others. At Sugarbush we did a morning snowcat experience -- it was an hour of skiing before the crowds arrived. Pretty awesome for a special splurge.
Manage Your Pass
If you've purchased a multi-mountain pass be sure to figure out of you can go right to the lift. Sometimes you need to visit the ticket office. If that's the case, plan to get up a little early. If you have a school age kid, there are 10 states where they offer free skiing! Do a little research before you fly or drive out to your resort. Utah is one of our favorite spots to ski as a family and kids in 5th and 6th grades can ski free with the Ski Utah Passport. Nope, you don't need to be local, you just need to apply before you get there. 
And while you can't get and Epic Pass any longer, you can still score the Indy Pass.
Download the App
Most of the larger mountains have apps that will let you know lift line wait times and also offer itineraries. Apps provide access to restaurant reservations too. Get your app all set up before you arrive to ski
Go Nordic and Skip the Lift Lines
The Saturday of MLK weekend can be crazy busy. Have a plan B. Why not skip the crowded lift lines and consider Nordic skiing (it's also called cross country skiing). If you haven't tried this sport, make this the year you do. It can be a great workout or a completely chill way to take in the scenery. Check out this article on our Top 5 Places to Cross Country Ski in the Mountains of Vermont.
Consider a Day Trip
If you live in the Tri-State area, there are more than a dozen mountains that can be "done" in a day. Head here to see the picks for teaching your tots to ski near NYC. If you live in Vermont, our Family Ski Guide has some great day trip options too.
Cook at Home
It's going to be nuts at every single restaurant this weekend. Make reservations for those special meals (like this yurt dinner at Big Sky or this Sleigh Ride dinner at Sun Valley) and for everything else, try to cook simple hearty meals at home. Start with these 15 No Fail Chili Recipes. Then head over to our Slow Cooker Pinterest board for more ideas. Work up a full shopping list and check what supplies you'll have in your condo. 
Momtrends Tip: We always bring along a few spices from home and a few Tupperware containers for leftovers --condos never seem to have these things.
Label Everything
The mountains are going to be busy and a lot of gear looks similar. Be sure to label all your gear and consider adding decals or tape to make your skis and poles stand out. If you worry about losing your kids on the mountain, consider a helmet cover that will make the more easy to spot.
Use a Packing List
Our friends at AvantSki have put together this awesome ski trip packing list. Use it to stay organized with your packing.
Now go have fun!
Follow this tips and you are bound to create some awesome memories on the slopes. And it should be said, MLK deserves to be honored in however you opt to spend your long holiday. Please don't forget all his sacrifices to help the Civil Rights movement (maybe it's a good time to read this guest post on Diversity on Snow).
MORE SKI FEATURES FROM MOMTRENDS
PIN IT!
Use Pinterest to save your favorite family travel features. Be sure to follow our Ski Moms Pinterest Board.