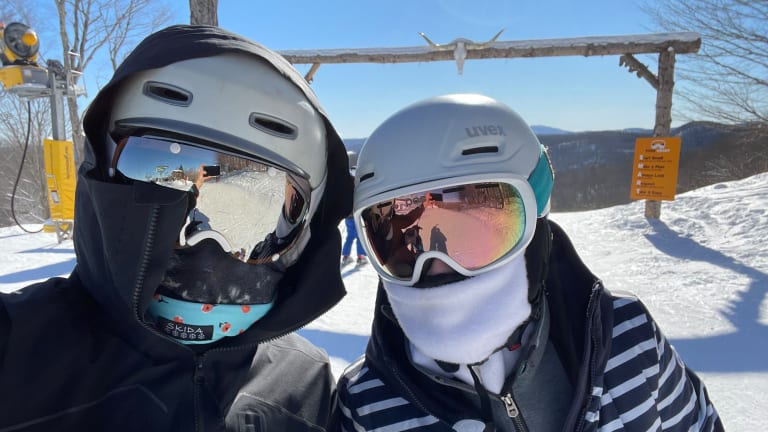 Ski Moms Fun Podcast
Sharing laughs and lessons from the hill so you feel included, invited and celebrated ever time you join us.
The struggle is real, but the rewards are great. Welcome to the Ski Moms Fun Podcast for women who love the outdoors and do the hard work of getting families out into the snow to play.
Listen to the Latest Podcast
You can listen right on the blog or head to your favorite podcast service. Check out our latest episode.
Head to skimomsfunpodcast.buzzsprout.com for all the episodes and more information about HOW and WHERE to listen.
Meet Your Hosts
The Ski Moms Fun Podcast is hosted by Sarah Butler and Nicole Feliciano. The ski gods smiled upon Sarah and Nicole when they met at the base lodge of Mohawk Mountain in Connecticut in 2011. Friends for a more than a decade, these two mamas bonded while shuttling kids to winter programs and saving tables in an overcrowded lodge to feed the little people. Standing outside in subzero temperatures cheering on pint-sized ski racers has its benefits--like making a lifelong friend.
Sarah grew up skiing in Connecticut and is the consummate planner, strategist and deal finder. While she loves the Vermont mountains, Sarah's favorite spot to ski is in Saas Fee in Switzerland. She is the queen of crockpot recipes and navigating vrbo listings.
Nicole grew up playing lacrosse in Maryland and is late to the sport of skiing. What she lacks in natural talent, she makes up in enthusiasm and a willingness to shop her way out of a problem. Nicole covers skiing and luxury travel for Momtrends Media and her favorite place to ski is wherever there is fresh snow, but if really pressed to pick just one spot would say Big Sky, Montana.
Both Sarah and Nicole did the hard work of getting little people dressed and out on the snow with minimal meltdowns and maximum fun. Now that they are the moms of teens, they try to send knowing glances and good vibes to the newbie moms doing god's work to get toddlers dressed, fed and on the ski hill.
What to Expect
The Ski Moms Fun Podcast launched in November 2021. Each week Sarah and Nicole host another ski mom to tap into her knowledge and share stories from the lifts. Guests range from industry insiders to those go-to moms who always seem to have it all together. Join them as they share laughs and lessons from the hill. You'll feel included, invited and celebrated every time you join them. 
It's available on all your favorite podcast platforms. New episodes drop weekly throughout ski season. Season One featured 24 episodes and reached the top 15% of podcasts in its first season.
Topics include: teaching kids to ski, learning later in life, finding other mountain mamas, organization, apres ski, diversity in snowsports, budgeting, on-mountain reviews, trip planning and much more.
Special Summer Episodes
We know you are likely always dreaming of snow, so Season Two begins with bonus summer episodes. We'll be back with weekly episodes beginning in November. 
Don't Miss an Episode
MORE SKI FEATURES FROM MOMTRENDS
PIN IT!
Use Pinterest to save your favorite family travel features. Be sure to follow our Ski Moms Pinterest Board.