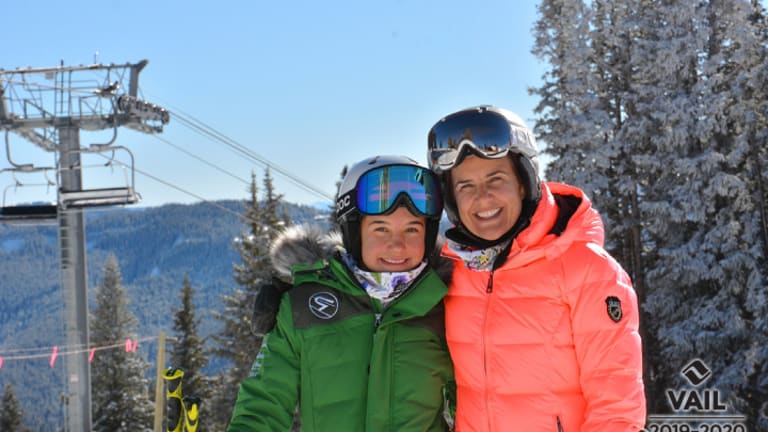 Now that winter is here, I'm all about looking great in cold settings. I adore cozy chic outfits indoors and bright colorful ski gear on the mountain. Skea is designed in Colorado by women for women who ski. The brand makes ski fashion that looks great and performs on mountain. It's a rarity to find clothes that looks this fashionable and also offer warmth and excellent movement. I'm sharing a few of my favorite pieces from the current season.
Ski Fashion That Looks Great and Performs on Mountain
I got my first piece of Skea back in 2017. The outfit still looks great and offers amazing performance on the mountain. The designers are ski instructors, professional skiers, and US ski team members—they know what works.
Skea Jacket
Here's my feeling: black ski jackets have no place on the mountain. It's a joyous place and there should be color and light out there. Do yourself a favor and toss on a bright colored Eve Jacket from Skea. A classic, yet feminine silhouette, this jacket comes in colors that elicit smiles. 

Five Tips for the Perfect Pumpkin Patch Visit
It's that time of the year again...pumpkin patch time! While I love a nice Pumpkin Spice Latte as much as the next fall lovin' girl...for me, the season is all about spending time with my family...and hopefully that time is spent outside as much as possible. If you're headed out ...read more
Perfect for Fall Pumpkin Spice Dirt Bomb Recipe
Get your pumpkin spice fix with this tasty dirt bomb recipe. Unlike fried donuts, this recipe is a little lighter and, since no hot oil is involved, a lot less messy. These dirt bombs, or baked donuts, are irresistible cakey muffins that are spiked with nutmeg and ginger, and ...read more
Save Money at a Ski Swap
Are the slopes in your future? If you want to save money on ski gear, consider a ski swap. A swap is a great way to buy and sell used equipment. Most swaps consist of a variety of gear, from brand new to used skis and snowboards to skis; from poles to boots to bindings and ...read more
Skea Ski Pants
It's tough to find a pant that is made for women. Skea has mastered where to fit a woman's curves. This pant is sturdy and flashy at the same time. At 5'7" I love the length. Pants are often too short on me. I like the way the seat fits (not too baggy) and the waist cinches me in perfectly.
Skea Hat
Top it all off with a Skea Chard hat. Helmet head is a reality. I'm never caught without a cute hat to toss on after I switch out of my helmet. This super soft hand knit acrylic hat has a detachable imitation fur pom.
MORE SKI FEATURES FROM MOMTRENDS
PIN IT!
Use Pinterest to save your favorite family travel features. Be sure to follow our Ski Moms Pinterest Board.
Momtrends was not paid for this Ski Fashion That Looks Great and Performs on Mountain feature.